Time flies when you're having fun in the great outdoors, and a good adventure never seems to last long enough. If you want to extend your outdoor experience but aren't the camping type, why not give Arizona glamping a try?
Wind down for the day while taking in one of our famous sunsets, wake up to the songbirds and sunrise, and soak up every minute of the Southwest's scenic vistas from your glampsite or rustic cabin. 
Cabin Glamping with Kristen Keogh!
Follow Kristen on Instagram for even more awesome outdoor tips and adventure ideas! 
What is Glamping?
Glamping is the perfect solution for outdoor enthusiasts who don't want to cut their trip short but aren't up for "roughing it" in the wild. A mix of glamor and camping, glamping in Arizona is the way to enjoy an overnight stay in nature with a side of luxury. 
Camping is sleeping bags, glamping is real bedding (maybe even a throw pillow or two). Camping is a sleeping pad on the ground, glamping is an actual mattress. Camping is brushing your teeth and spitting into a bush, glamping is brushing your teeth in front of the sink in an actual bathroom. Camping is freshening up with wet wipes, glamping is a hot shower… Get the picture?
If glamping sounds like the best option for you, read on for our top Arizona destinations to enjoy luxury camping the state parks way!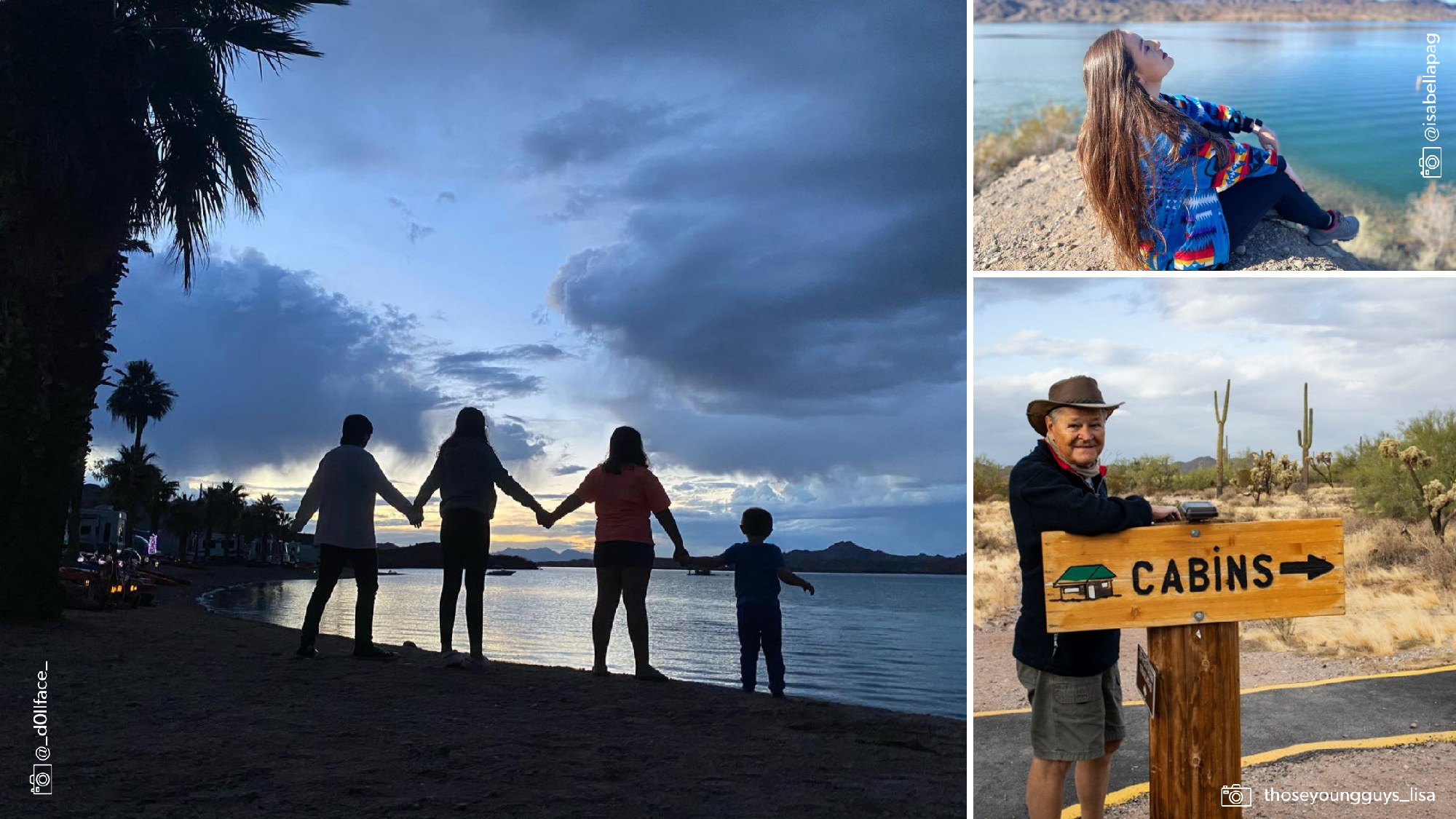 Top Glamping destinations
Glamping in a comfortable cabin
There's no easier, more affordable way to get a luxury outdoors camping experience than staying in a comfortable cabin. These cabins offer room for four to six people and all the amenities you need for a pleasant stay, including:
beds with queen, full and/or twin mattresses (even bunk beds, depending on the park)
electricity
air-conditioning and heating
picnic tables, charcoal grills, and fire pits
nearby clean restrooms with flush toilets and hot showers just a short walk away
microwaves and mini-fridges (available in select parks)
Click on each picture to explore these incredible destinations all across Arizona! They each offer beautiful scenery and unique, memorable experiences from hiking, boat tours and rentals, birding, fishing, educational and entertaining programming, and more.
Little luxuries turn camping into glamping
Glamping in a cabin is no doubt the easiest way to level up your camping experience. But even in an RV or tent, an extra-comfortable experience is possible! It's not just about where you glamp, but how you glamp. Plan to bring little luxuries like the ones below that can take your weekend stay from "roughing it" to "loving it."
Bring real bedding and your standard pillows (add a throw pillow for extra hominess)

Glam up the lighting: string up some twinkle lights for ambiance and create a soft night light by wrapping a headlamp around a clear plastic gallon of water with the light turned inward. 

Keep the bugs away with a screened-side popup tent for over picnic table

Keep things tidy inside by bringing an entrance rug to wipe off your feet
If you're in a tent, make the inside as much like home as possible. Bring a blow-up mattress with a battery-operated air pump. Once your storage tote is empty from the camping gear you brought, reuse it as a night stand. Consider a tall privacy tent so you can stand up while changing clothes. These additions go a long way to increase the comfort factor in a tent. Get more tips to enjoy a pleasant campground experience no matter where adventure takes you with our Comfortable Camping guide!
Northern Arizona Glamping
Escape to the cool pines and spend your vacation under the big blue skies of northern Arizona. Grasslands dotted with wildflowers, lakes shaded by coniferous forests, meadows bouldered from volcanic activity, and canyons covered in lichen will open your eyes to a whole new side of the Grand Canyon state.
The high desert offers a reprieve from the summer temperatures the Valley of the Sun is so famous for. Explore the northern foothills of Arizona's White Mountains with a stay at Lyman Lake State Park, or discover Arizona's Rim Country from Fool Hollow Lake Recreation Area. Take advantage of a glamping trip in Northern Arizona by planning day trips to the other state parks in the region.
Glamping in Southern Arizona
If you're craving an authentic Southwest experience, get your fill of towering Saguaro cacti and remnants of the wild west's territorial past with a glamping trip to southern Arizona.
Sprawled out across the bottom half of the state are a whopping eight state parks that are must-see destinations. Planned well, you can see them all, or focus on the experience you're after--a Sonoran Desert experience, or a Sky Island adventure. Just grab our Southern Arizona road trips guide and choose the park that catches your eye to make your glamping basecamp. 
Colorado River Glamping
The Colorado River has been the lifeblood of people in the Southwest for more than 1,500 years. For centuries, humans have depended on the great river to bring food and water, and today we still rely on it, not just for the necessities of life, but for enjoyment in the desert. Creating a beautiful oasis in the Mojave and Sonoran deserts, the Colorado River is a boundless source of FUN in Arizona! 
Splash and swim in its cool blue waters, rest under the shade of palm trees on its beautiful beaches, catch bass from its rocky shorlines, or spend a day on the lake with boating and watersports. Arizona travelers can stay and play at four different parks along the Colorado River: Buckskin Mountain, Cattail Cove, Lake Havasu, and River Island state parks.
Fun Glamping Activities
There's a reason Arizona has seen record numbers of visitors in recent years. It's a destination that holds unmatched opportunity to create the most memorable adventures of your life! The Southwest is renowned for its open spaces beckoning to be explored, its rich culture and chapters of history, and the wild, adrenaline-pumping outdoor adventures you can try for the first time ever.
Once your glamping setup is in place, you'll be eager to explore the beautiful outdoor setting that surrounds you. Arizona's vast network of trails may call you to hike into the mountains or warm up those muscles on a mountain bike. Perhaps you'd like to try a new experience by taking the path less traveled in an off-highway vehicle or see the view between the ears on horseback.
Many think Arizona is a bone-dry desert, but there are many ways to get on the water--whether you want to swim and play on a white sand beach, rent a kayak or motorboat, or catch your own dinner by fishing on the lake. Or take it easy by enjoying area attractions and perusing exihibits in a historic state park! Learn all the opportunities that can create a memorable vacation with our guide to recreation in Arizona!
Have more adventures while glamping in Arizona
When you've maxed out your energy on all that fun, it's time to rest in comfort at your glampsite. Click on the twinkle lights, break out your favorite beverage, set up a Charcuterie board (fruits, nuts, cheeses and aged meats travel well!) and snap a picture for the 'gram. Then put your phone on the charger, take in that beautiful sunset and get ready for an evening of incredible stargazing.
Your glampsite will provide a great night of sleep so you have energy to make the most of your vacation, and 24-hour, convenient access to Arizona's nature and unforgettable experiences right outside your door.