Hiking Trails
Wide open spaces are essential this fall, and Arizona's hiking trails will show you amazingly beautiful landscapes of extremely diverse varieties! Arizona's state parks showcase some of the most fun and best hikes in the state! Hikers have the option to hike through the beautiful and unique Sonoran Desert where they will encounter centuries old saguaros, rocky landscapes, and hardy wildlife like desert mule deer and javelina that are able to carve out an existence in this extreme habitat. High desert hikers will enjoy rolling foothills trails that lead to higher elevations and watch in excitement as the desert landscape gives way to more lush vegetation as they climb. Hiking in Arizona's high country is equally as amazing and gives adventurers an experience filled with red rocks, puffy white clouds and vibrant trees with full autumn colors. You see, regardless of the location hikers choose to enjoy, Arizona's trails show them the best this state has to offer as they provide memories to last a lifetime. And the best part is that somewhere, there's a hiking trail near you waiting to be explored!
Jump To: Northern Arizona Trails | Southern Arizona Trails | Central Arizona Trails | Western Arizona Trails
Northern Arizona Trails
Cooler temperatures and lush green scenery beckons hikers to northern Arizona trails and your state parks are a great place to get in on the high country hiking action. Within this region, three parks contain premier hiking trails for both beginner and advanced hikers that traverse some of Arizona's most beautiful locations. Experience the awe inspiring views of Sedona, immerse yourself in the mystique of the Verde River Valley, or explore Arizona's Rim Country, all from gorgeous trails in your Arizona State Parks!
Red Rock State Park
Red Rock State Park may just offer Sedona's best hiking trail experience!
Numerous trails traverse the conservation park through high desert and riparian area type landscapes. Animal sightings here are common, the diversity of the bird species is admirable, and the general "vibe" is inspired by the world renowned red rock escarpments of Sedona. Trails are available for people of all abilities within this absolutely gorgeous destination, and this fall its golden leaves and fractured sunlight rain down over the trails, a must-see!
Eagle's Nest
1.53 miles — hikers only. No dogs, horses, or mountain bikes.
After exploring the visitor center, there are plenty of trail options. The Eagle's Nest option leads hikers through the high red flats, through the riparian area of Oak Creek, and up a hill that shows a commanding view of the greater Sedona area. Seriously, the view from the top is one that should be experienced to truly appreciate. Although there is a slight incline for a section of the hike, this trail is still rated easy/moderate. The trail itself is well kept and wide, and there are birds, animals, and diverse vegetation along the way.
Apache Fire
0.78 miles — hikers only. No dogs, horses, or mountain bikes.
Mix some history into your hike…This scenic trail leads to the (currently closed) 1946 adobe style home of Jack and Helen Frye which was once a main focal point of the Sedona area. The home famously blends with the red rock backdrop and sits on top of a hill that gives hikers amazingly beautiful views of the surrounding red rock and Sedona area. Crossing Oak Creek via Kingfisher Bridge leads visitors through an extremely scenic section of riparian zone and supplies an opportunity to see the resident river otters playing in the creek. Don't forget your camera (phone) for this hike, there's plenty to see from this scenic Arizona hiking trail!
Kisva Trail
0.64 miles — hikers only. No dogs, horses, or mountain bikes.
A hike that's perfect for the whole family! The Kisva Trail Loop directs hikers through the high desert flats of the park before delving into the shadows of the Oak Creek riparian zone. The possibility of seeing a wide variety of birds along the way is very good, especially in the large cottonwood trees near the creek. Hikers cross Oak Creek twice on this loop trail and skirt the base of nearby red rock covered hills. There's plenty of photo ops along the way, don't forget to tag our social media accounts when posting about your trip!
---
Dead Horse Ranch State Park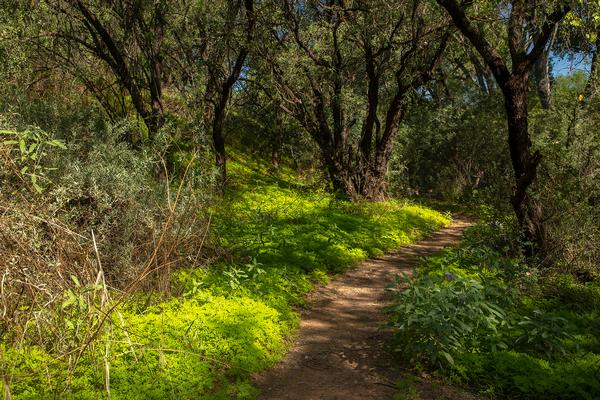 This beautiful north central Arizona park has several trails on the property, and supplies access to an extensive network of hiking trails outside of the park as well. The diverse trail system encompasses a variety of scenic ecosystems from the mesquite laden high desert to the dark canopies of riparian zones along the Verde River, where the cotonwoods, ash, and willows are a vibrant yellow on the bank. Wildlife is abundant here, birds are plentiful, and the Verde River Valley views have a tendency to encompass your thoughts for quite some time after your trip.
Raptor Hill Trail (to Bones Trail junction)
3.2 miles — Shared use. Hikers, leashed dogs, horses, mountain bikes.
Hikers will encounter a steady upward grade while traveling this high desert trail. The packed dirt trail gets somewhat rocky two or three times during the ascent, although most of this trail experience is fairly easy to navigate. The grade will challenge you, burn your legs, and provide great views of the Verde River Valley. Access is from the park boundary and the hike continues to the junction with the Bones Trail.
Verde River Greenway Trail
2 miles — Shared use. Hikers, leashed dogs, horses, mountain bikes.
Hike along the famed Verde River under the shaded canopy provided by giant cottonwood and sycamore trees. During your hike, let the soothing sound of the gentle river and area bird life take control of your subconscious as you press onward. Keep your eyes open for deer and javelina taking advantage of the shadowy depths, and peer into the creek often to see if you can catch a glimpse of a beaver or river otter. The Verde River Greenway trail can be accessed from river the day use area and intersects the Quail Wash and Lagoon trails amid some of the best birding habitat in Arizona!
---
Southern Arizona Trails
Cooler months are a great time to explore the warmer climate for which Arizona is famous! Within this region, hikers will find predominately Sonoran Desert trail experiences as well as high-desert trails that venture through southern Arizona's rolling foothills. There are trails throughout this region that range from easy family hikes, to advanced hikes for advanced hikers. Within this guide, we will outline some of the most popular options in each park, however park specific pages will contain more options for hikers looking for obscure Arizona hiking trail options.
Catalina State Park
This park was affected by the Bighorn Fire. Please check fire restrictions before you go.
Hikers searching for a remote setting will find these Tucson area trails very accommodating! Several hiking trails venture deep into the Santa Catalina Mountains and provide a unique remote experience even though this mountain range is so close to the Tucson metropolitan area. In addition to the longer more moderately trails that lead into the Catalinas, trails rated for less experienced hikers are available within the park and offer the same desert hiking experience without the length or altitude gain of the moderately rated trails.
Sutherland Trail
9.1 miles (one way) 5,900 feet elevation gain. No dogs allowed within the bighorn sheep management area. No bikes in wilderness.
This leg burning trail is not for the faint of heart and will certainly provide a workout for hikers that decide to climb nearly 6,000 feet into the Catalina Mountains. Although the trail starts out fairly easy, elevation gain intensifies after the intersection with the 50-Year Trail. As hiker's forge on, they will enjoy (potentially) two water crossings, and have the opportunity to see the breathtaking scenery change from desert to pine trees during their journey! Epic vistas and plenty of wildlife and photo opportunities along the trail make this advanced hiking trail a destination that should be considered by serious hikers.
Romero Canyon Trail
7.2 miles (one way) 3,300 feet elevation gain. No dogs allowed within the bighorn sheep management area. No bikes in wilderness. Not recommended for horses beyond Montrose Pools.
As hikers progress through this scenic trail it becomes more difficult as elevation and distance is gained leading up to Romero Pools, and then again when the unmaintained wilderness trail portion is encountered. The Romero Pools section is an extremely popular portion of this scenic trail, but there's so much more after the pools! Breathtaking vistas in the Romero Pass area give hikers unforgettable views of Pusch Ridge. Hikers should leave ample time for a return trip from Romero Pass, which is about a five-hour one-way hike. Options are available beyond the pass where intersects with either Mt. Lemmon Trail or the West Fork Sabino Trail can be taken for an extended experience.
Nature Trail
1.0 mile loop. No horses.
This easy loop trail traverses through the low foothills and amid the typical desert scrub vegetation after climbing a small hill. The interpretive signs along this beautiful little trail describe area plants, animals, and geology information. Plan on about 45 minutes to take the Nature Trail loop.
---
Oracle State Park
Hiking trails in Tucson and surrounding areas tend to get a lot of traffic September through May. Oracle State Park however, experiences cooler temperature averages year-round as a result of the higher elevation than the Tucson area, and is less than an hour away from the metro area! The expansive shared use trail system within this gorgeous high desert park offers foothill trails through a nearly 5,000-acre wildlife conservation area. Wildlife encounters are common here and visitors have a chance to experience a very nice section of the famed Arizona trail.
Arizona Trail Loop
6 mile, loop — hikers, leashed dogs, and mountain bikes
Stretching over 800 miles, and completely through Arizona from Mexico to Utah, the Arizona Trail is filled with history, the best scenic views, and opportunities to hike amid Arizona's diverse scenery. The section that meanders through Oracle State Park is a roughly 6-mile loop trail that allows hikers to amble about the rolling high desert foothills on the park. The well-marked trail begins on the Nature Loop trail via Kannally Ranch House and intersects with other trail sections along the way. Pick up a trail map at the ranch house to help navigate the Arizona trail through this beautiful wildlife conservation park.
Windmill Loop Trail
4.1 mile, loop — hikers, leashed dogs, mountain bikes, and horses
This trail begins at the windmill in Kannally wash and follows the wash for just over a mile before gaining elevation. A variety of birds frequent the vegetation along the wash which adds some vibrant colors to the greens, browns, and tans of the wash section of the trail. Continuing on, the trail hits a set of switchbacks uphill before finishing back down at the Powerline Trail. This hike is rated for beginners and is a great trail to get someone into the sport because of the beautiful scenery, gentle slopes, and chance of wildlife encounters.
Nature Loop Trail
1.2 mile, loop — hikers, leashed dogs, and mountain bikes
Of all the hiking trails within the park, this one in particular is likely the best to see a variety of springtime wildflowers. Numerous species can be seen and photographed right from this easily navigated trail. Breathtaking views of both the Galiuro Mountains and San Pedro River Valley can be seen from this trail as it loops through the southern Arizona foothills. A variety of birds and animals can be seen using the wildlife waterhole in Cottonwood Wash before the end of this trail experience.
---
Central Arizona Trails
Central Arizona's hiking trails near Phoenix give area residents a chance to get outside and enjoy either a simple hike near the city, or a more remote experience in the mountains surrounding the thriving metropolis. Several trail options are available within the Sonoran Desert landscape for all levels of hikers. Take an easy stroll at the base of the Superstitions, grind it out on the Hunter Trail to the top of Picacho, or find someplace in-between that suits your style, it's all available right here in your backyard!
Picacho Peak State Park
The trails of Picacho Peak State Park invite hikers to explore this southern Arizona hiking wonderland! The Sonoran Desert is a great place to enjoy hiking trails with the best views, interesting birds and animals, and diverse plant life that simply can't be experienced outside of the desert ecosystem. Hiking trails in the park are rated from easy to difficult, with a few in between. There's a great chance that you'll find exactly what you're looking for here amid the cactus, rock ridges, and unforgettable views!
Hunter Trail
1.51 miles (one way) — hikers, leashed dogs. No horses or mountain bikes.
The Hunter Trail certainly is not the longest trail in the state park system, though it may be one of the more demanding trails offered. Hikers can expect a winding trail with consistent grades from the beginning at Barrett Loop, all the way to the peak summit. Along the way, steel cables are anchored to rocks to help hikers keep their footing on the slippery rock surface. Gloves and high quality hiking boots are recommended for this advanced hike.
Sunset Vista Trail
2.64 miles (one way) — hikers, leashed dogs. No horses or mountain bikes.
This desert hiking trail begins moderately and becomes more difficult with distance nearing the summit of the peak. A steep and twisting trail that, like aforementioned Hunter Trail, requires hikers to use steel cable anchored to rocks for a secure foothold on loose rocks. Hiking this trail may be difficult, however the rewarding views once the summit is reached are well worth the price of sore muscles and dripping sweat. Gloves and high-quality hiking boots are recommended for this hiking trail experience.
Nature Trail
0.5 miles — hikers, leashed dogs. No horses or mountain bikes.
Although the Nature Trail is rated as one of the easiest hiking trails in the park, the interpretive signs and stunning Sonoran Desert landscape create the perfect atmosphere for a leisurely stroll. Birds and park wildlife can be seen right from the trail so be ready to snap a few pics while enjoying this nice easy trail in the desert.
---
Lost Dutchman State Park
Hiking trails through the park lead into a much wider trail network on adjacent National Forest land. The Sonoran Desert landscape holds a variety of birds and wildlife while offering amazingly beautiful panoramic views. The best part about this Arizona hiking destination is the proximity to the metro Phoenix area, and the variety of trail difficulties available. Easy trails close to Phoenix are hard to come by, and more advanced hiking experiences even more rare. You can have it all within this expansive desert park, plan a trip to see for yourself…
Siphon Draw Trail
1.06 miles one way (5.8 miles round trip to Flatiron) — hikers, leashed dogs. No horses or mountain bikes.
Those who have experienced this advanced trail near Phoenix often describe the views at the end to be well worth the effort to get there. Much of this trail leads hikers scrambling up rocks while truly testing their physical abilities. The Siphon Draw section of the trail is located within the park and then gives way to Flatiron at the wilderness boundary. Extensive hiking opportunities exist within the wilderness although the trails are not typically marked as clearly as they are in the park.
Treasure Loop Trail
2.43 miles (500 feet elevation gain) — hikers, leashed dogs. No horses or mountain bikes.
Looking for a nice, easy hiking trail close to the metro Phoenix area? The Treasure loop trail offers hikers commanding views of the Superstition Mountains and a chance to see Sonoran Desert birds and wildlife in their natural habitats. This route is also a local wildflower hotspot with a large variety of colorful species available to admire. Extend the loop or take the extension trail for a more rigorous trail experience.
Native Plant Trail
.25 miles, accessible — hikers, leashed dogs. No horses or mountain bikes.
This has to be one of the most gorgeous accessible trails in the Phoenix area! Experience native Arizona plants and wildlife from an accessible paved trail. Gorgeous mountain views and good times are included with your trail experience.
---
Western Arizona Trails
If rugged trails leading to beautiful vistas is your thing, then head over to the quartet of parks along Arizona's "west coast" from Lake Havasu down to Buckskin Mountain State Park in Parker. These popular locations for boating, fishing and camping also feature a multitude of wildlife and are a favorite for birders. From London Bridge out to the mighty Colorado River, fantastic views greet hikers with every step along meandering mountain trails.
Lake Havasu State Park
This gem on the river offers outdoor activities for adventure lovers of all ages. Whether fishing, boating, camping or hiking, visitors are never disappointed by the white sand beaches and the colorful lighthouses that dot the shoreline.
Mohave Sunset Trail
1.5 mile trail – Pedestrian traffic only. Bicycles and motorized vehicles are not allowed on trails.
This trail winds its way through the lowland desert and along the shoreline offering panoramic views of the surrounding lake. Dating back to the creation of the park in 1971, this trail follows along the edge of the original Bridgewater Channel that was carved out to create the island across the water.
---
Cattail Cove State Park
A series of looping trails offer nearly four miles of hiking within the southern edge of the park. These dog-friendly trails offer a great escape from the daily grind, just remember to bring plenty of water and your sense of adventure.
Whytes Retreat Trail
1.5 miles
The trail begins at the park and follows the shoreline, providing an excellent view of the lower portion of the Colorado River, the Whitsett Pumping Station, and Parker Dam. The shoreline portion of the trail ends at Whytes Retreat. The McKinney Loop portion of the trail returns to Cattail Cove through low desert hills and a shallow gorge with bluffs on both sides. To reach the trail, follow the entrance road to the boat launch ramp where the trail begins on the south side.
---
Buckskin Mountain State Park
Enjoy weaving mountain trails that connect Buckskin Mountain State Park to nearby River Island State park. More than six miles of trails to explore with varied wildlife and the best views along the Parker strip.
Buckskin Trail
1 mile loop
You can grab an informative trail guide from the ranger station to identify native vegetation at numbered posts along the trail. A concrete pedestrian footbridge crosses Highway 95 and leads to two other one-way trails.
Abandoned Mine Trail
1 - 2.9 miles
A non-looping trail that breaks off from the Interruption Point Trail, traveling to a series of abandoned mines. Once you access this trail, the round-trip is less than 1 mile. Don't forget to load up on trail supplies at the ranger station, where water, sunscreen hats, and walking sticks are readily available.
---
Hiking with Kids
Trails throughout the state are great options for kids to hike! Picacho Peak State Park, south of Phoenix, offers several trails that are kid-friendly - the Nature trail, a 0.5-mile hike, or the Children's Cave trail, just 0.2 miles along the park's playground. For kids who have more hiking experience, hike the more moderate Calloway trail, which leads to a gorgeous overlook. Catalina State Park has three easy hiking trails which are all one mile long or shorter. The Romero Ruins, Birding, and Nature trails show you and your family interesting archeology, wildlife, and nature!
Two trails at Lost Dutchman State Park are especially easy, and good for kids just starting out on the paths! Jacob's Crosscut trail connects the two more difficult trails in the park, so it's a great starting point for small feet! The Discovery trail leads along a great scenic path, which is easy and winds past the wildlife pond, bird feeder, and a bench with an incredible view of the mountain range. More moderate trails include the Prospector's View and Treasure Loop trails, which are a bit longer and give hikers a great view of the Superstition Mountains!
Children of all different ages will enjoy Kartchner Caverns State Park, as they can tour the Rotunda Room within the caves, or the Hummingbird Garden walk outside of the fascinating Discovery Center!
North of the major cities, discover Red Rock State Park's trail system, where many adventures lie in wait for kids hitting the trails! From birding to wildlife viewing, children can take advantage of the Smoke trail, an easy hike through riparian areas of Oak Creek. Many of the trails at Red Rock intertwine, allowing for a choose your own adventure for the family! Kids that have a little more hiking experience can take on the Eagle's Nest Trail, which leads to a breathtaking overlook of the town of Sedona and its famous red rocks.
In Cottonwood, Dead Horse Ranch State Park offers multiple easy hiking loops which wind around the lagoon and alongside the Verde River. Through the forest you'll find great opportunities for wildlife viewing and enjoying nature! Take any of the outlined paths to wind your way through the riparian areas of the Dead Horse Ranch State Park, an adventure you won't soon forget!
Want More AZ Hiking Info?