Arizona State Parks Guide
Arizona State Parks protects and preserves 35 State Parks and Natural Areas. The agency also includes the State Trails Program, outdoor-related Grants Program, statewide outdoor recreation planning, the State Historic Preservation Office, as well as the Off-Highway Vehicle Program and more. Arizona State Parks manages eight of the top 25 most visited natural attractions in Arizona.
Download the latest issue of our statewide guide for what to do and where to go in both English & Spanish: Arizona State Parks Guide or Guía Verde Español (2015 version).
---
Statewide Comprehensive Outdoor Recreation Plan (SCORP)
2018-2022 SCORP - DRAFT
The 2018 SCORP is being finalized after receiving public comment. The updated plan includes research on Arizona's outdoor recreation situation, national trends, and other influences. Special sections include outdoor recreation and tourism, wildlife related recreation, and reports on trails, off-highway vehicles, boating, and cultural resources.
The 2018 SCORP is available for download below:
2018-2022 SCORP Report - DRAFT

2013-2017 SCORP
The 2013 SCORP includes research on Arizona's outdoor recreation participation, national trends, and other influences. Special sections include the benefits of parks and recreation, outdoor recreation and tourism, wildlife related recreation, and reports on trails, off-highway vehicles, boating, and cultural resources.
The 2013 SCORP also features the results of an online survey with Arizona's parks and recreation providers and land managing agencies. Other survey results highlight changes that have occurred from the perspective of outdoor recreation users in Arizona during the last five years. The 2013 SCORP is available for download as one document below:
Complete 2013-2017 SCORP Report
References and Appendices
---
Arizona State Parks and Trails Strategic Plan
2017-2022 Five Year Strategic Plan - DRAFT
Arizona State Parks and Trails worked with Arizona State University and other stakeholders to draft the new Arizona State Parks and Trails Strategic Plan. The priorities and focus areas of htis plan are consistent with the issues and priorities identified in the 2018 Statewide Comprehensive Outdoor Recreation Plan.
This plan reflects the agency's goal of responsible fiscal management combined with explosive growth statewide. To reflect this, the plan is organized around a key pillar of Optimization of System Vitality.
We are linking our goals and objectives to nationally-identified priorities and community impacts to ensure that we are drawing on best practices and our efforts are consistent with our colleagues across the nation. The identified goals and objectives focus on the National Recreation and Parks Association's three pillars: Social Equity, Conservation, and Thriving Individuals and Communities.
In order to accomplish the goals and objectives in this plan, we are focusing on operations and development, resources (natural, cultural, human, and financial), economic impacts for communities, programs, and partnerships. Using these categories as a guide, we will implement strategies that move our agency forward in innovative and creative ways.

2017-2022 Five Year Strategic Plan - Draft
2012-2017 Five Year Strategic Plan
In the last 55 years 32 parks have been added to the State Parks system and many different programs are now being managed by the Agency. Federal Grant programs include the Land and Water Conservation Fund and the Recreational Trails Programs, which include both motorized and nonmotorized divisions, and the Federal Historic Preservation Grant Program.
The state grant programs include the State Lake Improvement Fund, recently eliminated Heritage Fund *$10 million for rural communities, Law Enforcement and Boating Safety Fund (transferred to Arizona Game & Fish Department in 2011), and voter protected Land Conservation Fund ($20 million per year), which ended in 2011. Grants will be distributed from that Fund until the monies are disbursed. Another statewide program, the State Historic Preservation Office, was added to the agency in 1982 and assists private citizens, private institutions, local governments, tribes, and state and federal agencies in the identification, evaluation, protection, and enhancement of historic and archaeological properties that have significance for local communities, the state of Arizona, or the nation. The role and function of the SHPO is defined in both state law (Arizona Historic Preservation Act) and federal law (National Historic Preservation Act, as amended).
2012-2017 Five Year Strategic Plan
---
Economic Impact Report
2014 Report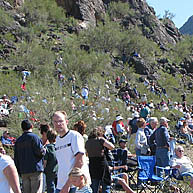 Arizona State Parks Economic Impact Report
Prepared by the Arizona Hospitality Research & Resource Center, Center for Business Outreach, The W. A. Franke College of Business, Northern Arizona University.
Executive Summary
The estimated total economic impact of all Arizona state parks on the state has also been modeled in this study using IMPLAN. To perform this analysis, visitor spending in the parks was combined from all parks by sector.
It was estimated that Arizona State Parks' visitors spent a total of $209,722,879 in FY14. These total direct expenditures of $209.7 million resulted in an estimated $130,063,972 in direct impacts, $40,451,170 of estimated indirect impacts, and $56,222,368 of estimated induced impacts. When the effects of direct, indirect and induced impacts are combined, the total estimated impact of visitors to state parks in Arizona during FY14 is $226,737,510. This total state impact resulted in 1,621 estimated direct jobs and 745 indirect jobs for a total of 2,367 jobs.
Finally, visitors' expenditures combined with their direct, indirect, and induced impacts resulted in an estimated $17,550,855 in federal government taxes and an estimated $15,895,473 in state and local government taxes. The total estimated tax impact of Arizona state park visitors in FY14 was $33,446,328.
---
OHV Sticker Fund Report
State Parks Board report to the Arizona Legislature regarding Off-Highway Vehicle (OHV) funds.
---
Arizona Trails 2015
A Statewide Motorized & Non-Motorized Trails Plan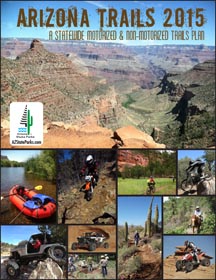 Arizona State Parks staff, in collaboration with Arizona State University, conducted a series of surveys to find out about which types of motorized or non-motorized trails the public uses, how often they use trails, trails preferences and how land managers should improve trail experiences through their time, money, and efforts.
After analyzing the results of this year-long public involvement effort, Arizona State Parks staff drafted a trails plan that provides information about trail users, their preferences, opinions, and important issues facing recreational trails and off-highway vehicle routes in Arizona. The plan also offers a list of recommendations and priority actions that both trail advocates and land managers can implement in order to protect and improve Arizona's thousands of miles of motorized and non-motorized trails.
Some of the top trail issues for motorized and non-motorized users were litter and trash dumping, closure of trails, and keeping trails in good condition. The priority recommendations listed in the plan will be used to develop grant rating criteria and distribute monies from the Off-Highway Vehicle Recreation Fund and the federal Recreational Trails Program.
---
Arizona Watercraft Survey Report

Prepared by: Behavior Research Center, Inc. June 2016
Prepared for: Arizona Game & Fish Department and Arizona State Parks and Trails
Overview

The Arizona Department of Transportation (ADOT), the Arizona Game & Fish Department (AGFD) and the Arizona State Parks Board (ASPB) conduct a study every three years on recreational watercraft usage and priorities. The primary purposes of this effort are as follows:
To determine the number of days of recreational watercraft use in each of the state's counties by boat use days and person use days.
To determine the water-based and non-water-based recreational activities, assess current facilities, programs and attitudes about water related-recreation issues and inform future priorities and distribution of resources.
The information on recreational watercraft usage patterns on Arizona's lakes and rivers is necessary to plan for enforcement activities and resource allocation.
2016 Arizona Watercraft Survey
---
State Historic Preservation Office (SHPO)
SHPO Report on State Agency Compliance
SHPO FY 2012-13 Report on State Agency Compliance
SHPO FY 2011-12 Report on State Agency Compliance
SHPO FY 2010-11 Report on State Agency Compliance
SHPO FY 2009-10 Report on State Agency Compliance
SHPO FY 2008-09 Report on State Agency Compliance
Arizona State Statutes §41-861 through §41-864 direct state agencies to: preserve historic properties under their ownership or control; consider the use of historic properties for agency responsibilities; establish a program to locate, inventory, and nominate properties to the Arizona Register of Historic Places; ensure that properties are not destroyed or substantially altered by state action or assistance; make appropriate documentation in accordance with State Historic Preservation Office (SHPO) standards if a property is destroyed or altered; and seek review and comment from the SHPO on agency plans. This report provides a summary of the performance of state agencies in compliance with these state statutes. The information provided was compiled from SHPO records and an agency self-evaluation questionnaire. Learn more about SHPO.
AZSITE Consortium Annual Report (July 2012 to June 2013)
2013 AZSITE Consortium Annual Report
2012 AZSITE Consortium Annual Report
2011 AZSITE Consortium Annual Report
2010 AZSITE Consortium Annual Report
2009 AZSITE Consortium Annual Report
In 1995, three state agencies and one private museum signed a memorandum of agreement that created the AZSITE Consortium, with the multi-year goal to computerize and share electronically archaeological and historical site files for the State of Arizona. In 2006, Governor's Executive Order 2006-03 named the Consortium and the original four founding agencies as the official decision-making and planning body within Arizona's Executive Branch for the AZSITE database and GIS inventory of Arizona's historical and archaeological properties.
GAAC Annual Report (July 2015 to June 2016)
2016 GAAC Annual Report
2015 GAAC Annual Report
2014 GAAC Annual Report
2013 GAAC Annual Report
2012 GAAC Annual Report
2011 GAAC Annual Report
2010 GAAC Annual Report
The Governor's Archaeology Advisory Commission (GAAC) is a statutory body charged with advising the State Historic Preservation Officer (SHPO) on archaeological issues in Arizona. GAAC is comprised of 11 members with expertise in prehistoric or historic archaeology, anthropology, tourism, public education, economic development, business, and Native American affairs.
Places to Remember: Guidance for Inventorying and Maintaining Historic Cemeteries
To help commemorate Arizona's centennial on February 14, 2012, a centennial project was started to inventory and promote the protection of historic cemeteries throughout the state. Historic cemeteries were chosen as the focus of a centennial project because they are important irreplaceable resources, many of which are in danger of being lost through neglect, natural erosion, and vandalism. As the Arizona Centennial approached, it seemed appropriate that an organized statewide effort be undertaken to locate, inventory, and provide guidance for the conservation and maintenance of these significant properties.
2012 Guidance for Inventorying and Maintaining Historic Cemeteries
2012 Historic Cemeteries by County
Arizona Historic Preservation Plan 2014
Arizona Historic Preservation Plan 2014
The immediate future presents challenges great enough to sink us in despair unless we apply that most basic element of American character, optimism. American optimism is the force that transforms challenge into opportunity, the vision that sees risk as a chance for enterprise, the determination to proceed even if prospects appear gloomy. The Arizona Historic Preservation Plan of 2009 takes courage from the successes of our previous efforts and finds reassurance in the support of an ever-larger portion of the state's citizenry. With faith in the public value of our work and dedication to the mission we have been entrusted to further, the Plan offers goals and objectives crafted to advance the tasks necessary to ensure that Arizona remains a prosperous and fulfilling home to the individuals and families who now and in the future will make it their home.
The Plan describes a number of principles that will guide the activities of the State Historic Preservation Office and are offered to our current and potential partners as means of achieving mutually beneficial outcomes:
Dedication to the public value of our mission
Fortitude in the face of challenges
Optimism despite setbacks
Perseverance despite a seemingly overwhelming task
Joy taken in past and present success
Gratitude for the help we receive and the friendships we establish
Satisfaction from the process as well as the outcomes of our work
Arizona Historic Preservation Plan 2009
In effect through May 2014. See update above.
Arizona Historic Preservation Plan 2000
In effect through March 2007
Historical Archaeology Research Guide
2013 Historical Archaeology Research Guide
Compiled by James E. Ayres, Carol Griffith, and Teresita Majewski. With Contributions by The Historical Archaeology Advisory Committee, Thomas Jones and Archaeological Consulting Services, Ltd.
Sixth Revised Edition, June 2013, this guide will direct you to resources for researching a historical place or person in Arizona. Categories include maps, photographs, architectural plans and drawings, local histories, mining records, newspapers, and more. The appendices include bibliographies of material culture sources and background resources as well as historical archaeology reports. Revised June 2013. Learn more about SHPO.
Arizona Heritage Preservation Education Materials
by Carol J. Ellick: An annotated bibliography of archaeological, architectural, and preservation education materials relating to Arizona for grades K–12.
Annotated Bibliography of Arizona Heritage Preservation Education Materials
ASPT Board Budget Request