EFFECTIVE SEPTEMBER 1, 2019
Off-Highway Vehicle Decals
All off-highway vehicles (OHVs) designed by the manufacturer primarily for use over unimproved terrain and that weigh 2,500 pounds or less are required by law to display a valid OHV decal to operate on public and state trust lands in Arizona. This includes "street legal" vehicles that meet these two requirements.
Nonresident OHV Decal
As of Sept. 1, 2019, the state requires nonresidents operating an OHV within Arizona to purchase a nonresident OHV decal.
The nonresident OHV decal costs $25 (plus a processing fee)
The decal must be purchased prior to riding an OHV within the state
Is valid for one year from the date of purchase
Decals are not transferable between OHVs . Nonresidents with multiple machines must purchase additional decals
Can only be purchased online through an Arizona Game and Fish Department portal account
The decal will not be sold at AZGFD offices
Decal must be displayed left rear quarter panel of OHVs with/ three or more wheels, or on the left fork leg of two-wheeled vehicles
How to purchase a nonresident OHV decal
Check out this step-by-step guide to purchasing a non-resident OHV decal, or watch the following video for detailed decal purchasing information.
Sign up for your Arizona Game and Fish Department Portal account HERE.
Additional information
The nonresident OHV decal will be mailed within two to three weeks from the date of purchase. Purchasers can show their receipt (or a screenshot of it) for up to 30 days as proof of decal purchase. Owners/riders must have the receipt readily available if requested by law enforcement or until they receive their decal(s).
In recent years, off-highway vehicle use has grown significantly throughout Arizona. With 365 riding days per year, Arizona draws OHV enthusiasts from across the country to partake in our, scenic trails, and awesome weather. With Arizona's growing OHV community and trails in mind, Arizona State Parks & Trails is dedicated to protecting resources while providing safe and responsible riding opportunities.
Resident OHV Decal
Arizona residents can purchase an OHV decal for $25 (plus a processing fee) through the Arizona Department of Transportation's Motor Vehicle Division (MVD) offices statewide, an authorized third-party MVD service provider or online at www.servicearizona.com.
The OHV decal is valid for one year from the date of purchase. For example, if you purchased your OHV decal in January 2018, you have until January 2019 to purchase the renewal OHV decal.
Residents must display the OHV decal in the upper left-hand corner of the license plate. For more information about registration and different license plate types, visit the OHV FAQ section.
Decal Revenue At Work For YOU!
Arizona offers more than 40,000 miles of off-highway vehicle adventure! By purchasing a required OHV Decal, OHV users help ensure trails stay open, maintained, and safe for everyone that chooses to ride here.
For more information about how your OHV Decal dollars are invested, please visit our grants page for a look at the interactive grants map that features over 180 OHV projects that have been funded with over $19 million in Decal revenue! As always, if you have questions related to Arizona's OHV Program please contact our team to the right of the page. Take care and ride safe!
---
Veterans Ride
Thank you to all of our veterans that joined us from Royal Oaks Retirement Community for our Veteran's Ride back in November! We had an amazing time showing our thanks and taking these vets on a ride they'll not soon forget. In addition, we'd like to send a huge thank you to the individuals and organizations that helped us make the event a success.
Read more about it on the National Off-Highway Vehicle Conservation Council's website!
Thank you:
Glendale Sam's Club - $25 Gift card used for beverages
Phoenix Sam's Club - $50 Gift card used for beverages
Arrow Line Charters - discounted charter rental
Trophy Lite Industries - Vehicles, drivers, and helmets
Arizona Outdoor Fun - Helmets
Arizona Game and Fish Department - Drivers
Arizona OHV Ambassadors - Drivers
Off-Highway Vehicle Advisory Group - Planning and drivers
Connected Horizons - $250 Donation for purchasing lunch
Staff and Veterans from central office - Setup/breakdown, drivers, cooking
Cindy Rogers - Baked cookies, cooking on site, serving and socializing
We look forward to making next year's ride an even bigger success.
---
OHV Economic Impact Study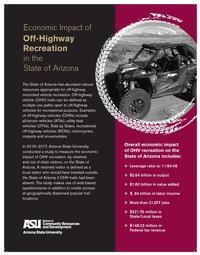 In 2018, the Arizona State Parks and Trails Off-Highway Vehicle (OHV) Program partnered with Arizona State University to look at the economic impact of off-highway vehicle use in Arizona. This graphic report highlights the findings of the study and captures information on spending habits, where people enjoy riding, and the overall impact the sport has on our economy. For a more in-depth look, you can view the full report on our publications page
---
"Laws & Places To Ride" OHV Brochure! Arizona State Parks Off-Highway Vehicles

This OHV Brochure features places to ride in Arizona. Download the OHV Laws and Places to Ride Brochure.
Please see page six for important information about the helmet laws affecting side-by-sides.