Arizona's OHV Ambassadors
New to OHV or just want to learn the best places to ride? Join us for exciting FREE rides on trails throughout the state! The Arizona State Parks and Trails Off-Highway Vehicle volunteers, known as "Ambassadors" love sharing their favorite places to ride with new and novice riders. The Show Me Ride program provides riders a statewide opportunity to experience new and exciting areas to ride while in a friendly group setting. These rides can range anywhere from 30 to 100 miles and provide a great resource for new and inexperienced riders to be exposed to new riding areas. Each year 15 to 20 rides are held between October and May. Be sure to check back often for information on where we've been and how you can go out and enjoy the ride with your friends and family. NOTE* A valid State Trust Land Permit is required to stage your tow vehicle on State Trust Land or if you stop to enjoy other recreation opportunities on their properties.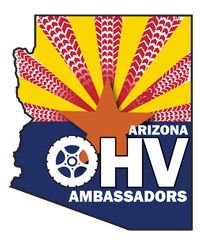 ​
Interested in Becoming an OHV Ambassador?
· Increased outreach presence
· Increased information sharing between Arizona State Parks and its constituents
· Engage more riders
· Promote safe and responsible riding
· Provide new and accurate OHV information
· Distribute education and marketing materials
The following trails are previously completed Show Me Rides that the Ambassadors have mapped out just for you! These rides offer exciting off-road experiences within a variety of scenic locations throughout the state. Looking for a high country adventure filled with wildlife viewing, trout fishing opportunities, and expansive views from high in the White Mountains? Take a look at the Region 1 rides in Eastern Arizona. Maybe you're more of a desert rat that's right at home on the saguaro studded Sonoran Desert trails of regions 4 and 6? We've mapped out plenty of experiences like that too…and everything in-between! Check back often to find upcoming Show Me Ride events or to access additional Show Me Rides as they're completed and added below. Click the explore button to find your next off-road experience and access maps, land manager contact info, and helpful tips to ensure you get the most out of your ride!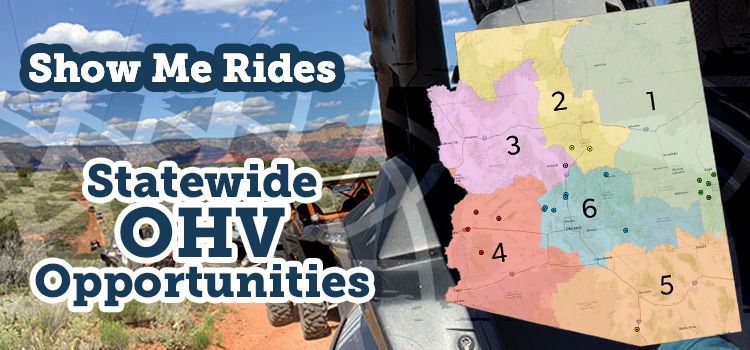 ​
Click the button below to explore Show Me Ride opportunities in any of the six regions throughout the state.
What is the Ambassador Program?
The Arizona OHV Ambassador program is a volunteer program which provides a means for private citizens to work with a variety of federal, state, local land managers, and public safety officials in Arizona to promote responsible off-highway vehicle (OHV) recreation throughout our beautiful state. These volunteers contribute their time, experience, and local knowledge of OHV areas through partnership with local, state, and federal agencies providing the following services:
Community Outreach Events
Agency staff coordinate with private, local, state, and federal organizations to establish booth space for the Ambassador program to distribute Arizona Game and Fish, State Land Department, Arizona State Parks and Trails and some land manager's education and promotional materials to Arizona riders. Each year the Ambassador programs attends five (5) to 10 outreach events at numerous locations statewide.
Trailside Meet and Greets:
Agency staff coordinate with Ambassadors and land managers statewide to conduct trailside outreach and education events. Meet and Greets will be held at high use areas and based on land manager need. They are used to educate the public on riding safety, responsible use, and where users can legally ride.
Special Work Projects: 
Agency staff coordinate with Ambassadors and land managers statewide to conduct trail maintenance, sign install, clean ups, trail brushing and kiosk install at various federal, state and local riding/staging areas. Each year the Ambassador program coordinates 6-8 of these special work projects based on land manager needs.
Program Benefits:
Public Benefits
•      More unique riding opportunities for the community
•      Better access to useful OHV information for the community
•      More education materials saturating popular riding areas
•      Better communication between agencies and the public
•      Increased communication between agencies and OHV dealerships, rental companies, and manufacturers
Benefits of being an Ambassador
•      Making a positive impact on Arizona's OHV opportunities
•      Free Day Use Park Pass with 60 hours completed
•      Exposure to new riding areas
•      Attending and volunteering at unique OHV events
•      Improving riding opportunities statewide
•      Protecting access to OHV areas