Park gates will be open from 4 a.m. to 10 p.m. All camping guests who will arrive after 10 p.m. must call the park before 4:30 p.m. to make arrangements.
Fish advisory in effect: ADEQ recommends that adults limit consumption of flathead catfish to 2.5 ounces (uncooked weight) per week and children 12 years of age and younger limit consumption to 2 ounces (uncooked weight) per month.
*Prepare for hot weather hiking conditions: Hike in morning or evening with plenty of water.*
Guided Bird Walks and Boat Tours will resume in October.
NO dogs allowed at beach day use area. Please use west day use area.
Dump stations are OPEN.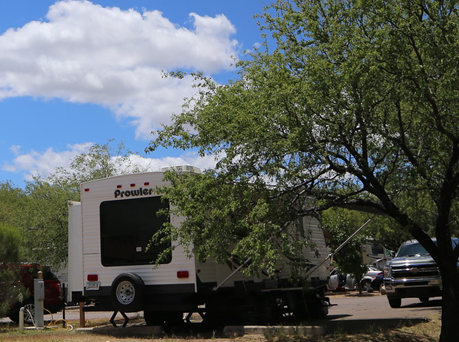 Programs & Events
New programs and events are added to the park calendar each month. Check back right here for the latest news and for Patagonia Lake State Park.
Park and Facility Hours
Gates are closed from 10:00 p.m. - 4:00 a.m.
Ranger Station
April - October
8:30 a.m. – 4:30 p.m. (Mon - Thu)
7:00 a.m. – 10:00 p.m. (Fri - Sat)
7:00 a.m. - 6:30 p.m. (Sun)
November - March
8:30 a.m. – 4:30 p.m. (daily)
Visitor Center
Open Daily
8:00 a.m. - 3:30 p.m.
Park Store
Hours vary by season
Park Entrance Fee
Per vehicle (1-4 adults): $15-$20
Individual/bicycle: $3