The Sonoita Creek State Natural Areas are closed until further notice due to extreme heat.
There will be no kayak rentals at the marina store until further notice.
Park gates will be open from 4 a.m. to 10 p.m. All camping guests with reservations who will arrive after 10 p.m. must call the park before 4:30 p.m. to make arrangements.
Fish advisory in effect: ADEQ recommends that adults limit consumption of flathead catfish to 2.5 ounces (uncooked weight) per week and children 12 years of age and younger limit consumption to 2 ounces (uncooked weight) per month.
NO dogs allowed at beach day use area. Please use west day use area.
Lakeside Camping at Patagonia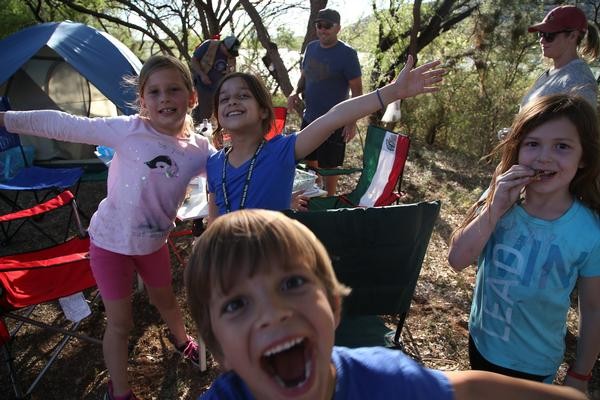 A camping experience at Patagonia Lake can be full of adventure or include plenty of relaxation…your adventure can be tailored specifically to fit your needs. Lounge around camp and let the desert breeze take your cares downwind, or be inspired by adventure on the lake or desert trails in the park. Before your camping trip, learn all about the desert plants and watchable Arizona wildlife you will experience at this gorgeous Southern Arizona destination. Learn below just how easy it is to book an unforgettable trip to Patagonia Lake State Park! 
Campsite reservations are available online or by calling our camping specialists at the Arizona State Parks Reservations Desk at (877) MY-PARKS. Our friendly folks are available seven days a week from 8 a.m. to 5 p.m. Arizona time.
Campsite Reservations at Patagonia Lake
105 developed campsites with a picnic table, a fire ring/grill, and parking for two vehicles. Select sites also have a ramada. Sites have 20/30 amp and 50 amp voltage. Sites tend to fill up in the evening from May until November. Campsite lengths vary but most can accommodate any size RV. Quiet hours (no generators, music, or loud voices) are from 9 p.m. – 8 a.m. See Park Rules. 
There are also two non-electric campsites available. They have a picnic table, fire-ring/grill, and parking for two vehicles with ramada for shade. These two sites are 22 ft. long for camper/trailers.
There is an additional per night fee for second vehicles. The fee can be paid with your reservation upon arrival at the park. The fee does not apply to vehicles towed behind a primary vehicle when the primary vehicle remains at the site and the towed vehicle is used for transportation.
For cancelation policy, see Reservation Policies: Terms & Conditions
To learn more about camping and recreation opportunities in your Arizona State Parks, see this comprehensive guide to camping in Arizona.
Explore AZ Facebook Group
There are 12 boat-in campsites are available. Sites have a picnic table, fire-ring and are accessible by boat only. Some sites have portable restrooms. Quiet hours (no generators, music, or loud voices) are from 9 p.m. – 8 a.m. Boats are available for rent from Patagonia Marina and Boat Rental, located in the boat trailer parking lot. You may also reserve boat-in sites online.
Donate to Arizona State Parks
Arizona's state park system does not receive General Fund monies that the state generates through taxes. As a self-sustaining agency, it is vital to receive public support for ongoing costs and upgrades to the park system you enjoy.
How will your donation be used?
Improvement projects like playgrounds, restrooms, and other infrastructure to improve park experiences
Repairs to existing buildings and structures within the parks, including historic structures.
Trail maintenance and construction
Organized clean-ups throughout Arizona
Park operational costs, including supplies and equipment to maintain the park.

For cancellation policy, see Reservation Terms & Conditions.