ARIZONA STATE PARKS Gift Cards
Surprise friends and family with the gift of adventure!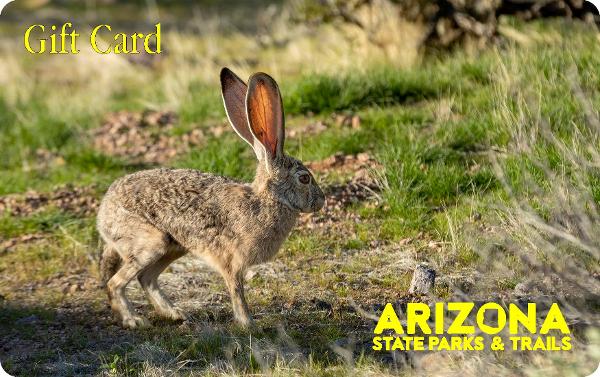 Gift cards are a great way to share the beauty of Arizona's open spaces for those "hard to shop for" types that love the outdoors. Use cards for state park day-use, overnight camping, cave tours or park store purchases at state parks across the state. Cards may be purchased below using our secure online portal or at the central office info center in downtown Phoenix.
Gift cards can be purchased online and at the main office location in any denomination, up to $500. Please allow 2-3 weeks for processing and delivery.
Phone orders can be placed Monday - Friday between 9 a.m. - 4 p.m. MST at 877-MYPARKS (877-697-2757).
Questions about gift cards? Check our FAQ page HERE.
---
ARIZONA STATE PARKS Annual Day Use Pass
Looking for a great, affordable option for visiting Arizona State Parks?
The annual day use pass allows access for up to four people to state parks across Arizona. Use your pass to continuously enjoy your favorite local state park or explore parks throughout the state. A day-use pass opens the door to exploring every corner of amazing Arizona — perhaps experiencing a different location each weekend. History lovers can explore the stories of the past at the state historic museums. We offer a non-commercial standard pass ($75) for weekday use at all parks, including weekends at most parks. This pass is not allowed on weekends and state holidays from April 1-October 31 at Buckskin Mountain, Cattail Cove, Lake Havasu, and River Island state parks. The non-commercial premium pass ($200) includes weekend and holiday access to the parks along the Colorado River (Buckskin Mountain, Cattail Cove, Lake Havasu, and River Island).
You can purchase your park pass online and have it mailed to your home, or you can purchase in person in our parks (except Colorado River, McFarland, Tubac Presidio, and Yuma Territorial Prison state historic parks). Please allow 2-3 weeks for processing and delivery.
Commercial passes may also be available. Inquire with the park.
Purchase an Annual State Parks Pass
Order by phone Monday - Friday between 9 a.m. - 4 p.m. Arizona time at 877-MY-PARKS (877-697-2757).
Park passes will not be replaced or refunded if lost or stolen.
Want to purchase an annual pass or gift card but aren't sure how? Watch the video below.
---

Arizona State Parks thanks the individuals who have proudly served our country.
To support our active military members and Veterans, we offer the following day use discounts to our parks.  Discounts apply to qualified Veteran discount program pass holder and up to three accompanied adults.  
All Active Military, Guard and Reserve
Arizona residents who are United States Military Retired or Service Disabled Veterans
50% off the day-use entrance. Please show your Military ID at the gate, no pass is required.
 
Arizona Resident - 100% Military Disabled Veterans
100% free day-use pass. Please bring your VA-Certified proof of 100 percent service-connected disability and Arizona license to a park visitor center to receive your pass.
The designated pass holder must accompany guests to receive discount. Discount is good for day entry to parks only. Discounts not applicable for tours at Kartchner Caverns State Park or Riordan Mansion State Historic Park, special use fees, special program fees, special events fees, special event admission fees, any reservation fees, camping fees or overnight parking fees. Pass is non-transferable and photo ID is required for entrance.
You can pick up your discount program card at any of our parks (partner parks not included) or at our Central Phoenix Office. Thank you for your service!