Arizona's Madrean Sky Islands are isolated "island" mountain ranges that stand tall among a sea of surrounding desert. Notable sky island ranges like the Santa Catalina, Pinaleno, Santa Rita, and Whetstone mountains, among others, are wrapped in rich history and provide a multitude of exceptional outdoor adventure opportunities. These significant Arizona mountain ranges reach elevations of over 10K feet in some cases, so the plant and wildlife communities are vastly different on the mountains compared to the surrounding desert below. Start your day in the Sonoran Desert and within an hour you could be in pine country and much cooler weather! It's not uncommon for any of the sky island ranges to get snow in their higher reaches and at times, the snow level will drop even lower on these icons of the desert. The sight of white-capped mountain peaks amid the panoramic desert canvas is an unforgettable memory that you just don't want to pass up!
Any road or trail that gains elevation, in any of Arizona's sky islands, will quickly show you how smooth of a transition it is from Sonoran or Chihuahuan Desert lowlands up to the oak woodlands, and sometimes all the way into the high country with mixed conifer and sub-alpine type habitats. Trade cacti for pines this year and embark on an unforgettable southern Arizona experience!
There are four state parks right on the edge of sky island adventure and plenty of camping opportunities within them to help you get the most out of your experience. The parks are a great place to stay and rest up each night after a long day of exploring the high elevations of these gorgeous mountains. Take a look at the sky island ranges below and their associated state parks then plan your own Southern Arizona adventure!
Santa Catalina Mountains
This popular sky island mountain range towers over Tucson to the north and east of the city and offers a multitude of outdoor recreation opportunities within reach of the metropolitan area. A variety of trails and roads will take you either by foot or wheel to the top of the range's most notable peak, Mount Lemmon (9,157 feet) among others. Catalina State Park is a great spot to set up a base camp while exploring the Santa Catalina Mountains. A spacious campground (with clean showers) and several trails that extend up into the mountains are a convenient combination for anyone that's up for the challenge of the climb. Mount Lemmon road can be accessed in the nearby town of Oracle, AZ if you're more apt to take a road trip in order to access the mixed conifer vegetation and cooler temps at the top.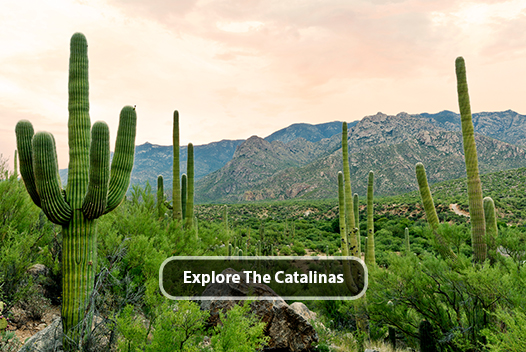 Whetstone Mountains
Sitting comfortably between the Santa Rita mountains to the west, and the Dragoons to the east, the Whetstone mountains (punctuated by Apache Peak at 7,711 feet) are somewhat of a forgotten gem! Kartchner Caverns State Park is nestled amid the eastern foothills and is a convenient gateway to Whetstone Mountain adventure! Access trails right from the beautiful campgrounds and off-road trails are just a short drive north or south on Arizona State Route 90. Bats, birds, butterflies, and a variety of wildlife species including javelina, Coues whitetail deer, and coatimundi are commonly seen while exploring the Whetstone range. Northern access to the mountains may be very limited due to private land and locked gates but the park puts you right on the doorstep of a beautiful sky island adventure!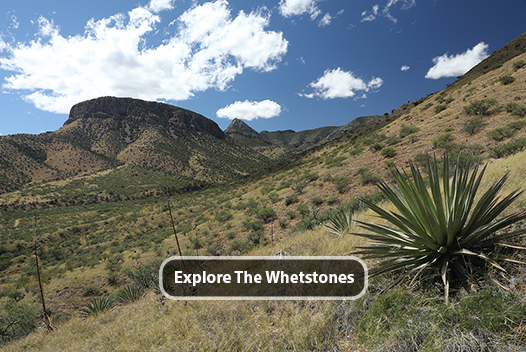 Santa Rita Mountains
Epic birding and wildlife viewing, access to hiking and off-highway trails, and great fishing are all within reach during your Santa Rita adventure! Mount Wrightson at 9,453 feet is the highest peak in the area and can be seen in the distance from Tucson more than 40-miles away. If you're looking for solitude, there are plenty of trails in the Santa Ritas for you! Patagonia Lake State Park is right on the southern tip of the Santa Ritas and gives outdoor enthusiasts convenient access to a variety of opportunities for outdoor adventure! The park has a lake that is usually generous to anglers, and your choice of campsite or rustic glamping cabin to extend your stay. With so much to do in the Santa Rita Mountains, we encourage an overnight trip to ensure you're able to experience it all!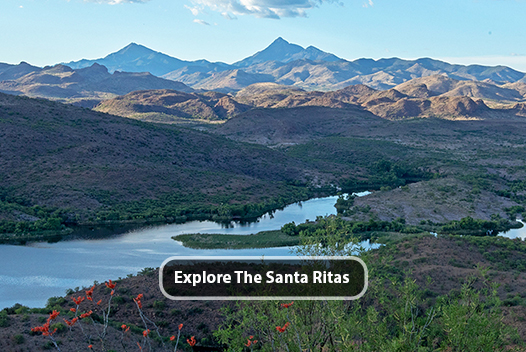 Pinaleño Mountains
State Route 366 south of Safford will lead adventurers high into the Pinaleños and through nearly as many life zones as they would experience during a trip from Sonora to British Columbia! At 10,720 feet, Mount Graham, the range's highest peak, watches over the Chihuahuan-Sonoran desert below. Roper Lake State Park at the base of the range is in the perfect spot for anyone looking to stay in a campground or cozy cabin while resting up from intense Sky Island exploration! Catch some trout or bass in the lake or view the variety of birds and wildlife that live there. Convenient Pinaleño Mountain access via SR 366 is just outside the park and before you know it you'll be leaving the desert in your rearview and experiencing the wonder of southern Arizona's unique sub-alpine habitat.