There will be no kayak rentals at the marina store until further notice.
Park gates will be open from 4 a.m. to 10 p.m. All camping guests with reservations who will arrive after 10 p.m. must call the park before 4:30 p.m. to make arrangements.
Fish advisory in effect: ADEQ recommends that adults limit consumption of flathead catfish to 2.5 ounces (uncooked weight) per week and children 12 years of age and younger limit consumption to 2 ounces (uncooked weight) per month.
NO dogs allowed at beach day use area. Please use west day use area.
Southern Arizona Outdoor Wedding Venue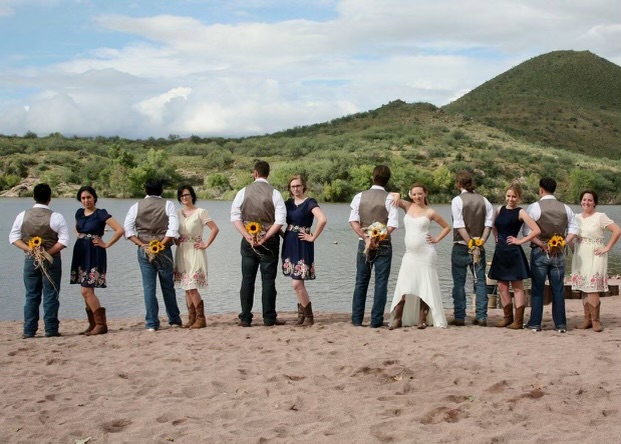 Let us host your special day in a romantic location with unforgettable scenery in an affordable outdoor setting! This outdoor wedding venue is located within one of southern Arizona's most scenic and serene places. The shimmering lake and panoramic mountain views are the perfect backdrops for your ceremony. You'll be in awe of the beauty every time you look through the photos of your amazing day!
Questions? Contact the park at (520) 287-6965 to learn more about our facility and sites for your wedding.
Steps to Make a Wedding Reservation
Visit the Weddings Home Page for a list of parks that can host your wedding or download park-specific information on this page (below).
Download and review the Wedding Packet and general Wedding Pre-Application.
Call the park to inquire about wedding date availability, start a reservation request, and get a park wedding contact.
Fill out the Wedding Pre-Application form and scan and email the form to your park wedding contact.
On the phone with your park wedding contact, determine final facility and rental needs, and calculate total fees. Arrange for deposit and fee payments to finalize your reservation. Your reservation is not complete until payment is received at the park.
Prepare for your special day!
Downloads
Download Agency Wedding Brochure
Download Patagonia Lake Wedding Packet