Southwest Arizona
Region 4 is a great option for OHV enthusiasts looking for a Sonoran Desert trail experience! You'll be amazed by the amount of life that has carved out a thriving existence here! Wildlife encounters that include desert mule deer, bighorn sheep, and javelina are relatively common in Region 4, plus winter brings a variety of migrant birds here to enjoy the amazing winter and spring weather before their return trip home!
Regardless of when you're adventuring in southwest Arizona, drink plenty of water, wear sunscreen, and use PPE and seatbelts on the trail. The expansive desert country here gives riders plenty of options for three seasons. Summertime temps often eclipse 110º for several days and riders are encouraged to explore higher elevations.
We've designed this resource to help you plan your next OHV adventure more efficiently so you can focus more intently on the unforgettable memories you'll make from the trail. Find trail information below plus KMZ files and downloadable maps of designated OHV experiences throughout the region. Choose your next OHV adventure below...Then load up the trailer and point your rig to Southwest Arizona!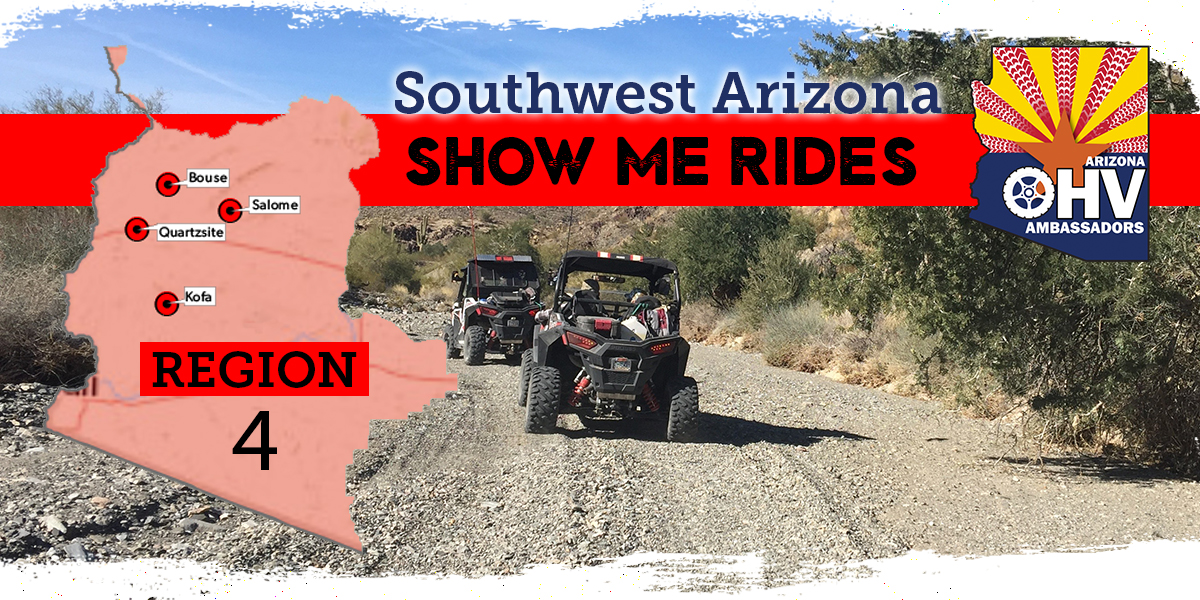 Click the "Explore Trails Statewide" button below to learn about Show Me Rides in other regions throughout the state! 
Region 4 Trails (Southwest Arizona)
This moderately paced Western AZ ride gives OHV enthusiasts a detailed and authentic Sonoran Desert experience. The East Cactus Plain Wilderness really showcases this gorgeous slice of Arizona with plenty of panoramic desert views and an array of native plants and animals that may be encountered during your ride. Connection points to unique opportunities like the Camp Bouse Training Area, the Desert Bar, and several state parks adds even more adventure potential to this western Arizona OHV experience.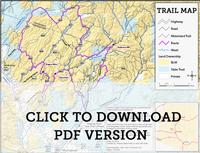 Kofa National Wildlife Refuge is part of the National Wildlife Refuge System. A national network of land and waters managed for the benefit of wildlife and recreational users. Riders experiencing the area have access to wildlife watching, photography, hiking and camping. NOTE* A permit is required when traveling in a group of three (3) or more off-highway vehicles.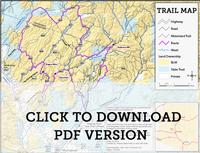 Currently a winter riding HOTSPOT, Quartzsite offers a wide range of day trip rides like this one to get out and see the desert of the southwest.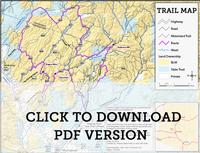 This technical route is for experienced riders only. Much of the ride will be thru scenic portions of the Sonoran Desert with outstanding views and trails that wind through Saguaro and Cholla forests.