Minnows are back in stock at the park store!  Please call the park at (928) 669-2088 prior to scheduling a fishing tournament at Alamo Lake.
The nearest fuel and propane is in Salome; campers are encouraged to bring their own fuel.
Relax Lakeside in Comfort 
Imagine waking up, ambling out to the front porch of your Alamo Lake cabin, and being met with another gorgeous Arizona day on the lake. After your thoughts have cleared from a secure, comfortable slumber, you begin to realize the adventure potential of your day. Should you fish for bass in this world-renowned fishing destination? Maybe take a hike to find and appreciate the area's diverse wildlife and birds...Or perhaps you could hop onto a dirt trail with your 4-wheel drive (or OHV) and experience this gorgeous slice of desert with the wind in your face. You know, there's always the potential to simply relax, recharge, and take in the beautiful scenery. We'll provide the place to stay in a scenic location, but you bring the adventure!  
Camping Cabin reservations are available online or by calling our friendly folks at the Arizona State Parks Reservations Desk at 1-877-MY PARKS (697-2757). They are available seven days a week from 8 a.m. to 5 p.m. Arizona time. There is a $5 non-refundable reservation fee per cabin.
Cabin Reservations at Alamo Lake
Alamo Lake State Park offers four camping cabins that overlook Alamo Lake and the gorgeous surrounding desert. Each cabin features a covered wood porch and comfortable features. Cabins are furnished with two single, bunk style beds with mattresses (four beds total), one table, four chairs, electricity, two ceiling fans, lights, heat/air conditioning, and a lockable door. Campers must supply their own linens.
Cabins are accessible by car or pickup truck with boat if the vehicle & boat both fit in the cabin's parking space. A picnic table, fire ring & charcoal grill make for a well-equipped outdoor setting. Cabins sleep up to four people, with a maximum capacity of six people. Guests may use personal cots or blow-up mattresses to create additional beds. Restrooms and showers are within walking distance. 
Learn about other Arizona state parks with cabin rentals
Reservation Policy and Fees: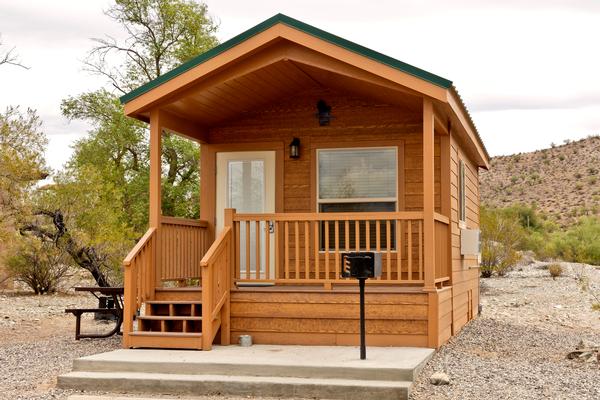 Please remember to print a copy of your confirmation and bring it with you to assist with your check-in.
Cabin Fee: $70 per night, plus a $5 non-refundable reservation fee.
Reservations are confirmed by receipt of an application and approval of a credit card (Visa/Mastercard only). Full payment is required at booking.
Rental rates are charged per night. 14 nights maximum stay length in any 30-day period.
Reservations may be made up to 365 days in advance.
Pets must be declared upon reservation. There is a pet charge of $10.00 per cabin and a limit of two pets per cabin.
There is a refundable $50 cleaning deposit taken at reservation. This fee will be refunded if the cabin is returned in the condition in which it was reserved.
Smoking and cooking are prohibited in cabins. Fires are limited to barbecue grilles and the fire pit.
Furniture must remain inside cabin.
Cabin guest must ensure that the cabin is left clean and undamaged. 
Damage fees will be assessed to cover the total cost of repairs.
Vehicles: Each vehicle must display a permit on the rear view mirror of their vehicle indicating payment of fees. Maximum two vehicles per cabin. There is a $15.00 per night fee for second vehicles. This fee can be paid with your online reservation or paid upon arrival at the park. Fee does not apply to vehicles towed behind a primary vehicle or if the vehicle is registered to the same address as the primary vehicle.
Cabin Occupancy: The rental party must comprise at least one person 18 years of age or older. Occupancy is a maximum of four adults not to exceed six persons total, including children.
Tents: There is a tent fee of $15.00 per night. The tent must be declared upon reservation. The tent must be placed within 10 feet of the cabin.
Check in time is 3 p.m. Check out time is 10 a.m.
All other policies governing Arizona State Parks shall apply.
To learn more about camping and recreation opportunities in your Arizona State Parks, see this comprehensive guide to camping in Arizona.
For cancelation policy, see:   Reservation Policies: Terms & Conditions
Want Even More AZ Cabin Information? Sign up for our newsletter to get "glamping" tips and state park news delivered right to your inbox!