Power is out at the park. Estimated repair by Monday, August 15.
Stage 2 fire restrictions in effect - no wood or charcoal fires. No smoking except in an enclosed vehicle. Propane grills are allowed.
Cholla campgrounds C, D and E as well as the Cholla launch ramp will be closed until September 1 for maintenance and repairs to the campgrounds and shower building.
Nearest fuel and propane is in Salome; campers are encouraged to bring own fuel.
Park Location and Directions
Where is Alamo Lake State Park?
Take US 60 to Wenden, AZ (85357) and look for the standard brown point-of-interest sign. Next, take the two lane paved road across the train tracks 33 miles north which leads directly to the park entrance at milepost 33.
Beware - this road is open range. Cattle, deer and wild burros are often seen on this road.
CLICK HERE for Google Map Directions to the Park
What3Words: ///foots.remotely.torch
Alamo Lake Park Map
Before you visit, get an overview of the park and download a Printable Park Map.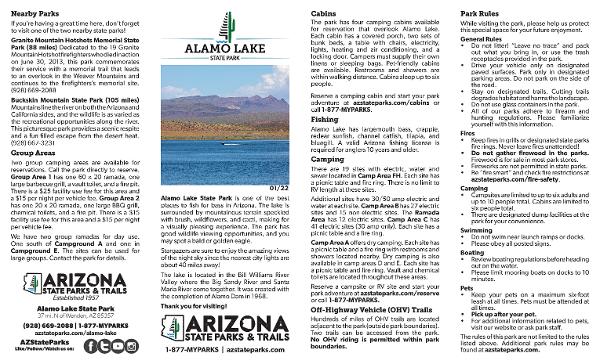 Elevation
1300 ft