Access to Tavasci Marsh from the park is closed due to a recent fire.
Camper Mail Notice: Park cannot accept mail for campers, please use general delivery at the post office or make other arrangements. Packages delivered to the park will be returned to sender.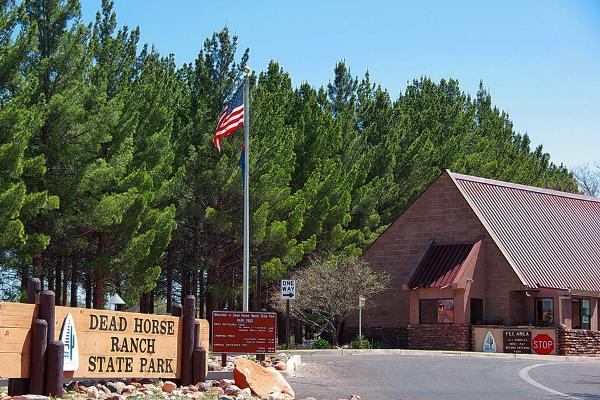 Take a look at the variety of facilities and activities available to park visitors below. This north-central Arizona park is located in Cottonwood, Arizona and within the Verde River Valley corridor. The spacious campgrounds give quick access to most of the park features like trails, playground, lakes, and the Verde River. The rustic cabins are within a shaded mesquite bosque in a quiet corner of the park near the river. Dead Horse Ranch is a great place to stay while you explore the natural beauty and rich history of this popular Arizona region. Take a look at the following information, and plan a trip to our beloved Dead Horse Ranch State Park! 
Facilities Available at Dead Horse Ranch State Park
Visitor Center/Park Store
The Dead Horse Ranch Ranger Station is located right at the park entrance and offers registration, park information, first aid assistance, and a gift shop. The store keeps a limited stock of camping and fishing supplies, and food and drink items. You can pick up souvenirs and park swag like t-shirts and hats, or other Arizona themed gifts and keepsakes. Store hours are from 8 a.m. – 5 p.m. every day except December 25.
Campground and RV Sites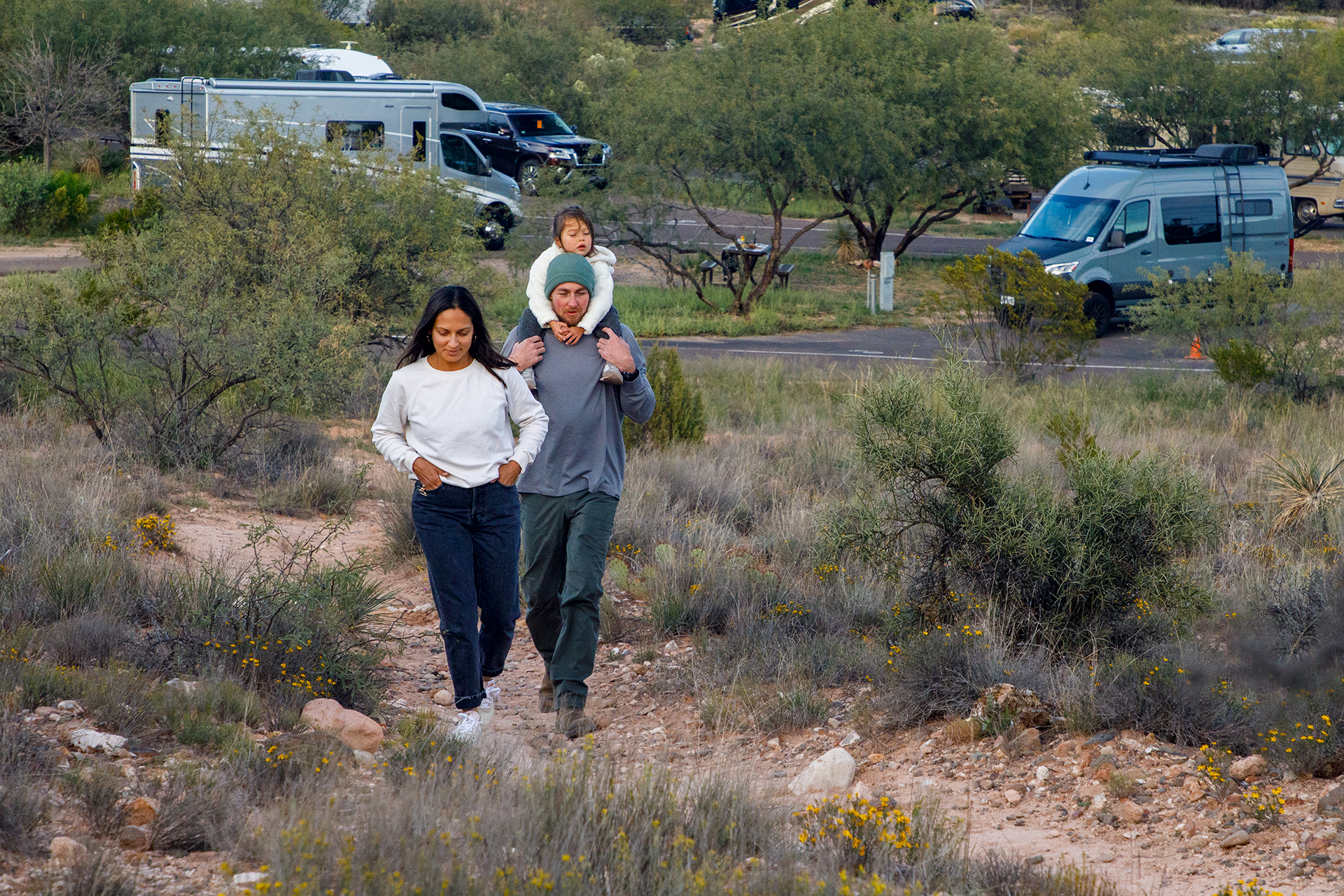 With over 100 spacious camp sites scattered throughout the high desert, the Dead Horse Ranch campgrounds are at the epicenter of outdoor recreation. The campground consists of four loops that each have varying numbers of spots available for you to stay. Most campsites here are RV accessible with hookups. Many of the pull through sites can accommodate truck/trailer setups up to 65 feet long.  Reserve a spot early because this park is popular and getting a spot can be difficult during the weekend. Try instead for a weekday adventure! Fees are $30-$35 per night for a site with electricity, and $20 a night for sites without hook-ups. Click below to book a spot and begin your Verde Valley adventure at Dead Horse Ranch State Park!
Cabins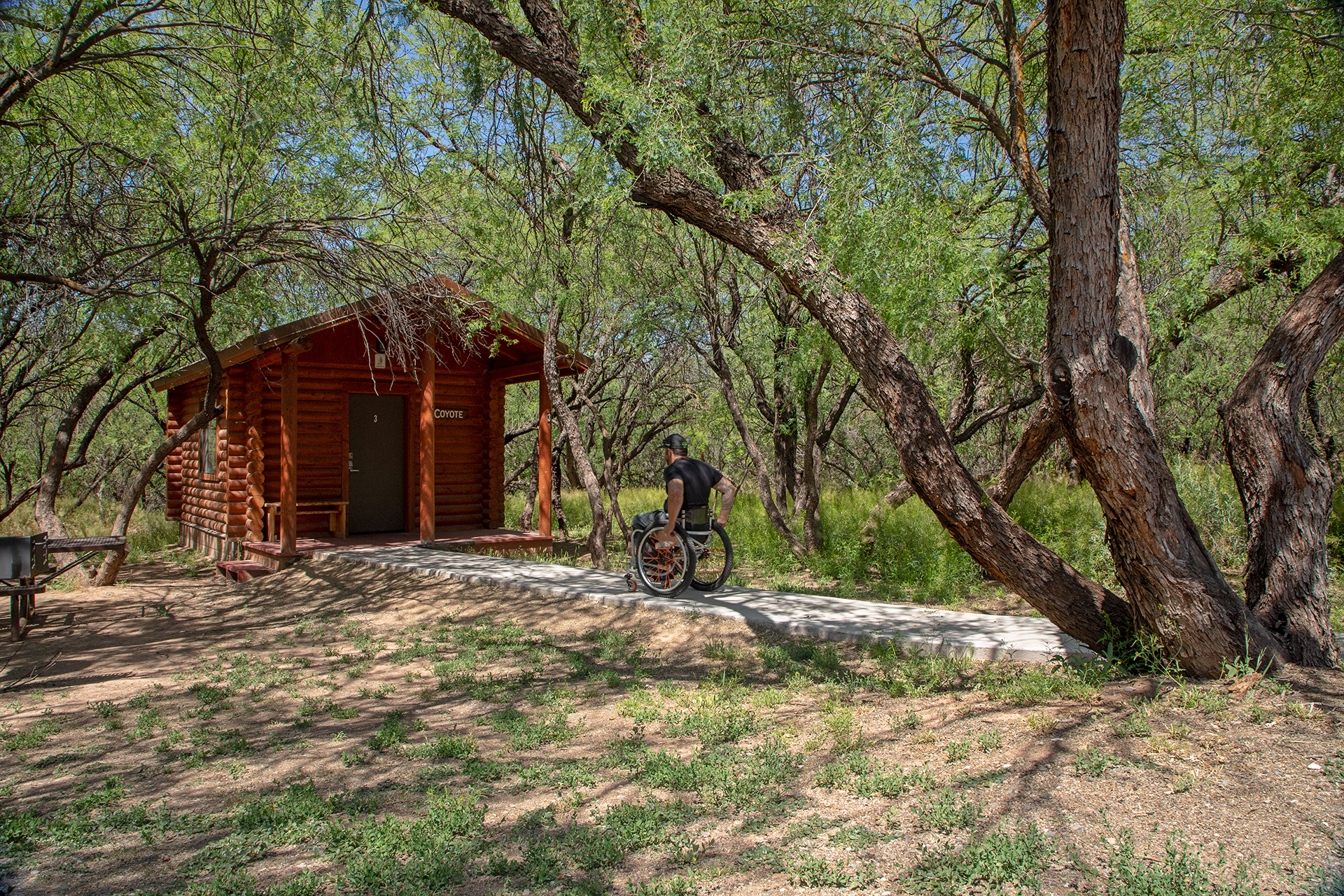 A genuine log cabin experience will really elevate your Dead Horse Ranch experience! Eight one-room cabins are available to visitors that would like to extend their stay, but would rather not do so in the campground. All eight cabins have electricity, lighting, and heating/cooling but there is no water available. These dry cabins are however situated close to a clean restroom with showers. The cabin loop is tucked away in a mesquite thicket which really adds to the remote feel of your fun cabin adventure!
Day Use Areas
River Day Use Area: Located in the proximity of the Verde River. Trails leading from the River Day Use Area follow the river as well as lead into a lush cottonwood, willow gallery riparian area. The Canopy Trail is ADA accessible providing excellent birding and wildlife viewing opportunities for the mobility impaired. There are two ramadas available for group reservations. Each ramada has a large family-size grill, electricity, and picnic tables. Maximum group size for the entire day use area is 200+ people.
Los Alamos Day Use Area: Located under a cottonwood tree canopy between two fishing lagoons — eight ramadas are available for reservation. A dock, launch ramp, fish cleaning station, and modern restrooms are close by. Nearby are trails leading around the lagoons, to the Verde River Greenway and onto the Coconino National Forest. The two lagoons adjacent to Los Alamos total approximately 16 surface acres.
Reservations are taken no more than 12 months in advance.
Ramadas
A variety of ramadas are located throughout the park and they are perfect for work functions, birthday parties, or family get togethers. Reservation fee includes electricity only where available and restrooms are within walking distance of all ramadas. Check out this list of options and contact the park to book a ramada experience.
Lagoons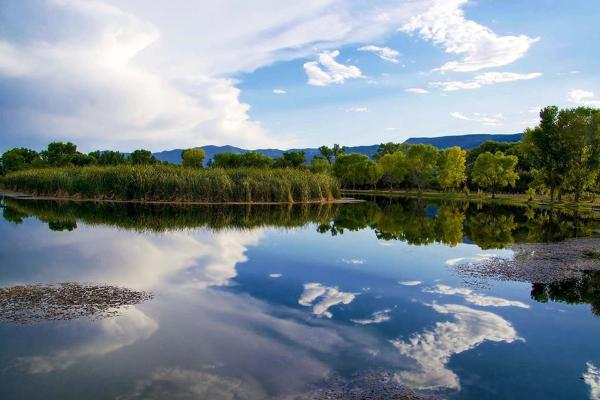 There are three lagoons within the park that offer great fishing and a place to watch the area aquatic wildlife and birds. A pair of nesting bald eagles returns here each year and puts on a great show up in the cottonwood trees and as they swoop down to grab a fish meal out of a lagoon. All three lagoons have trails that navigate their circumference, and are full of a variety of sport fish. During the summer months, the Arizona Game and Fish Department stocks them with channel catfish, and during winter they shift to rainbow trout. There is a naturally reproducing population of largemouth bass and bluegill in these waters as well. 
Dump Station
A dump station is available with payment of the $15 non-electric camping fee or at no extra fee to registered campers.
Restrooms/Showers
Clean, accessible restrooms and showers are available at the campgrounds and near the lagoons. Showers to be used by registered campers and paid shower use only. A hot shower is really nice after playing hard all day! The park does not supply toiletries.
Activities and Experiences
Trails
Most trails within the confines of this park fall under "shared use" guidelines. Hikers, bikers, and equestrian users all have the right to use these trails,although standard trail ettiquette should be followed during your trip. Take a look at the Dead Horse Trail Page for insight about each trail on the park and an in-depth look at the Lime Kiln trail that connects this park to Red Rock State Park.
Horseback Rides
Dead Horse Ranch has an equestrian concessionaire on the park who leads wrangler-guided trail rides. Take a leisurely ride through the park, past the river and even have a picnic lunch out on the trail! Visit trailhorseadventures.com for more information.
Horse corrals are available on a limited basis for overnight use with advance arrangements.
Wildlife Viewing
Mammals common in the park include gray fox (Urocyon cinereoargenteus), coyote (Canis latrans), jackrabbit (Lepus californicus), cottontail rabbit (Sylvilagus sp.), coues white-tailed deer (Odocoileus virginianus couesi), mule deer (Odocoileus hemionus), bobcat (Felis rufus), mountain lion (Puma concolor), javelina (Tayassu tajacu), and the striped skunk (Mephitis mephitis).
Learn where to view Arizona's diverse wildlife species throughout your state park system on the Arizona Wildlife page.
Fun fact: River otters are present in the park lagoons and associated Verde River areas. Anglers should take precautions against the theft of their catch by these sly little aquatic mammals! 
The lagoons and the Verde River provide excellent habitat for birds. The park boasts an extensive bird list (almost 200 species) and is also home to the yearly Verde Valley Birding and Nature Festival. Dead Horse Ranch State Park is also included in the Tuzigoot Important Bird Area (IBA). Avian species within this IBA include several sensitive, threatened, or endangered birds listed as species of concern.
Take a look at the Dead Horse Ranch eBird sightings list to find out which species we've been seeing in the park, then download a printable bird checklist and find as many you can during your next trip!
Fishing
Two distinct fishing options are available to park visitors, each of them offering a different experience for those of you that like to catch a few. The Verde River is along the southern edge of the park and holds bass, bluegills and channel catfish year-round. The river is supplemented with rainbow trout during the winter months from out partners over at the Arizona Game and Fish Department. 
The Dead Horse lagoons hold the same fish species, and all three are stocked with rainbow trout during the winter. The largemouth bass in these lagoons offer up great springtime action as they come to the shallow areas to breed. Learn all about the Dead Horse Ranch fishing opportunities on the park fishing page, than plan a trip and hook some memories! 
Playground
The playground at Dead Horse is a relatively new addition but has gotten a lot of attention form kids and adults alike since it was installed. A zipline gets much of the attention and although relatively small, it's still tons of fun for both kids and adults looking for a quick shot of adrenaline. Several other types of playground equipment are available to give users options during their stay.
Dead Horse Ranch Park Rules
Camping fees are per vehicle, maximum of two vehicles per campsite.
When leaving your campsite unattended, please do something to demonstrate occupancy.
Pets must be kept on a leash and may not be left unattended. Please clean up after your pet. Pets are not permitted in park buildings.
Firewood gathering is prohibited on park grounds.
Check in time for visitors with reservations is 2 p.m.
Checkout time is noon. 
Quiet hours are from 10 p.m. to 8 a.m.
Generators are prohibited.
Amplified music / public address systems are prohibited.
Park stay is limited to 14 nights in any 30-day period.
Vehicles and trailers must be parked on paved surfaces only (including campsites).
Grey water must be contained.
RV and vehicle washing is prohibited in the park.
Swimming, wading and stand-up paddle boards are prohibited in the lagoons.
No motorized boats permitted in the lagoons. Boats must be Coast Guard approved and personal floatation devices must be worn.
Discharging firearms is prohibited in developed areas within the park (including BB and pellet guns, bows, and slingshots).
No metal detecting.
Frequently Asked Questions (FAQ) about Dead Horse Ranch
Q: How did the park get its name? 
A: The Irey's family came to Arizona from Minnesota looking for a ranch to buy. As the family searched for a ranch, they found one with a dead horse lying by the road. When the family asked the children which ranch they liked, they replied "the one with the dead horse" — the name stuck. 
Q: What is there to do at this park? 
A: Arizona State Parks fall into three major categories: historic, educational, and recreational. Dead Horse Ranch is a recreational facility with RV accommodations, camping facilities, shared-use trails, fishing lagoons, river access, and an equestrian concession.
Q: What is the Verde River Greenway State Natural Area? What is a "Riparian" Area? 
A: The word "riparian" is derived from Latin ripa, meaning river bank. Riparian zones occur along the interface between land and a waterway. The Verde River Greenway State Natural Area includes the Fremont Cottonwood-Goodling Willow Riparian Forest, one of only 20 such stands in the world; and is a separately managed part of the Arizona State Parks system. You may camp or park at Dead Horse Ranch to access the Verde River Greenway State Natural Area.
Q: What kind of birds can be seen here? 
A: The park's official bird list includes 180 species, although the Northern Arizona Audubon Society reports as many as 240 species in the immediate area. Since the park's boundaries fall entirely within the Tavasci Marsh IBA (Important Birding Area), there are many different types of birds present, including loons, herons, wrens, egrets, eagles, hawks, hummingbirds, owls, quail, flycatchers, swallows, swifts, and even ducks.
Q: Do you have snakes? 
A: Arizona has more species of snakes than any other state. Although the park does have snakes, they avoid contact with humans. We ask you to help us maintain the park's natural ecological balance by treating all wildlife with respect, including snakes.
Q: What kind of fish live in the lagoons and river? 
A: Largemouth bass, channel catfish, bluegill, crappie, and rainbow trout.
Q: Where do the lagoons get their water? 
A: Water flows into the park from the Verde River via the Hickey Ditch, which boasts the oldest water rights in Northern Arizona. Unlike other parts of the U.S., where a "ditch" might simply be a trench by the side of a road, ditches in Arizona are legally defined and protected by Arizona state law. 
Q: How difficult are the trails? 
A: The trails accommodate a wide range of ability levels, including folks with mobility limitations as well as expert hikers, equestrians, and mountain bikers. 
Q: Do you have any campsites that are right next to the river? 
A: No. The river occasionally floods; camping on the river could be hazardous, and campsites would be expensive for the state to rebuild frequently.
Q: What can you tell me about the old graveyard? 
A: The cemetery is not owned by the state or the park, but is privately owned by the Trustees of the San Luis Rey Cemetery. Local residents, including miners, cowboys and Hispanic laborers are buried in the graveyard. The park does not act as curator.
Q: Can I use my Golden Age Pass (National Parks) at this State Park? 
A: Although some smaller state park systems do accept the Golden Age Pass, Arizona State Parks is not one of those. Public lands in Arizona are managed by number of government agencies, both state and national, which are separately funded. You can, however, purchase an Arizona State Parks Annual Pass.