Access to Tavasci Marsh from the park is closed due to a recent fire.
Camper Mail Notice: Park cannot accept mail for campers, please use general delivery at the post office or make other arrangements. Packages delivered to the park will be returned to sender.
Comfortable getaway on the Verde River near Sedona
Everyone has a different idea of adventure, but most of us feel the same way about relaxing after a long, exciting day. We've made it easy for you to get your rest and recharge in our beautifully rustic log cabins. Did you bike the Lime Kiln Trail? Maybe you've been out photographing the diverse birds and animals of the park all day. Did you fish the lagoons then hike down the Verde River Greenway to find more secluded spots? You're surrounded by adventure potential here...Bring the mindset, we'll supply the peace of mind with our comfortable air-conditioned cabins.
Cabin reservations at Dead Horse Ranch are available online or by calling the friendly folks at the Arizona State Parks Reservations Desk at 877-MY-PARKS. We're available to help 7 days a week from 8am to 5pm Arizona time. There is a $5 reservation fee per reserved cabin.
Cabin Reservations at Dead Horse Ranch
Reservation Policy and Fees: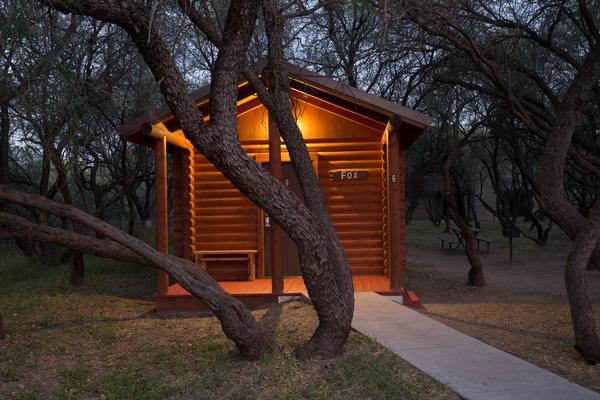 Camping Cabin Loop: Eight one-room log camping cabins are available at Dead Horse Ranch State Park. The cabin circle is tucked away from the other campgrounds for an ideal getaway for a weekend — or a week.
These North Central Arizona Cabin Rentals are variably furnished with a full-size bed, a bunk bed, table and chairs, dresser-drawer, ceiling fan with overhead light, and electricity. Complete with heating and cooling! 
Campers must supply their own linens. Each cabin also has a barbecue and picnic table outside, plus a small individual fire ring. Family-style shower facilities are only a short walk from all of the cabins. There is an electrified ramada with barbecues that can be shared by cabin guests. RVs are not permitted in cabin areas.
There is a $15.00 per night fee for second vehicles. The fee will be paid upon arrival at the park. The fee does not apply to vehicles towed behind a primary vehicle when the primary vehicle remains at the site and the towed vehicle is used for transportation.
Learn about other Arizona state parks with cabin rentals
Reservation Policy and Fees:
Cabin Fee: $60 per night. $5 reservation fee.
14 nights maximum stay length in any 30-day period.
Reservations may be made up to 365 days in advance.
Pets must be declared upon reservation. Pets are only allowed at cabins 3 through 8. There is a pet charge of $10.00 and a limit of two pets per cabin.
There is a refundable charge of $50 for cleaning. The fee will be fully refunded if the cabin is returned in the manner it was reserved.
Smoking and cooking are prohibited in cabins. Fires are limited to barbecue grilles and the fire pit.
Furniture must remain inside cabin.
Cabin guest must ensure that the cabin is left clean and undamaged. 
Vehicles: Each vehicle must display a permit on the rear view mirror of their vehicle indicating payment of fees. Maximum two vehicles per cabin. RVs are not permitted in the cabin area.
Cabin Occupancy: The rental party must comprise at least 1 person 18 years of age or older. Occupancy is a maximum of four adults not to exceed six persons total, including children. Maximum occupancy includes any person in a tent.
Bedding consists of one bunk bed and one full-sized bed.
Tents: There is a tent fee of $20.00 per night. The tent must be declared upon reservation. The tent must be placed within 10 feet of the cabin.
Check-in time is 3 p.m. Check out time is 10 a.m.
All other policies governing Arizona State Parks shall apply.
To learn more about camping and recreation opportunities in your Arizona State Parks, see this comprehensive guide to camping in Arizona.
For cancelation policy, see Reservation Terms & Conditions
Want Even More AZ Cabin Information? Sign up for our newsletter to get "glamping" tips and state park news delivered right to your inbox!