The Roper Lake hot tub is permanently closed.
Enjoy your stay in a log cabin by the lake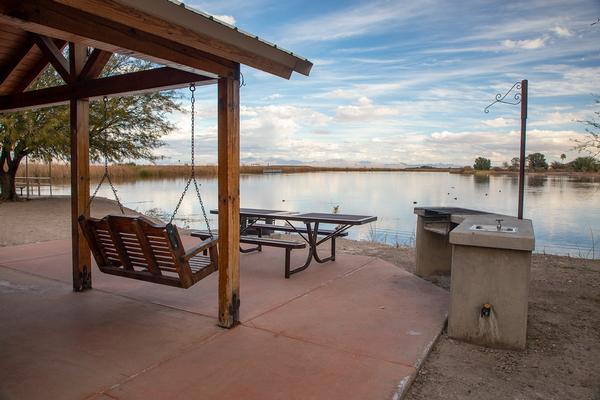 Within the shadows of Mount Graham lies an opportunity for adventure and your home base could be an air-conditioned cabin rental on the shores of a beautiful southern Arizona lake. With so much area to explore in this area, it makes sense to recharge in comfort. This park is home to a large variety of bird species, offers great seasonal fishing, and is within close proximity to one of Arizona's most beautiful "Sky Island" mountain ranges. Imagine waking up to the fog lifting slowly from the lake, walking outside and casting a line. As the fog lifts to expose the sun of a new day, the distant mountains are exposed and calling you to experience the adventure. You bring the mindset...We'll supply a place to stay, and the the peace of mind you've made a great decision to be here. 
Cabin reservations are available online or by calling the friendly folks at our Reservation Desk (877) MY-PARKS. We're available seven days a week from 8 a.m. to 5 p.m. Arizona time.
Eight cabins line the lake at Roper Lake State Park offering lots of recreational opportunities. Cabins at Roper Lake are variably furnished with bunk beds with mattresses and/or full-size beds with mattress. The cabins are outfitted with electricity and air-conditioning/heating.
Cabin Reservations at Roper Lake
Please note that open flame (candles and stove burners) are not permitted in the cabins. Picnic tables and charcoal grills make for a well-equipped outdoor setting. Restrooms and showers are within walking distance. Cabins are available year-round.
Reservation Policy and Fees
Cost: $65-$70 per night, plus $5 reservation fee.
The rental party must comprise at least one person 18 years of age or older. Occupancy is a maximum of four adults not to exceed six persons total, including children.
Pets: Pets are only allowed in the following cabins: Mustang, Roadrunner, Coyote, Hummingbird, and Bass. Pets are not allowed in the Bear, Elk or Lion Cabins. No exceptions. There is a limit of two pets per cabin with a pet fee of $10.
Check In/Out: Check in at 3 p.m. Check out by 10 a.m.
Reservations: Reservations can be made up to 365 days in advance and a minimum of two days in advance. The units can be rented for a maximum of 14 nights. 
Reservation Fee & Deposit: Full payment is required at the time the reservation is booked, including a $5 reservation fee.
Cancelations:
If the reservations are canceled after 2:00 p.m. two days prior to check-in, one night's fees and the $5.00 non-refundable reservation fee are forfeited. If the reservations are canceled before 2:00 p.m. (Arizona time) the two days prior to check-in all fees, except the $5.00 non-refundable reservation fee, will be refunded to the original form of payment.
Failure to arrive for your scheduled reservation by 12 noon the day following the first night's reservation will result in loss of your payment and your cabin may be made available for resale. If your party is unable to check in as planned, please contact the park.
Cabin reservations require a deposit, which will will be returned after the cabin is shown to be left in the manner in which it was reserved.
Campers who do not arrive by 12 noon the day following the first night's reservation will forfeit all payments and the campsite will be made available on first-come, first-served basis.
If you need to cancel, please call and cancel prior to arriving at the park.
A campsite with or without water and electric hook-up is available for use near the cabins for an additional charge.
To learn more about camping and recreation opportunities in your Arizona State Parks, see this comprehensive guide to camping in Arizona.
Learn about other Arizona State Parks with cabin rentals available
Want Even More AZ Cabin Information? Sign up for our newsletter to get "glamping" tips and state park news delivered right to your inbox!
Donate to Arizona State Parks
Arizona's state park system does not receive General Fund monies that the state generates through taxes. As a self-sustaining agency, it is vital to receive public support for ongoing costs and upgrades to the park system you enjoy.
How will your donation be used?
Improvement projects like playgrounds, restrooms, and other infrastructure to improve park experiences
Repairs to existing buildings and structures within the parks, including historic structures.
Trail maintenance and construction
Organized clean-ups throughout Arizona
Park operational costs, including supplies and equipment to maintain the park.