The Roper Lake hot tub is permanently closed.
Dankworth Ponds is a sub-unit of Roper Lake located three miles south of Roper. The park itself is compromised of 150 acres of land surrounding a 15-acre pond. At one time there were actually several ponds on the property. The ponds were originally used for commercial catfish farming by the Dankworth family. The property opened as a part of Roper Lake State Park in 1982. The pond is now home to bass, crappie, bluegill, trout and catfish. Trout are stocked seasonally (Nov. through March) by the Arizona Game and Fish Department. Aside from fish calling the pond home, waterfowl, migratory birds, and a lot of other wildlife are also found in the area.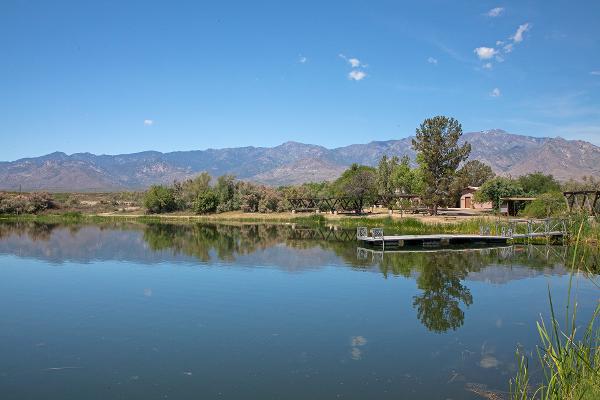 The pond, however, is not the only attraction in the park. The Dos Arroyos Trail begins at the East end of the pond. This 1¾ mile loop trail leads to a re-created Indian village. This village contains replicas of dwellings, grinding stones, roasting pits, and other tools and artifacts used by a variety of southwestern tribes. The village demonstrates the changing lifestyles starting with the Paleo-Indians and going through to the Mogollon tribes. This part of the park is actually located on BLM property and is operated through joint efforts between BLM and State Parks. The area is often used to educate local school groups about Native American history.
After you leave the Indian village and continue on the Dos Arroyos trail you enter into the third aspect of the park, a Riparian area. This area is home to many different plant and animal species. The water that flows through this area is from the two washes or (Dos Arroyos) that run through the center of it. An outdoor classroom has been built near the water's edge to teach local students about the bio-diversity of the area. After leaving the riparian area the Dos Arroyos trail comes to an end back at the pond. This Day Use only park also has several picnic areas.