The Roper Lake hot tub is permanently closed.
Unforgettable Fishing at Roper Lake
Roper Lake is home to outsized largemouth bass, eager schools of crappie, tons of bluegill, sunfish, and channel catfish. Though at 32 acres this lake is smaller than others in the state park system, much of the lake provides great habitat and ample opportunity to catch some nice fish during your visit. The availability of lakeside cabins and a fully-functional campground make it possible to extend your fishing trip to completely experience what this gem of a southern Arizona lake has to offer. See below for tips and tactics that Roper Lake anglers have shared to make your next trip successful, fun, and unforgettable.
Did Roper Lake make the current fishing report? Find out what's biting and what they're catching 'em on! 
Largemouth Bass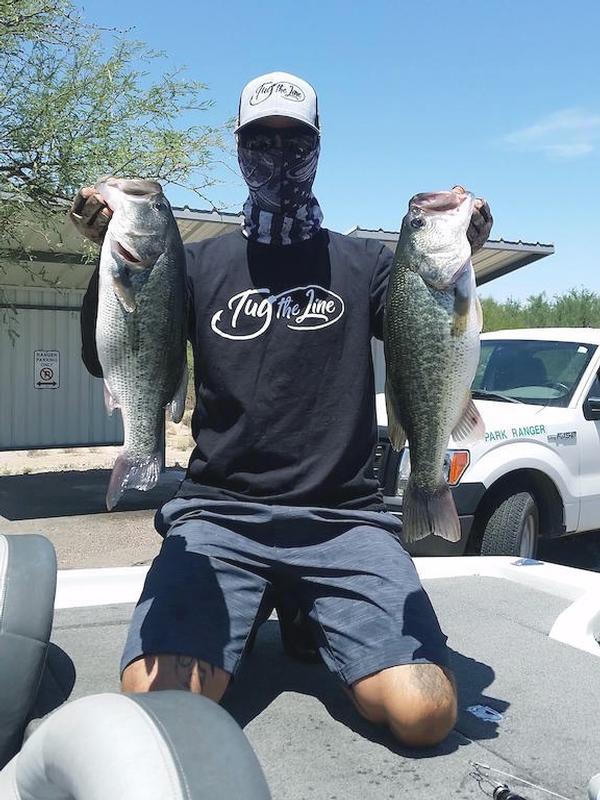 Largemouth bass fishing at Roper Lake can be exceptional at times, while providing the potential for anglers to catch fish in the five to seven-pound range. As the water warms up in spring, Roper Lake bass search out bedding areas in the shallows near reeds as they prepare for spawning. The bass become very territorial when on their beds and will strike lures placed within their immediate vicinity with great vengeance! Although it is completely legal to keep bass from Roper, we ask that catch and release is practiced during the spawn to ensure the largemouth population continues to flourish. Try finding the bass by sight fishing this time of year, and then toss a soft plastic bait strategically near their bed. Snap some photos (share them with our Instagram @azstateparks), then release.
Summertime bass fishing at Roper can be very effective as well. Anglers have reported success by flipping plastics into heavy cover with weedless set-ups. Don't forget to use at least 10-pound test when fishing the thick cover. The bass enjoy the shade provided by the weeds and can be found concentrated there while seeking refuge from the summer sun. Jerk baits and lipless cranks fished along the edge of reeds can also entice bass from cover to strike as well. Bring a variety of colors and styles to ensure you have the "hot" lure in your possession while at the lake. Another great summer bass tactic that works well at Roper Lake is night fishing. Dropshot dark colored soft plastics around submerged cover for best results.
Over the years, many Roper Lake bass have taken bait as well. Nightcrawlers or minnows fished at varying depths (either with or without a bobber) are likely your best bait options and are a great way for kids to catch a hard-fighting specimen. Likely, if they do, they'll be hooked and you will have a fishing buddy for life! The huge panfish population at Roper Lake will probably keep them occupied in the meantime. Bluegills and sunfish take bait very readily and can provide just enough action for kids as they wait for a bass to strike.
During fall and winter months, the Arizona Game and Fish Department stocks Roper Lake with rainbow trout. Savvy bass anglers can use this intel to their advantage when trying to hook a trophy specimen. Some of the local bass have become accustomed to these stockings and key in on the trout as prey. Large swimbaits that resemble rainbow trout have become very popular over the last several years, and when fished during the right conditions, they produce amazing results. While using these six to nine-inch baits, your catch rate may be low, although when you do hook into a bass, it will likely be a big one!
Trout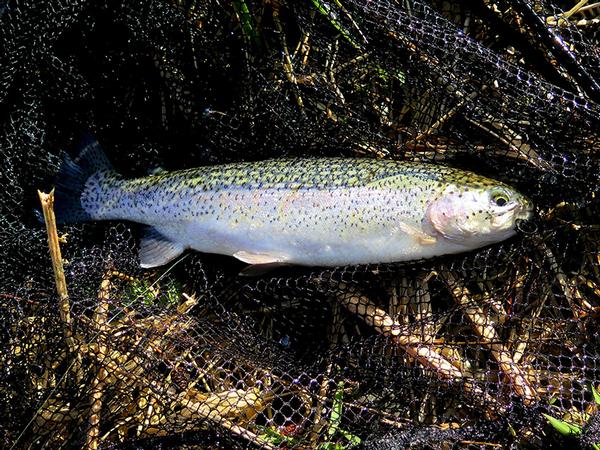 Rainbow trout are stocked in Roper Lake several times each year from fall through spring. The trout population here is managed by the Arizona Game and Fish Department as a "put and take" situation. The AZGFD puts them in, and anglers take them out. Because of the warmer summer temperatures in this part of the state, the trout will simply not survive, so it's up to anglers to ensure trout are removed from the lake. Seasonally, the trout fishing is fantastic here as eager rainbows strike a variety of baits and lures. The best techniques are on par with those in other lakes of the state park system, although anglers that use bait do a little better here than in other locations across the state.
Bait options for Roper Lake trout include the usual suspects like salmon eggs, corn, worms, cheese, marshmallows, and manufactured dough baits. Bait can be fished either under a bobber or on the lake bottom; the fish will let you know where to place your offering! Try baits at numerous depths until the right combination of depth and bait is found. When that happens, repeat until you have a stringer full of delicious rainbow trout! If you're using any of the popular dough bait options, check out this commonly used rigging method.
As with other trout lakes, in-line spinners are a great option for anglers who get a little bored with bait fishing. Cast and retrieve the spinners at varying depths and speeds until the right combination is found. Black, brown, white, and pink are all solid color options to include in your tackle box before a trip to Roper Lake. Chances are that one or more of these colors resemble something the fish rave been recently feeding on and will ensure some strikes in the process.
Trout can be cooked very easily right at camp and require very little effort in proper preparation. After removing the entrails, place trout on a flat surface. Lightly season with salt and pepper, or seasoning mix, place a pat or two of butter on top and a piece of bacon inside the cavity. Wrap the fish in foil and place over hot coals for 7 to 10 minutes depending on heat and size of fish. Unwrap carefully and remove the bones, which will likely stay intact. Just before serving, squeeze a bit of lemon on the tender trout meat. Great sides include a variety of wild and domestic rice, asparagus, grilled peppers, or baked potato.
Trout Stocking Schedule
Rainbow trout will be stocked by the Arizona Game and Fish Department throughout the winter and spring months. Check out the trout stocking schedule for approximate stocking dates.
Catfish and Panfish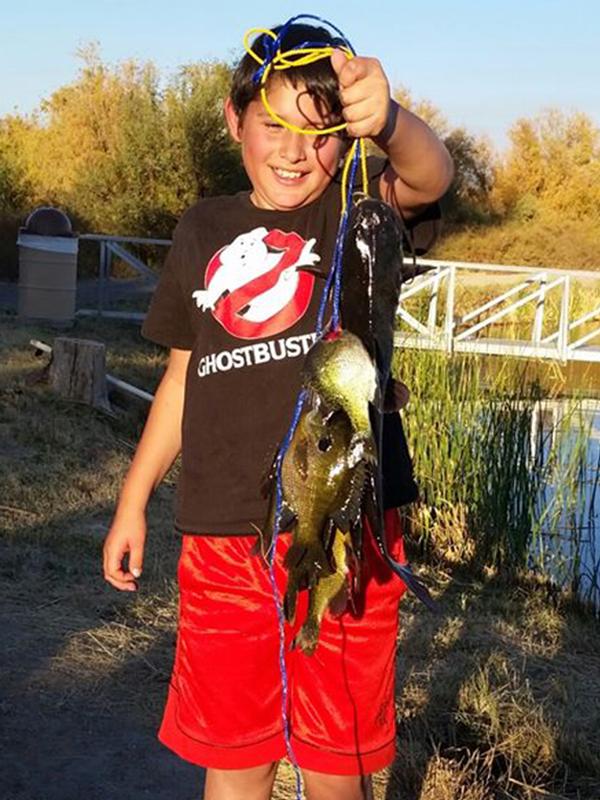 Roper Lake, for its relatively small size, contains a huge variety of sportfish available to anglers of all ages. Arguably the easiest to catch, and those that will keep kids engaged with the sport, are both catfish and panfish. The species contained within this group are typically caught using a variety of bait options, and also fare well on the table. As long as kids remain excited with at least some activity, they will continue to want to fish while on Arizona family adventures.
Channel catfish have been the guests of honor at fish frys the world over, and for good reason…they're delicious and easy to catch! As long as anglers display a little patience and fish during the most productive times, they have a high likelihood of success. Perfecting a slip sinker set-up is your first step in the right direction. This rig is standard practice for anglers who focus on catfish because the fish feel no resistance when picking up the bait. An observant angler will be able to see the line movement, and then swoop in to set the hook in a timely fashion. The fish prefer different baits depending on time of year, although worms, hot dogs, chicken liver, and manufactured "stink baits" are all options that Roper Lake anglers have shared as productive over the years. Try each until you find out which the catfish prefer at any given time.
Panfish is a name given to a group of fish that fit right into a pan. Bluegill, sunfish, and crappie all fit this moniker, and are all present in Roper Lake. Worms and corn will produce strikes from both bluegill and sunfish on a regular basis, especially when fished under a bobber and near cover.  
Gas motors are not allowed to be operated on the lake. Fishing is not allowed in the swimming area.
Looking for a great way to increase your catch rate? Sign up for our newsletter and receive tons of great fishing info like tips, tactics, and hot fishing spots!
---
Visit our Fishing in Arizona page to learn more about fishing opportunities throughout the state park system.
A valid Arizona fishing license is required for anglers 10 years and older. Arizona fishing licenses are available on the Arizona Game and Fish website, and a variety of authorized license dealers throughout the state. Before your trip, take a look at the current AZGFD fishing report  to increase your chance of success.