There is currently no drinking water at the park. Restrooms and showers are fully functional.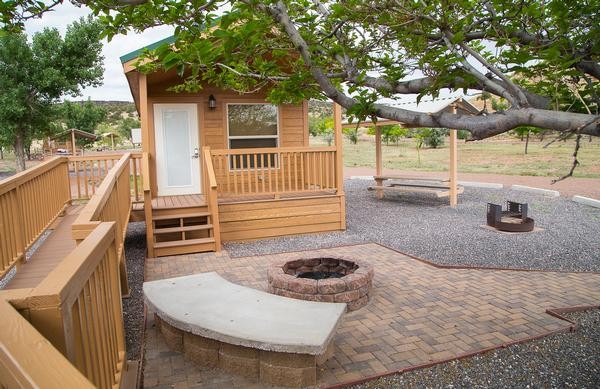 Relax in a Cabin by the Lake!
The multitude of outdoor recreation opportunities at this gorgeous Arizona destination will draw you back time and again. Wouldn't it be nice to experience a worry free stay in our air-conditioned cabins? Wake up to a gorgeous northern Arizona sunrise and let the adventures begin! Plenty of fish are in the lake and there's lots of country to explore on land too! Hike and get photos of the local wildlife, or check out the numerous petroglyph that give you a glimpse into the interesting past of this unforgettable slice of Arizona. The vastness of the open landscape really shows off Arizona's attributes and provides beautiful memories in the process. Stay for a while in one of our rustic cabins. You bring the mindset...We'll supply the peace of mind.
Camping Cabin reservations are available online or by calling us at the Arizona State Parks Reservations Desk at 1-877-MY PARKS (697-2757). We're available to help you plan your visit seven days a week from 8 a.m. to 5 p.m. Arizona time. There is a $5 non-refundable reservation fee per reserved cabin.
Cabin Reservations at Lyman Lake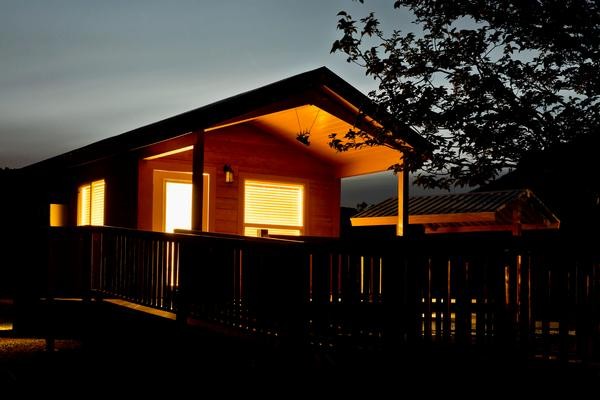 Eight camping cabins are available by reservation. Each cabin has a view of Lyman Lake with covered porches and comfortable features.
Cabins are furnished with two to four single, bunk-style beds with mattresses, a table or bar counter, four chairs, electricity, light, heat, air conditioning, and a lockable door. Campers must supply their own linens. Cabins are accessible by car and RV and equipped with water and electric hook-ups outside.
Picnic tables and charcoal grills make for a well-equipped outdoor setting. Restrooms and showers are within walking distance. Cabins sleep up to four people, with a maximum capacity of six people. 
Pets are allowed. Limit of two pets per cabin, $10.00 fee per night.
For reservation and cancelation policies, see Reservation Terms & Conditions
To learn more about camping and recreation opportunities in your Arizona State Parks, see this comprehensive guide to camping in Arizona.
Cabin rentals are available throughout Arizona...Adventure is just a short drive away! 
Want Even More AZ Cabin Information? Sign up for our newsletter to get "glamping" tips and state park news delivered right to your inbox!