There is currently no drinking water at the park. Restrooms and showers are fully functional.
Lyman Lake gives anglers the chance at a unique mixed bag and holds some outsized specimens for those lucky enough to set the hook! Largemouth bass, channel catfish, carp, and walleye lurk in the clouded depths of Lyman and fishing opportunities are steadily on the rise! Walleye populations are currently experiencing exceptional growth, and soon a large amount of young fish will be keepers!
Did Lyman Lake make the current fishing report? Find out what's biting and what they're catching 'em on!
Walleye
Although not widespread in Arizona, walleye are a very popular (and delicious) sportfish in much of the country. According to Arizona Game and Fish Department surveys, the Lyman Lake walleye population has a surplus of three-year-old fish ready to pounce on a crankbait or worm: timing and location are the keys to success!
Crankbait Fishing for Walleye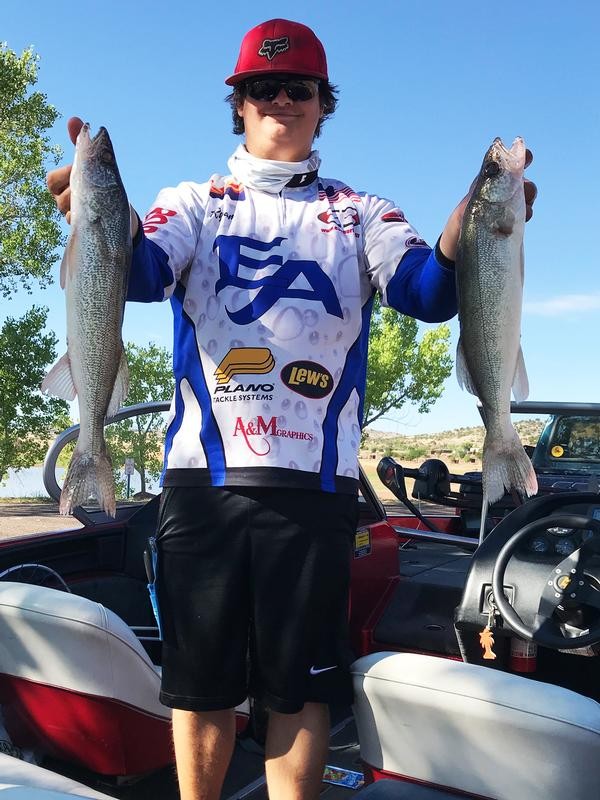 PLEASE NOTE: A fish consumption advisory has been issued for walleye caught at Lyman Lake. The AZ Department of Environmental Quality in association with the AZ Game & Fish Department recommends that walleye caught from Lyman Lake not be consumed due to tissue data indicating elevated levels of mercury. You can learn more by clicking here.
Crankbaits rely on sight and sound to attract walleye within striking distance and often mimic natural prey found in the lake. In Lyman Lake, for instance, using crankbaits that share similar patterns to other species that live in the lake may help you reach success. Imitating a small largemouth bass or carp may be just what you need to put a few more walleye in your net. Also, because of the relatively cloudy water with low visibility, a rattling crankbait will help those walleye hone in on the location of your lure. Walleye are designed to see well at night too, so don't hang up your rod when the sun goes down…The fishing may be heating up just as dusk settles. Regardless of time of day, work crankbaits at differing depths and speeds until you find what the Lyman Lake walleye currently prefer. Continue to use a similar technique until their preference shifts to a different presentation, color, or type of lure.
Bait Fishing for Walleye
Don't want to complicate things? That's okay, and you can still end up with a stringer full of delectable walleye! Just relax in a comfortable chair and watch the famous Lyman Lake sunset unfold right before your eyes. Bait fishing for walleye can be just as effective as using crankbaits at times and offers a great way to get young anglers excited about fishing. Nightcrawlers rigged on either a bobber or suspended will entice walleye looking for a meal. It's beneficial to use the entire worm in order to dissuade smaller fish from snacking and stealing your chance at hoking your target fish. Thread your hook through the worm at least two times to ensure a tight hold of your bait. Try differing bobber and water depths to determine where the walleye are currently hanging out; a slip bobber setup might be just what you need to suspend your bait at the depths at which walleye frequent.
A fish consumption advisory has been issued recommending that walleye caught at Lyman Lake not be consumed due to tissue data indicating elevated levels of mercury.
Channel Catfish
A decent population of channel catfish inhabits Lyman Lake, and they bite traditional baits like chicken liver, nightcrawlers, hot dogs, shrimp, anchovies, and prepared "stink" baits. What Lyman lacks in size, it can, at times, make up in numbers. Grab a shoreline spot near likely catfish cover and see what happens. Try a variety of baits and depth until you find out what the catfish prefer, then replicate. If you don't get any bites within an hour and a half or so, move down the shoreline a bit to the next likely looking spot, and try again.
Get Out and Fish!
Visit our Fishing in Arizona page to learn more about fishing opportunities throughout the state park system.
A valid Arizona fishing license is required for anglers 10 years and older. Arizona fishing licenses are available on the Arizona Game and Fish website, and a variety of authorized license dealers throughout the state. Before your trip, take a look at the current  fishing report  to increase your chance of success.
Looking for a great way to increase your catch rate? Sign up for our newsletter and receive tons of great fishing info like tips, tactics, and hot fishing spots!