Outdoor Activities For Kids
Kid-friendly Activities in Arizona's State Parks
Whether you're looking for kid-friendly trips in Arizona or searching for activities that will encourage children's connection to nature, your Arizona state parks offer fun for the whole family! 
Arizona is full of outdoor activities for kids to discover and parents will have a good time, too. Dive into all the ways you and your little ones can explore at the parks or from home, then gather up the family and have an adventure!
Day Trips and Camping With Kids
When children are immersed in the natural world through an outdoor adventure, not only do they have fun, new experiences, but they learn so much!
Exercise the imagination while exploring the outdoors!
Put on your thinking caps and jump into science and the world of discovery at the fascinating, underground world of Kartchner Caverns State Park. Go swimming, paddleboard, and build sand castles on the pristine white sand beach at Cattail Cove State Park. Teach the kids to bait and cast, then celebrate their big catch at Patagonia Lake State Park. Learn about vegetation, wildlife, and birds with a guided nature walk at Red Rock State Park. 
When you're at the park, explore kid-friendly hiking trails or help your child become a Junior Ranger!
Attend fun park events
With more than 30 state parks across Arizona, there is always something new to see or an event to attend -– the options for fun day trips for the family are unlimited! Visit our Find A Park page and filter by recreational activities and amenities, or view scheduled park programming your family will enjoy.

Family Camping Trips
Stay even longer at the park to enjoy more outdoor activities for kids! With overnight stays, not only can you take advantage of sunrise and dusk hours, prime for wildlife watching and fishing, but you can make classic camping memories like snuggling and roasting marshmallows around the campfire. 
Check out our Camp with Confidence resources for worry-free planning, then reserve your campsite. Or, make things extra easy and comfortable by booking a state park cabin and let your kids choose which bunk bed is theirs!
Bonus points for timing your trip to catch a state park Star Party! See more stars than ever underneath dark skies and look at planets through telescopes at these astronomy events!
Become a Junior Ranger
Make the most of your family's state park visit by participating in our Junior Ranger programs. Your kids will love exploring, and the experience will leave a lasting impression that could change your child's life (and the future of our outdoor spaces)! 
It's true – little explorers can make a BIG difference when it comes to Arizona's treasured historical and natural resources. 
The Junior Ranger programs offered for children ages 6-12 at nearly every Arizona state park are designed to develop children's curiosity into an appreciation about the natural and cultural resources of our state. View individual parks' programs by clicking the "For Kids" tab on each Park's page, or by clicking on the button below.
Collect the activity sheet at one of our park's visitor centers, complete the activities during your visit, and bring it to a park ranger when complete. When the park ranger sees your kiddo's hard work, they'll take the pledge to be sworn in as our newest Junior Ranger, and will be given a Junior Ranger button.
Add pictures of your Junior Ranger to the little explorers' gallery below!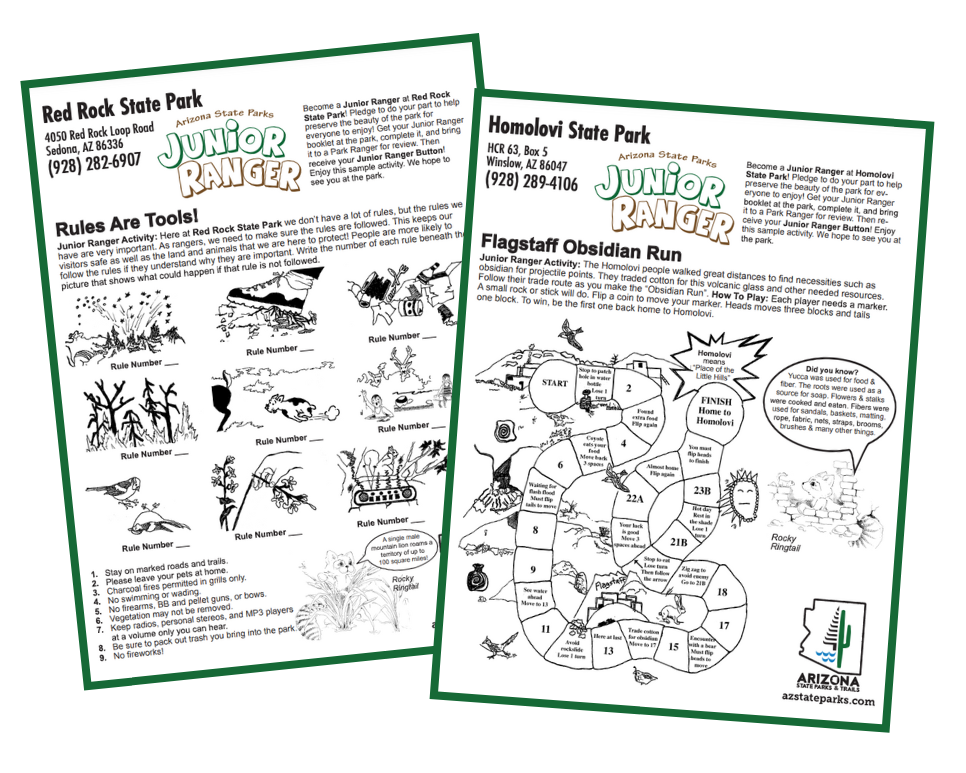 Junior Ranger activities in the parks
Each park's activity sheet is custom designed to help children learn about that location's unique history, plants, and animals. Guided by illustrations of our Arizona State Parks mascot, Rocky Ringtail, these outdoor activities for kids will be enjoyed by the whole family. Activities include challenges like simple outdoor games, printed mazes and word searches, matching puzzles – all reflecting what you see, hear, smell, and experience in the park. Activity sheets can be found on the "For Kids" section of each state park that offers a Junior Ranger program.
Take the Junior Ranger Pledge and get your button!
"As an Arizona State Parks Junior Ranger, I pledge to help the park rangers protect and preserve habitat, wildlife, and help keep the park clean and safe for visitors and wildlife."
Each park has its own unique ranger button so your kids can collect them all! Pin it to your pack, put it on a bulletin board, or proudly wear it to show everyone that you're a Junior Ranger. 
Pssst...if you're keeping track of which parks you've visited and want a memento of your family trips, look for our Arizona State Parks passport for sale in our park visitor centers.
See the Junior Ranger program in action as "Look Who's Blogging" explores Kartchner Caverns State Park!
Activities for kids at home
If you're on the hunt for things the family can do at home, or you homeschool and are searching for educational activities for kids, look no further! Bring Arizona State Parks indoors with these fun drawing pages, puzzles, activity booklets, and more!
Activity Booklets and Coloring Pages
Explore the world around you with Rocky Ringtail as you learn about the environment through games and puzzles! The Junior Buddy booklet gives you things to do with kids at home for pages and pages of fun! This is designed for children aged 3-5 and their parents; however, the coloring pages and exploration it encourages can be enjoyed by all ages.
When you're done coloring the Junior Buddy booklet, follow Rocky into a new coloring adventure! Download pages of an Arizona-themed coloring and activity pages with Rocky Ringtail, coyotes, desert mountains, and more, or focus in with a boating safety coloring book!
For activity booklets for ages 6-12, download this booklet. While these are designed to be completed while exploring the parks, you can complete them using research online--including our website and YouTube channel, virtual tours and hikes in Google Maps, and the nature you can find in your own backyard! 
For Educators
The Geological and Biological Makings of a Cave for Grades 3-6 from Kartchner Caverns State Park (accompanied by musical video, "Wandering Willie Waterdrop"!)
A Family and a Forest for Grades 3-6 from Riordan Mansion State Historic Park
Arts, Crafts, and Games
Learn your constellations with this craft from Kartchner Caverns State Park, one of two Arizona State Parks designated International Dark Sky Parks (along with Oracle State Park). 
Follow these instructions from @VikiArtCorner to draw common Arizona wildlife who call our state parks home: javelina, coatimundi, or Coues deer.
Click on a picture below to put together a digital jigsaw puzzle!