The park will be closed October 1-7 for annual maintenance.
Become a Junior Ranger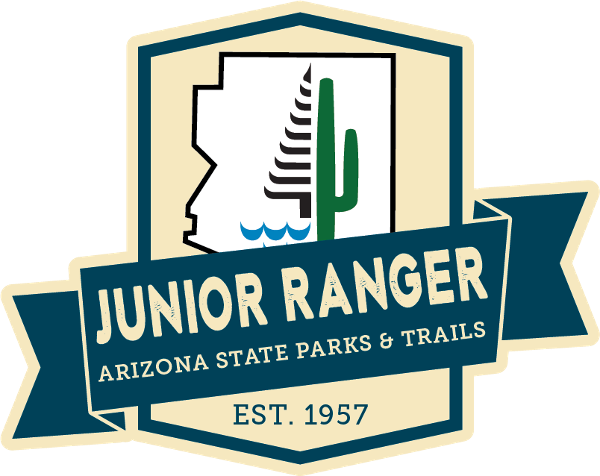 If you're between ages 6–12, you can become a Junior Ranger at Yuma Territorial Prison State Historic Park! Pledge to do your part to help preserve the beauty of the park for everyone to enjoy!
Download a Junior Ranger activity for this park that you can complete on your own.After you complete it, bring it with you to the park and you're on your way to becoming a Junior Ranger.
When you visit the park ask for a full Junior Ranger booklet at the Visitor Center, Ranger Station or office. Complete the activities during your visit and then bring it to a Park Ranger for review. When a Park Ranger approves your work you'll be asked to take the Junior Ranger Pledge and get sworn in as our newest Junior Ranger. You'll also be given a Junior Ranger Button. 
Activity Sheet Summary
Follow the Rules:
Life in the prison was tough; even tougher if you did not follow the rules! Use the secret code below to discover rules from the Prison's past and rules for visitors today. The prison was built with adobe, iron, & stone. Cells were carved into the hillside under hot desert conditions. Guess who built it? The prisoners!
Download 1-Page Activity Sheet
Pledge & Button
Junior Ranger Pledge:
As an Arizona State Parks Junior Ranger, I pledge to help the park rangers protect and preserve habitat, wildlife, and help keep the park clean and safe for visitors and wildlife."
Remember, you can become a Junior Ranger at nearly all Arizona State Parks. So explore our website and visit the FOR KIDS page for each park for more activities.
Junior Ranger Button:
Show everyone that you're a Junior Ranger! After you complete your activities and take the Junior Ranger Pledge you'll receive a Junior Ranger Button. You can pin it to your pack, put it on a bulletin board, or proudly wear it. Check out the button for this park in the picture.
Looking for more information about getting kids involved with the outdoors? Check out this awesome resource, then plan a trip to the parks!