Kids Activities in Lake Havasu City, AZ
Lookingfor something fun to do with the kids in Lake Havasu City, AZ? Check out the popular Junior Ranger program in this world-class state park! Kids love camping, fishing, and the wonder of outdoor experiences and Lake Havasu State Park is their ticket to adventure!  
Become a Junior Ranger
If you're between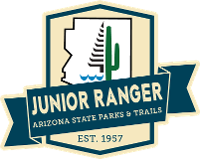 ages 6–12, you can become a Junior Ranger at Lake Havasu State Park! Pledge to do your part to help preserve the beauty of the park for everyone to enjoy!
On this page, you can download a Junior Ranger activity for this park that you can complete on your own. It's just one of the fun activities you can do to become a Junior Ranger. After you complete it, bring it with you to the park and you're on your way to becoming a Junior Ranger.
When you visit the park ask for a full Junior Ranger booklet at the Visitor Center, Ranger Station or office. Complete the activities during your visit and then bring it to a Park Ranger for review. When a Park Ranger approves your work you'll be asked to take the Junior Ranger Pledge and get sworn in as our newest Junior Ranger. You'll also be given a Junior Ranger Button. We hope to see you at the park!
Boating Safety Coloring Book
Free "I Love To Go Boating!" Coloring Book: Kids will have a blast coloring in these fun pictures that highlight important boating safety concepts! Written by Mia LaBarbara, Arizona State Parks Interpretive Education Planner, with illustrations by Jennifer Wood. Produced in cooperation wih Arizona Game & Fish
Download 16-Page Coloring Book (3.9 MB PDF)
Suggested ages for this activity: Pre-Kindergarten – 5th Grade
Activity Sheet Summary
It's All in the Beak: Ever wonder what a bird uses its beak for? Well, they can use them to clean themselves; picking bugs and dirt from their feathers. More importantly, they use their beaks to gather food. You can tell what a bird eats, as well as what kind of bird it is, by the shape of its beak. Match the birds below with the food in the boxes. Some birds may eat more than one thing. Use the descriptions below to help you choose the one food they "mostly" eat. Draw a line from the bird to the food.
Download 1-Page Activity Sheet
Pledge & Button
Junior Ranger Pledge: "As an Arizona State Parks Junior Ranger, I pledge to help the park rangers protect and preserve habitat, wildlife, and help keep the park clean and safe for visitors and wildlife."
Remember, you can become a Junior Ranger at nearly all Arizona State Parks. So explore our website and visit the FOR KIDS page for each park for more activities.
Junior Ranger Button: Show everyone that you're a Junior Ranger! After you complete your activities and take the Junior Ranger Pledge you'll receive a Junior Ranger Button. You can pin it to your pack, put it on a bulletin board, or proudly wear it. Check out the button for this park in the picture.
Take a Kid Fishing
Lake Havasu is full of fishing opportunities for the whole family! Numerous species of bass, catfish, crappie, and other panfish are always on hand to provide life lessons and lifetime memories.