The park will be closed on October 11, 2023 for an all-employee training conference. 
On Monday, September 25 from 8 a.m. to noon, the flushing restrooms at the park will be temporarily out of service for a repair. Portable restrooms will be available at the park, and the vault toilets in the creek area will remain accessible during this temporary outage.
*** NO WALK-INS OR DROP-OFFS. VEHICLE ADMISSION ONLY. ***
Last entry one hour prior to closing, swim area closes one hour prior to closing.
Become a Junior Ranger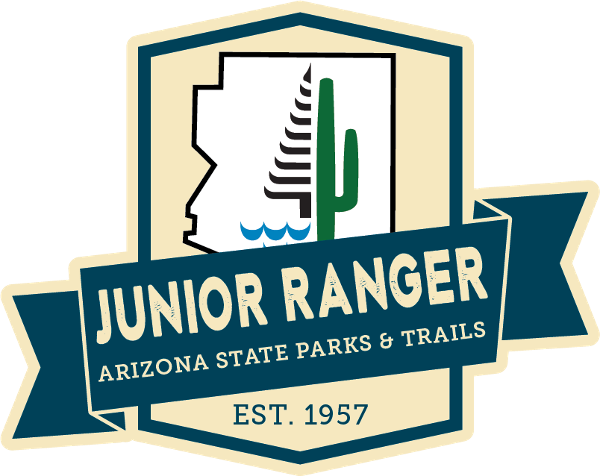 If you're between ages 6–12, you can become a Junior Ranger at Slide Rock State Park! Pledge to do your part to help preserve the beauty of the park for everyone to enjoy!
On this page, you can download a Junior Ranger activity for this park that you can complete on your own. It's just one of the fun activities you can do to become a Junior Ranger. After you complete it, bring it with you to the park and you're on your way to becoming a Junior Ranger.
When you visit the park ask for a full Junior Ranger booklet at the Visitor Center, Ranger Station or office. Complete the activities during your visit and then bring it to a Park Ranger for review. When a Park Ranger approves your work you'll be asked to take the Junior Ranger Pledge and get sworn in as our newest Junior Ranger. You'll also be given a Junior Ranger Button. We hope to see you at the park!
Activity Sheet Summary
It's A-Maze-ing: Slide Rock is much more than a swimming area; it's a nature preserve, trout fishing destination, an apple orchard, and more. All the features in the park are protected, so please do not disturb the wildlife or remove rocks or vegetation. In this activity, help the kids find their way down to Oak Creek. Along the way you will find three ways you can help to make sure the water will be clean and safe for everyone. Can you name them?
Download 1-Page Activity Sheet
Pledge & Button
Junior Ranger Pledge: "As an Arizona State Parks Junior Ranger, I pledge to help the park rangers protect and preserve habitat, wildlife, and help keep the park clean and safe for visitors and wildlife."
Remember, you can become a Junior Ranger at nearly all Arizona State Parks. So explore our website and visit the FOR KIDS page for each park for more activities.
Junior Ranger Button: Show everyone that you're a Junior Ranger! After you complete your activities and take the Junior Ranger Pledge you'll receive a Junior Ranger Button. You can pin it to your pack, put it on a bulletin board, or proudly wear it. Check out the button for this park in the picture.