The park will be closed on October 11, 2023 for an all-employee training conference. 
On Monday, September 25 from 8 a.m. to noon, the flushing restrooms at the park will be temporarily out of service for a repair. Portable restrooms will be available at the park, and the vault toilets in the creek area will remain accessible during this temporary outage.
*** NO WALK-INS OR DROP-OFFS. VEHICLE ADMISSION ONLY. ***
Last entry one hour prior to closing, swim area closes one hour prior to closing.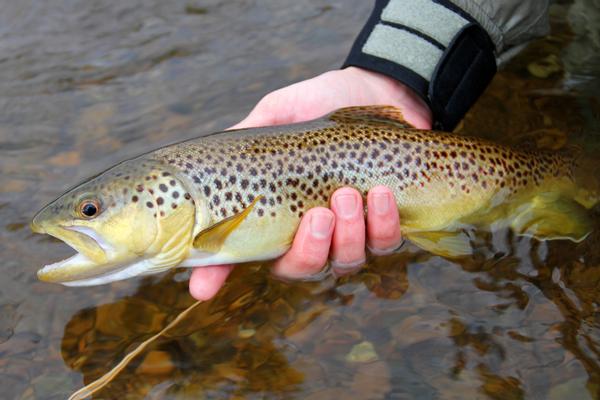 Although Slide Rock State Park is more of a water recreation location, great trout fishing can be experienced upstream of the park within one of Arizona's most scenic locales. Healthy wild brown and rainbow trout populations are seasonally supplemented with stocked trout by the Arizona Game and Fish Department. Trophy fish of both trout species are caught in this stretch of Oak Creek with regularity, especially in the more remote sections of the creek north of Slide Rock and south of the West Fork confluence.
While fishing is not permitted within the swimming areas of Slide Rock, a short hike upstream will lead anglers into vast pools, undercut banks, and gentle riffles that trout love. Fish in an upstream direction since typical trout behavior dictates that they are looking upstream while they wait for their next meal. By approaching from downstream, you have the opportunity to approach unnoticed, cast beyond where the trout are hiding, and present your bait or lure in a natural fashion.  Both brown and rainbow trout can be caught on a variety of flies and lures, although the browns typically are very particular about which bait options they choose to strike.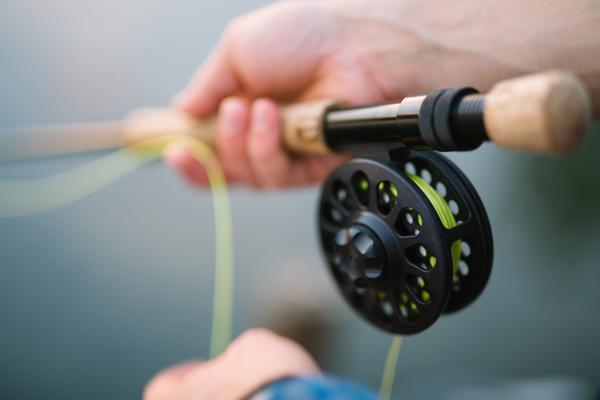 The wild browns in Oak Creek seem particularly fond of a well-placed fly; in fact, most of the larger specimens are reported to have been taken this way. A variety of nymphs and leeches work well here, as do numerous floating flies. Bring a variety and match the insects seen landing on the water. Effectively matching your fly with what the trout are actually feeding on is a great way to increase your likelihood of success!
Inline spinners and small, shallow running Rapala type lures are both readily accepted by Oak Creek trout as well. Fish upstream and look for places that trout may be lurking. Rocks, undercut banks, submerged branches, etc. all offer great hiding spots and should not be overlooked. Cast your lure past where you believe a trout to be hiding and match the speed of the current with your retrieve. Many times, a trout just can't refuse a free meal floating right by its face, and will pounce quickly at the opportunity.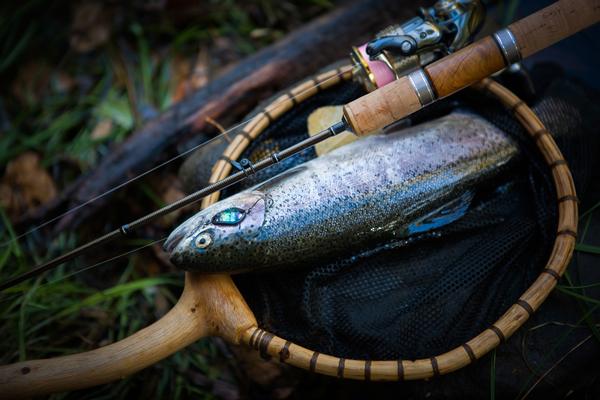 Bait fishermen are asked to refrain from using anything that comes in glass packaging. If you do choose to use salmon eggs or other bait typically packaged this way, please transfer the contents into something plastic before your trip. Glass from broken packaging might be swept downstream and cause injury to other park visitors. The most popular bait option in this stretch of oak creek are nightcrawlers, although various dough bait options work well on the stocked trout. See this link to learn how to properly rig a dough bait for trout. In areas with some current, no additional weight is needed. Simply cast upstream just as in other fishing styles and let your worm bounce back to you. Hopefully, if you've casted into a likely trout hidey hole, your bait will not go unnoticed and you will be rewarded with a beautiful Oak Creek trout.
We want nothing more than for you and your family to enjoy Slide Rock State Park and the associated areas as much as possible. In order to conserve this valuable area resource, we ask that catch and release is practiced in this section of Oak Creek to allow the trout population an opportunity to become even more robust with time. 
Trout Stocking Schedule
Although trout are not specifically stocked in the Slide Rock section of Oak Creek, they are placed upstream of the park for anglers to catch on a regular basis. Please refer to the trout stocking schedule for general stocking dates. Keep in mind that trout are stocked at some point during the week of the date posted and may not be stocked on the exact date as seen below. All stocked trout are supplied by the Arizona Game and Fish Department.
Oak Creek (Upstream of Slide Rock)
March 1, 15 | April 5, 12, 26 | May 3, 17, 24 | June 7, 14, 28 | July 12, 26 | August 9, 23, 30 | September 13
Looking for a great way to increase your catch rate? Sign up for our newsletter and receive tons of great fishing info like tips, tactics, and hot fishing spots!
---
Visit our Fishing in Arizona page to learn more about fishing opportunities throughout the state park system.
A valid Arizona fishing license is required for anglers 10 years and older. Arizona fishing licenses are available on the Arizona Game and Fish website, and a variety of authorized license dealers throughout the state. Before your trip, take a look at the current AZGFD fishing report  to increase your chance of success.