The dump station and showers are closed to anyone not camping at the park.
Become a Junior Ranger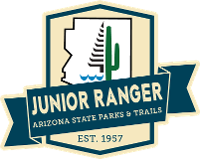 Kids ages  6–12 can become a Junior Ranger at Lost Dutchman State Park! Pledge to do your part to help preserve the beauty of the park for everyone to enjoy! Kids absolutely love this free program just outside of Phoenix and Mesa, plus it helps get them outside!
On this page, you can download a Junior Ranger activity for this park that you can complete on your own. It's just one of the fun activities you can do to become a Junior Ranger. After you complete it, bring it with you to the park and you're on your way to becoming a Junior Ranger.
When you visit the park ask for a full Junior Ranger booklet at the Visitor Center, Ranger Station or office. Complete the activities during your visit and then bring it to a Park Ranger for review. When a Park Ranger approves your work you'll be asked to take the Junior Ranger Pledge and get sworn in as our newest Junior Ranger. You'll also be given a Junior Ranger Button. We hope to see you at the park!
Activity Sheet Summary
Help Rocky Ringtail find Sonoran Desert plants and animals, identify items you need to bring with you on the trail to hike safely, play a matching game to show how seeds are dispersed and find good places to grow, and learn awesome facts about insects, birds, reptiles, and mammals that live in the park!
Download Full (4-pages) Junior Ranger Booklet
Pledge & Button
Junior Ranger Pledge: "As an Arizona State Parks Junior Ranger, I pledge to help the park rangers protect and preserve habitat, wildlife, and help keep the park clean and safe for visitors and wildlife."
Remember, you can become a Junior Ranger at nearly all Arizona State Parks...Absolutely free! So explore our website and visit the FOR KIDS page for each park for more activities.
Junior Ranger Button: Show everyone that you're a Junior Ranger! After you complete your activities and take the Junior Ranger Pledge you'll receive a Junior Ranger Button. You can pin it to your pack, put it on a bulletin board, or proudly wear it. Check out the button for this park in the picture.