The park will be closed on October 11, 2023 for an all-employee training conference.  Please enter 409 W Riordan Rd when using GPS to arrive at our main entrance and parking lot.
Facilities Available at Riordan Mansion
Historic House Museum & Exhibits by Guided Tour
The East House of the Riordan Mansion and the connecting room is set up as if the family just stepped out, taking you back to the early 1900s. The guided interpretive tour of the house is the only way to enter the interior and requires an additional fee.
Tours feature information on Riordan family history, Arts & Crafts style architecture and furnishings and Flagstaff history. The tour concludes in the West House where visitors can explore exhibits on Arts & Crafts, Native American pottery and baskets, photographic window panels, lumber and logging, and a model of historic Flagstaff. Access to the West House Museum area is only available with the Guided Tour. Visit our tours page for more information and to book tickets.
Please enter 409 W Riordan Rd when using GPS to ensure that it brings you to our main entrance and parking lot.
Visitor Center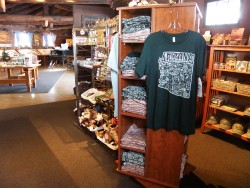 The Visitor Center, formerly the family automotive garage, has introductory interpretive exhibits on the history of the Riordan family and their contributions to the Flagstaff community.
Several additional historic state parks are located throughout Arizona that help to tell the story of Arizona's rich and varied history.
Gift Shop
This park has a gift shop in the Visitor Center featuring books on the Arts & Crafts Movement and Flagstaff history. Also available are children's books, time period-style toys, and souvenirs including T-shirts, mugs, stickers, and magnets.
Group: Day Use Areas
Several areas on the grounds, including the veranda and courtyard of the mansion, are available for weddings and other quiet gatherings. See Weddings/Events for details. The Visitor Center is available for group use in the evenings; contact the park for details.
Picnic Areas/Shelters
This park has picnic tables in the parking area available on a first come, first-served basis during park hours.
Restrooms
This park has modern, handicap accessible restrooms in the Visitor Center.
Riordan Mansion Rules
Damaging, removing, or touching artifacts during the tour is prohibited.
Damaging or removing natural rocks, vegetation or public property is prohibited.
No pets allowed in buildings.
Littering is unlawful.
Park is handicapped accessible under ADA guidelines, some restrictions apply.