The park will be closed on October 11, 2023 for an all-employee training conference.  Please enter 409 W Riordan Rd when using GPS to arrive at our main entrance and parking lot.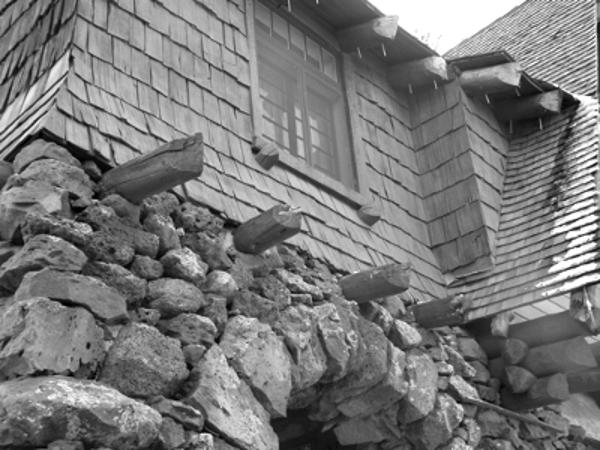 In order to protect the Riordan story, we must first preserve the house. A wood structure needs constant upkeep and funding to keep that happening. We are pleased to report that funding was secured to have the house stained in the spring of 2022.
Check out some photos of the work here.
Your donation can help us conserve and protect these amazing resources. Consider supporting additional restoration efforts at Riordan Mansion State Historic Park with a donation through the Adopt-a-Viga program.
What is a Viga?
Vigas are the wood log ends that extend out from the roof and sides of the Riordan Mansion. Usually, vigas are part of the structure of a building, but here they are purely decorative and are short logs attached to the building. There are 392 vigas between the two Riordan family homes. Each costs a little over $1,000 to replace and helps maintain the home in the condition in which it was built, helping us tell the story of the Riordans! We were able to replace 40 vigas with the work finished in the spring of 2022, but we have many more that need to be replaced. 
How the Program Works
For your $1000 donation, a viga will be assigned to you and its likeness attached to the Riordan Mansion model in the Visitor Center. Your name and viga number will be recorded in the log book for all visitors to see.
You will receive a wooden thank you ornament with your viga number and adoption date burned on the back.
Once your viga has been replaced, a photo of the new viga will be sent to you via email. Please be patient, there are many factors that will affect when your viga will be replaced.
Other amounts - We welcome donations large and small. A wooden thank you ornament will be sent for any donation over $50. Please contact the park if you would like to fund a particular project or just supply funding for ongoing repairs and maintenance. 
To make a donation, click here, select Riordan Mansion State Historic Park and enter your donation amount. Enter $1,000 or more if you would like to adopt a viga. Once park staff is notified of your donation we will reach out to you.