The park will be closed on October 11, 2023 for an all-employee training conference.  Please enter 409 W Riordan Rd when using GPS to arrive at our main entrance and parking lot.
Park Location and Directions
What3Words: ///soda.films.earth
Riordan Mansion Park Walking Tour Map
Download printable walking tour map or scan the code above.
A self-guided walking tour shows the Mansion's exterior points of interest. If you do print this 2-page tour out, please bring it with you when you visit the park. Filled with fascinating trivia and historical information.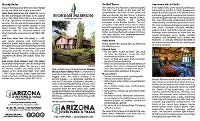 Elevation
6900 ft
GPS Coordinates to park entrance
Decimal Degrees (WGS84)
Latitude: 35.187764
Longitude: -111.658054
Degrees, Minutes & Seconds
Latitude: N35 11 15
Longitude: W111 39 28
GPS
Latitude: N 35 11.266 
Longitude: W 111 39.483
UTM 12N
X: 440089 
Y: 3894064