Start your adventure!
With more than 30 parks, 1,500 campsites, 50 cabins, 12 river and lake parks and 125 miles of hiking trails, we have tons of opportunities to create your story, and help you share it! Check out some of the memories, adventures, and fun that people are having in the parks.
---
Hiking the Flatiron at Lost Dutchman State Park
When I asked the cashier at REI what his favorite day-hike in the Phoenix area was, he thought for a minute before answering, "Oh! The Flatiron's pretty good." That should have been a clue. From Lost Dutchman State Park, there's easy access to the Siphon Draw Trail that leads to the Flatiron through the nearby Superstition Mountains, making it a popular starting point for visitors.
---
Kayaking on the Verde River
I will never forget my first kayaking trip at Dead Horse Ranch State Park. A friend and I went kayaking on the Verde River. I am not a kayaking expert and wasn't even sure I would be able to do it. We hit almost every bush or branch by the edge of the river that we could possibly hit, and even ended up backwards a few times. We had such a good time, saw wildlife, listened to the river, laughed and fell in love with the surroundings.
---
Paying Respect at Granite Mountain Hotshots Memorial State Park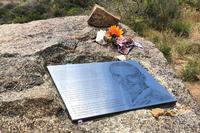 A clear blue sky and a slight breeze made the day perfect day for hiking Granite Mountain Hotshots Memorial State Park. The challenges to developing this emotional memorial park were many, but as 18 Arizona Parks and Recreation Association members discovered, the result is powerful. On November 9, 2017, the group hiked the rugged trails that follow in the footsteps of the 19 elite wildland fire fighters who answered their last alarm during the Yarnell Hill Fire on June 30, 2013.
---
Four-wheel Drive Adventures with OHV ShowMe Rides
Just outside of Eager, Arizona, the sun was slowly setting as we headed south along U.S. 180. With trailer in tow and slow winding roads ahead we rolled down our windows to embrace the cool May air. ShowMe Rides, sponsored by the Arizona Off-Highway Vehicle Ambassadors and local riding clubs is a great way to explore the state, meet new friends and get your toys dirty in the mud, dirt, and deserts of our state.
---