Falling in Love With Cattail Cove State Park
Over the last six months, our family has explored the four Arizona State Parks along Lake Havasu and the Colorado River. They're all great and have their charms, but we have fallen in love with Cattail Cove State Park. The campground is set deep into a canyon right on Lake Havasu. There is no intrusion of highway or city noise. It is very secluded.
There is a beautiful beach, boat launch, and miles of hiking trails with incredible views. We love to spend our days hiking, kayaking, and relaxing. Cattail Cove makes all of this possible. The park location also makes it easy to cruise into Lake Havasu City for dining and shopping, and to visit nearby municipal parks for additional hiking and mountain biking trails. Or you can head south to Parker. Like all state parks, it is very clean and well maintained. Campsites are spacious and easy to get into.
We have already made many happy memories at Cattail Cove and can't wait for our next visit!
Visiting Tonto Natural Bridge State Park
What an awesome day we had at Tonto Natural Bridge today! I took my parents and my kids, and everyone loved the changing colors on the trees, the hiking, and having a picnic in beautiful weather! ~ Katie
A Visit to Dead Horse Ranch State Park
Dead Horse Campground has become our favorite place in the spring! Two years ago we camped there with my brother and sister in law. By a wonderful stroke of luck, it turned out there was a birder festival that week and my sister in law is an avid birder! The birder festival was a wonderful experience and I had a whole new outlook on birds! Immediately after that trip, I booked a site for last year's trip.
The campground is a very relaxing, beautiful environment with small lakes for fishing and lots of hiking and biking paths. It is in an excellent location with easy drives to Jerome, Cottonwood and Sedona plus Tuzigoot and other historical sites. I look forward to our next trip to Dead Horse. ~ Kathy
Camp Hosting at Fool Hollow Lake Recreation Area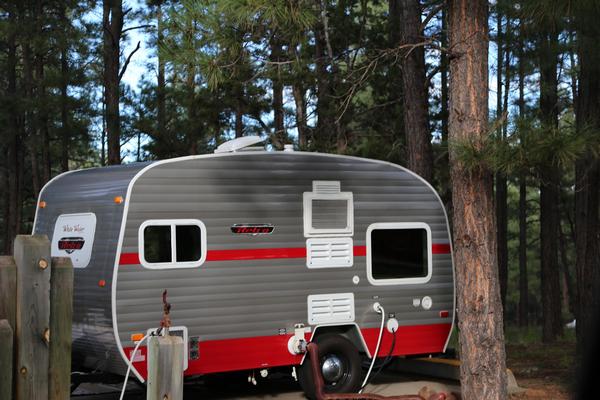 Our story is not one of camping, but one of camp hosting. . .about 14 years ago after retirement, my wife and I decided to try the "camp hosting" life. After a phone call to Fool Hollow Lake campground, we found ourselves as camp hosts at Fool Hollow Lake Recreation Area. What a wonderful decision for our lives. The experience was great, the staff and rangers were the greatest, and the campers and visitors were wonderful too!
Our five summers at Fool Hollow were the greatest times in our years of retirement and will never be forgotten. Thanks to Arizona State Parks for five great summers in Show Low!! ~Kenneth
Display of Nature at Roper Lake State Park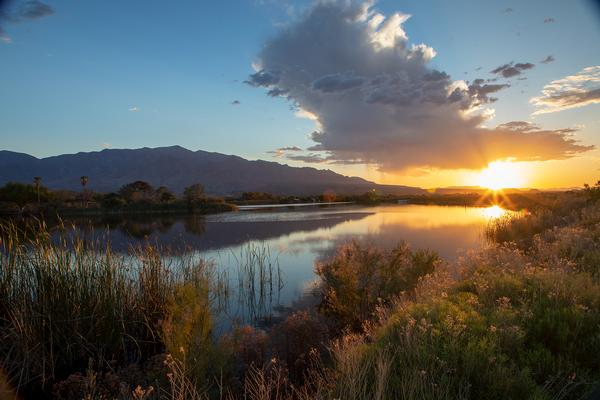 My husband and I were blessed with this display of nature during one of our many stays at Roper Lake State Park. This phenomenon is called a "murmuration."  While relaxing outside our camper, as the sun was beginning to set behind Mt. Graham, we saw what appeared to be a small black cloud in the distance. Then we realized that several of these "clouds" were approaching from all around us! We sat there, absolutely mesmerized as we realized that these "clouds" were actually several flocks of starlings, all coming together right above us; thousands of them! They moved and swayed with such a choreographed rhythm that we felt as if this was a private showing of artwork—just for us. 
As the sun got lower on the horizon, the flock gathered more tightly, right above the lake, all the while continuing the fluid-like motion, as if they were one unit. They were so low that we could hear the whooshing sound of their wings. Lower and lower the flock went, and almost at the same moment the sun disappeared, all at once the flock disappeared among the reeds around the lake's shore. We just sat there, awestruck at the gift we had just received.
After a little research, we found out that starlings typically feed during the day in farm fields, and roost at night among the reeds around a lake or stream. We have not seen this visual feast since that time, but I will always have my camera ready near sundown at Roper Lake State Park! ~ Monica