Kayaking on the Verde River
I will never forget my first kayaking trip. George Christianson, Park Manager at Dead Horse Ranch State Park, took me and a friend kayaking on the Verde River. It was a warm autumn day, and it was my first time kayaking. Even though I was nervous, the Verde had enough water in it to provide a good day out, and we didn't hit any rapids or areas that were beyond my ability to navigate. I will admit that I almost clobbered my friend (who was behind me in the two-person kayak) at least twice with the oars. Thank goodness our friendship (and she) survived! We hit almost every bush or branch by the edge of the river that we could possibly hit, and even ended up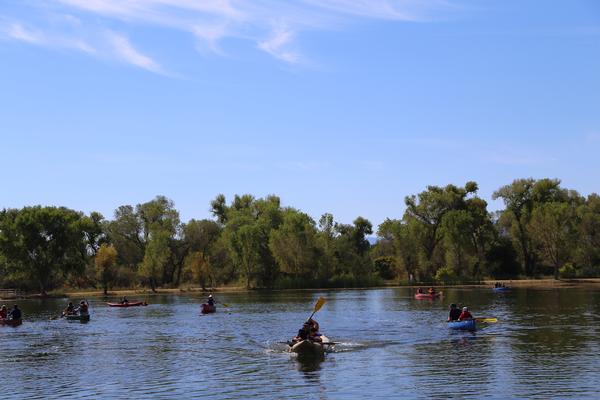 backwards a few times.
We saw birds galore - the Verde Valley is an Important Birding Area, with lots of cottonwoods, Arizona ash, and willow trees along the river providing habitat. Although we heard many different bird songs, I wasn't quick or knowledgeable enough to identify any of the birds, but the park provides a bird list with the many bird species that have been sighted in the area. Next time I go, I will definitely bring my binoculars! Although we saw a beaver dam, we did not see the beaver, and the park manager told us that coyotes, river otters, deer and raccoons are commonly found in the area, and even the occasional mountain lion.
We had such a good time, enjoyed the wildlife, listened to the river, laughed and fell in love with the surroundings. Thanks to the park manager, I will kayak again. I am looking forward to my next trip to the park. Maybe next time I will stay in a cabin so that I can relax and enjoy a campfire after kayaking.
Check out this awesome resource to learn more about kayaking in Arizona, kayaking safety, and where you can experience a similar adventure!