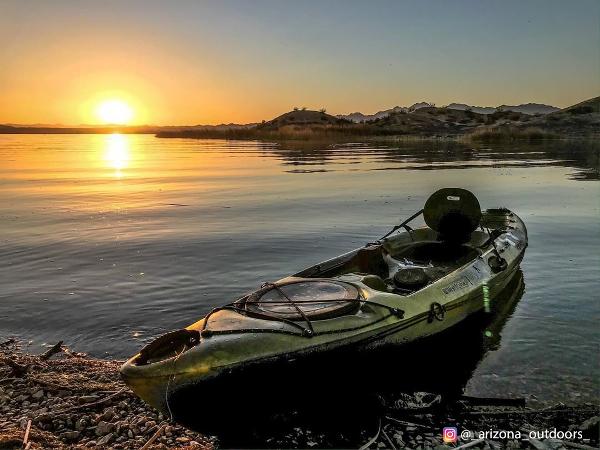 Kayaking Arizona's lakes and rivers is a great way to get some exercise while experiencing the area's beauty from a serene environment. Your state parks have TONS of great kayaking options in some of Arizona's most beautiful places. Learn about kayaking in Arizona below, kayaking benefits, and where you can kayak in this gorgeous and diverse state!
Health Benefits of Kayaking
Low-impact activities like kayaking promote overall health of joints and other tissues which reduces the risk of wear and tear
Improves cardiovascular fitness by raising heart rate
Kayaking promotes muscle strength in the torso, shoulders, chest, arms, and back
Serene settings and rhythmic activities promote relaxation of the mind which reduces stress
Since kayaking is an outdoor activity, your body will benefit from an increased vitamin D intake from the sun
Kayaking improves stamina and endurance which will increase your energy levels over time if done on a regular basis
Kayaking Safety
Kayaking, like many other forms of water recreation is not without risks. Prepare for your adventure by becoming familiar with these safety tips below, then hit the water with confidence and enjoy the numerous benefits of kayaking!
ALWAYS wear an approved floatation device while kayaking
Check weather conditions before your trip and NEVER kayak when lightning is a factor
Dress appropriately for the weather you will encounter on your trip
Drink plenty of water
Be visible to other crafts by using reflectors or fluorescent colors on your kayak, clothing, and safety equipment
Kayak within your abilities and refrain from taking unnecessary risks
Check all kayaking equipment before each trip and repair/replace if necessary
Watch the video below to hear from Doug Von Gausig, executive director of the Verde River Institute, explains the safety equipment that should never be forgotten when preparing for a day on the water. Doug and his team at the Verde River Institute have seen a thing or two on the river, and know what it takes to navigate it safely.
Convinced that kayaking would be a great activity to pick up, but aren't sure where to start? Check out this informative video from our partners at the Verde River Institute! Kim shares great tips to take your first fun and safe paddling adventure.
Where Can You Kayak in Arizona?
Although Arizona is in fact a desert state, it is far from lacking in the water recreation department. An abundance of lakes and rivers are scattered throughout the state and some of the best kayaking options are found within Arizona's state parks! Take a look at your options, then plan a trip and discover the world of kayaking!
Northern Arizona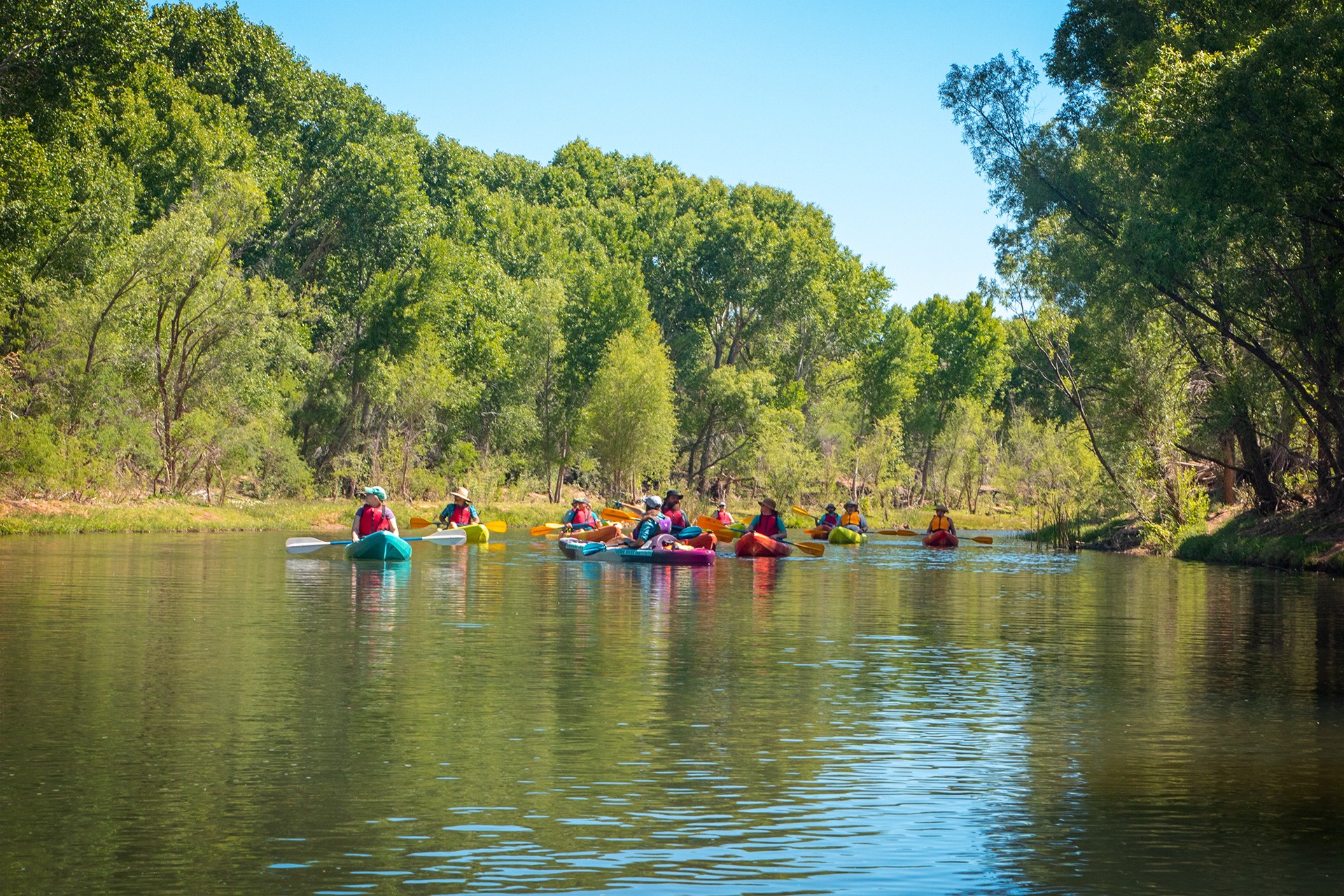 There are plenty of great spots to enjoy kayaking in northern Arizona, whether you want to stay close to home or commit to a road trip! Dead Horse Ranch State Park near Phoenix is a gorgeous and fun park with three serene lagoons and Verde River access which is perfect for catching the current downstream on a river kayaking adventure!
Further north in the White Mountains, don't miss an opportunity to kayak at Fool Hollow Lake Recreation Area! Rent a kayak at the park and enjoy a laid-back day on the lake surrounded by Ponderosa pines and northern Arizona wildlife! Fool Hollow is just outside Show Low, so it's easy to grab a bite to eat and enjoy a picnic right at the lake!
Lyman Lake State Park is about an hour past Fool Hollow Lake, and this huge high desert lake is a kayaker's paradise! Lyman's expansive shores ensure you have a plenty of room for adventure away from it all, paddling at your own pace and enjoying the peaceful feeling of a quiet day on the water.
Western Arizona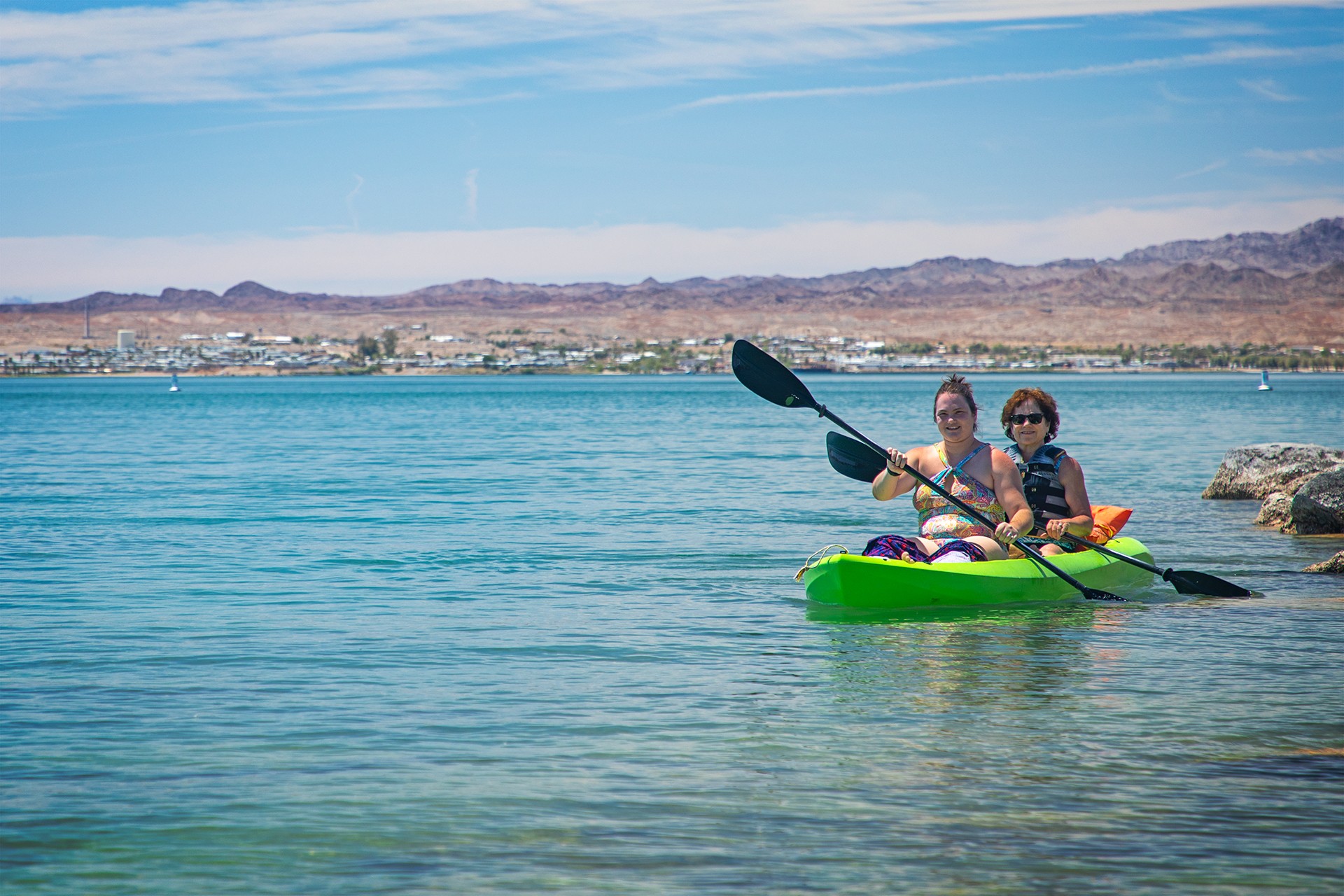 Arizona's "west coast" is made for big adventures! The Colorado River spans four great river parks. Well-known Lake Havasu State Park is a popular spot for boating of all kinds, and offers boat and kayak rentals on site. You can set off from any appropriate beach shore in any direction and have an unforgettable kayaking adventure! 
Downstream from Lake Havasu, if you're looking for a low-key boating experience,  grab a spot on the white sand beach and kayak the Colorado River at Cattail Cove State Park! You can rent a kayak and take a short lesson from a ranger if you're just starting out, or bring your reliable, familiar kayak and paddle off on your own!
In Parker, a two-hour paddle south of Cattail Cove, two great parks are side-by-side on the river. Buckskin Mountain and River Island State Parks are well-known for awesome launch spots and great kayaking opportunities! Take your pick of these two west coast parks and enjoy the ultimate Colorado River kayaking experience! 
Southern Arizona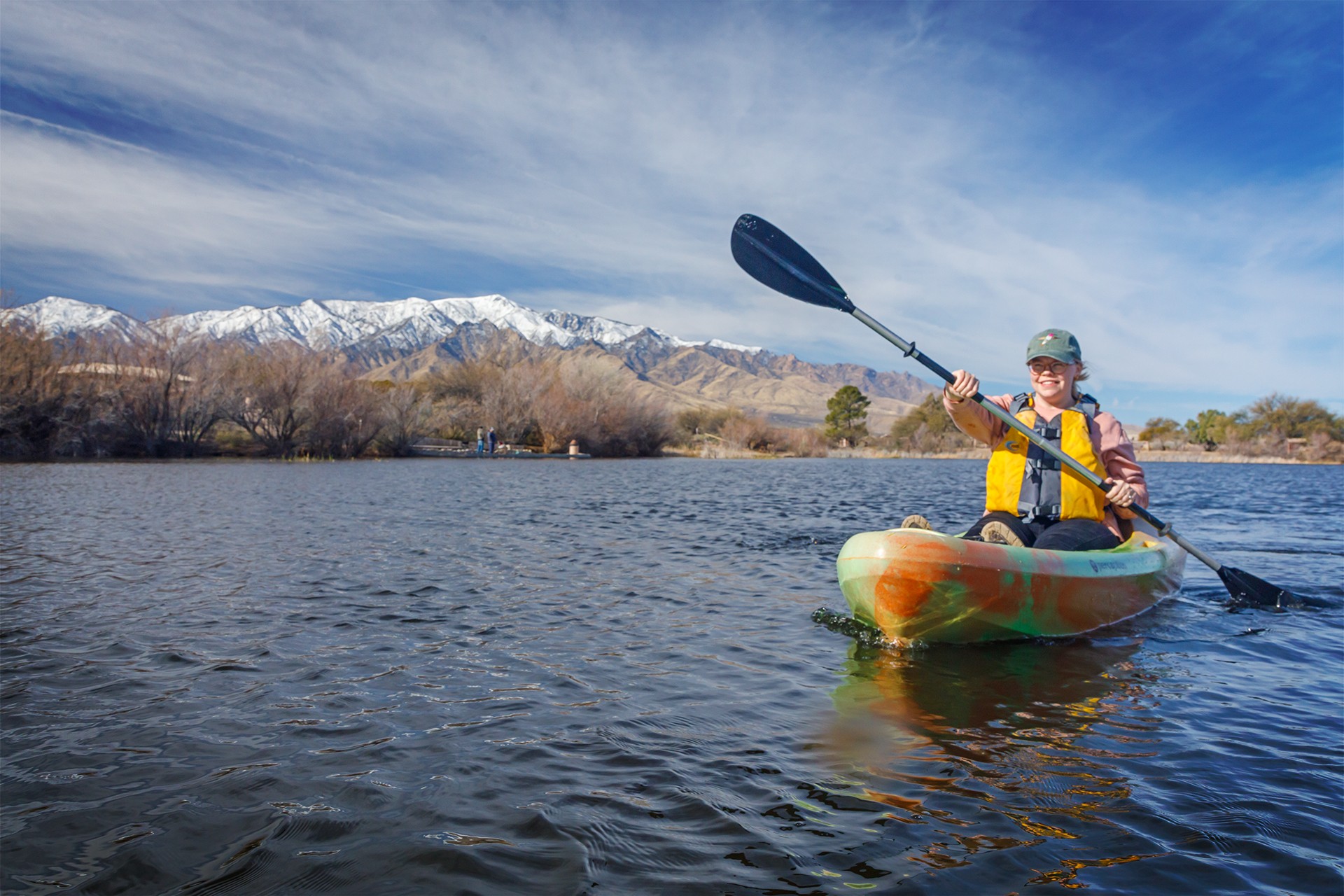 Although primarily a desert region, southern Arizona boasts some premier water recreation opportunities for kayakers! Two amazing state park lakes are waiting to show you a true desert oasis experience! Patagonia Lake State Park is a popular destination for water recreation, and kayaking is no exception! Rent a kayak at the park or bring your own and explore the scenic lake. Southern Arizona birds, wildlife, and gorgeous high-desert views await your arrival.
Roper Lake State Park is a hidden gem that lies further east near Safford. Tule-lined shores and nearby Mt. Graham are staple sights at this lake--a view that won't get old while you're enjoying your day kayaking on the water. Grab your kayak, and don't forget to rent a cabin or campsite...Once you hit the lake, you won't want to leave!
Kayak Fishing
Fishing from a kayak allows anglers to access places they are unable to reach when fishing from shore. The fish that live in these out-of-the-way spots usually see less fishing pressure and are subsequently easier to catch. Many of our lakes have reeds that bass and other fish use for cover and drifting silently along in a kayak is a great way to get into the fish! Fishing these spots is all but impossible from shore, but with a kayak you have the ability to place your lure or bait right on the fish's doorstep!
A fishing kayak is a great alternative to a larger boat for a number of reasons. First of all, the exercise you get from paddling around the lake can't be beat, and secondly…Kayaks are a much less expensive way to get into better fishing spots!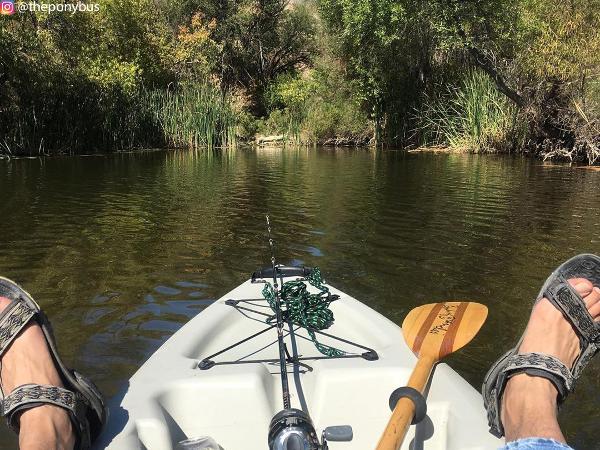 Catching Fish From A Kayak
To fish for bass from a kayak, paddle out to the reeds or other fishy looking cover and retrieve your lure near it to draw the bass out of its ambush spot. Another popular option is to flip weedless plastic baits into the reeds and let them fall. Pick up the tip of your rod, and let the bait fall again. Repeat the process until you hook up…and then do it again!
During the late fall, winter, and early spring months, the Arizona Game and Fish Department stocks rainbow trout in several of our park lakes. Trolling for trout is a fun way to get some exercise, see the sights, and catch some delicious trout for dinner! Small spinners like RoosterTails are great trolling lures, as are Z-Rays and, Super-Dupers. Paddle along at a leisurely pace with about 50 feet of line in the water. Your forward progress while paddling will engage the action of the lure and hopefully entice a strike.  
Subscribe to our Newsletter!