Start your adventure!
With more than 30 parks, 1,500 campsites, 50 cabins, 12 river and lake parks and 125 miles of hiking trails, we have tons of opportunities to create your story, and help you share it! Check out some of the memories, adventures, and fun that people are having in the parks.
---
Visiting Tombstone Courthouse State Historic Park
What should you expect on a visit to the Tombstone Courthouse State Historic Park? You will witness amazing collections of articles and artifacts that come from the wild west mining town that is kept alive by the residents and visitors from around the world. This town was founded in 1879 by scout and prospector Edward Schieffelin.
---
Lyman Lake Getaway
If you are looking for a camping getaway that has a lake for fishing, boating, petroglyphs, hiking and more, Lyman Lake is for you! With no restrictions on boat size, Lyman Lake has cabins, RV hook up areas and campsites for all types of campers. There are great views. The drive to the park will take you through some rural areas of Arizona that are very pretty, but make sure you fill up on gas! We loved how the scenery changed as we headed out of our usual area.
---
Hiking the Flatiron at Lost Dutchman State Park
When I asked the cashier at REI what his favorite day-hike in the Phoenix area was, he thought for a minute before answering, "Oh! The Flatiron's pretty good." That should have been a clue. From Lost Dutchman State Park, there's easy access to the Siphon Draw Trail that leads to the Flatiron through the nearby Superstition Mountains, making it a popular starting point for visitors.
---
Kayaking on the Verde River
I will never forget my first kayaking trip at Dead Horse Ranch State Park. A friend and I went kayaking on the Verde River. I am not a kayaking expert and wasn't even sure I would be able to do it. We hit almost every bush or branch by the edge of the river that we could possibly hit, and even ended up backwards a few times. We had such a good time, saw wildlife, listened to the river, laughed and fell in love with the surroundings.
---
Paying Respect at Granite Mountain Hotshots Memorial State Park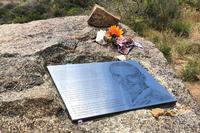 A clear blue sky and a slight breeze made the day perfect day for hiking Granite Mountain Hotshots Memorial State Park. The challenges to developing this emotional memorial park were many, but as 18 Arizona Parks and Recreation Association members discovered, the result is powerful. On November 9, 2017, the group hiked the rugged trails that follow in the footsteps of the 19 elite wildland fire fighters who answered their last alarm during the Yarnell Hill Fire on June 30, 2013.
---