DR. SKY: MOON AND METEORS AT LOST DUTCHMAN STATE PARK
Whether you are camping at Lost Dutchman State Park or visiting for the day, if you enjoy astronomy, attend an event when Dr. Sky aka Steve Kates is presenting. Steve Kates is a National Radio/TV Personality "Dr.Sky" and Radio Talk Show Host out of Phoenix, AZ. He is educational and very funny. I was laughing throughout the night. The presentation was scheduled from 7-8 pm at the Pala Verde Ramada. We arrive around 6:30 pm to take photos. Dr. Sky was already engaging a large crowd that was there eagerly listening. They were literally on the edges of their seats. We looked around and noticed that all the picnic tables' benches were full. Good thing we brought chairs. We sat right up front and I am glad we did. It did not take long for us to be sitting on the edges of our seats like everyone else. We estimated that there were 60-80 people there that evening. All ages. A group of young scouts was there to learn as well.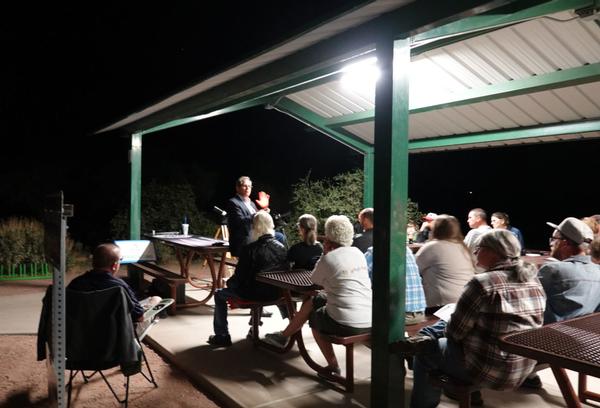 In the first part of the evening, Dr. Sky handed out "The Evening Sky Map" to each group of people. He taught us how to use the map and what we would be looking for this evening. We were very fortunate to have clear skies this evening. As many of you will remember our adventure at The Star Party when it was all clouds. Dr. Sky's humor made an already exciting topic of astronomy even more exciting. His stories of meteor showers and solar eclipse were fantastic.
Although there were over 60 people at the event, Dr. Sky was patient and made the telescope available for everyone to view. We spotted Jupiter, saw Saturn's rings, and the Andromeda galaxy. He shared that 1 out of 15 people have never seen the Milky Way. This night the Milky Way was very clear for all of us to see without a telescope.
Dr. Sky has this high powered laser that I believe he said was over $1,500. He pointed out Vega and all the 13 Zodiac signs. Yes, I wrote 13. You will need to attend an event to learn about the 13th. I will not spoil the surprise.
A bonus for the evening was that this coming weekend is a meteor shower and this very night I saw 2 shooting stars. Dr. Sky will educate you to learn that they are not shooting stars. I appreciate Dr. Sky because of this knowledge that he shared with us. I learned about light years and where to find many constellations.
Tips
Dress appropriately for the time of year.
Pack drinking water.
Bring a chair just in case the benches are full.
Have a red light flashlight and not white light.