Fire ban in effect starting April 21: No campfires of any kind (wood, charcoal, propane), and no smoking (including e-cigarettes) except in enclosed vehicles. Propane stoves allowed for cooking only.
The dump station and showers are closed to anyone not camping at the park. The park is currently experiencing a water shortage. No filling will be allowed at the park.
Explore the trail and park maps below before your trip to Picacho Peak State Park. 
Park Location and Directions
What3Words: ///baker.beads.desperate
Picacho Peak Park Map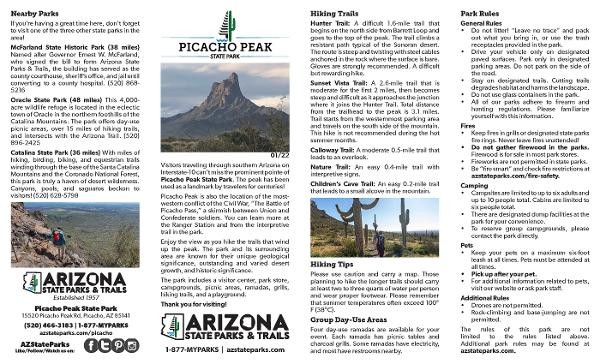 Download Printable Park Map
Park Map shows you an overview of the park, including trails and group use areas.
Elevation
2000 ft
GPS Coordinates to park entrance
Decimal Degrees (WGS84)
Latitude: 32.645952
Longitude: -111.401153
Degrees, Minutes & Seconds
Latitude: N32 38 45
Longitude: W111 24 04
GPS
Latitude: N 32 38.757 
Longitude: W 111 24.069
UTM 12N
X: 462377 
Y: 3612109