To reduce crowding, there will be no street parking available. The park is currently experiencing a water shortage. No filling will be allowed at the park. Fire restrictions have been lifted, and we are now allowing campfires in park provided fire rings. Fire danger is still present in the park.
Wildflower Information
Please check back often to see up-to-date wildflower images from this park. We're all hoping for another banner wildflower season but are unable to determine when the best blooms might occur. Please use this page as your guide to the current wildflower situation at Picacho Peak State Park. Also refer to our main wildflower page for bloom information in other popular state parks.
Current Wildflower Photos (Added 02/19/2020)
The poppies are starting to bloom in small patches, we expect the brittlebush and lupine are not far behind but have yet to see any significant growth.
Wildflower Update 02/25/2020
As you can see, the park hasn't quite hit "full bloom" although we are optimistic that wildflower season 2020 will be bold and beautiful...We just don't know when.
Wildflower Update 02/29/2020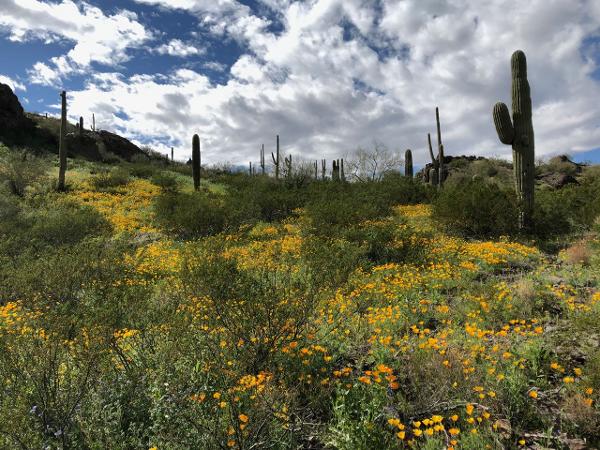 Looks like the poppies are getting there...It takes a little work to get into areas with dense blooms and we're hoping that the more accessible spots in the park will catch up soon.