CAVE TOURS BY RESERVATION ONLY - Please see our Cave Tours page for other current restrictions.
Fire restrictions are in place - propane is allowed.
Facility Information
Thank you for choosing to learn more about the the facilities and experiences available at Kartchner Caverns State Park! This beautifully diverse park sits at the base of the Whetstone Mountains and offers a wide variety of activities to visitors amid the natural area beauty, and the complex infrastructure found in the park. Cozy cabins with a view, spacious campgrounds, world renowned cave experience, beautiful trails and so much more are waiting for you in Benson, AZ!
Facilities Available at Kartchner Caverns State Park
Discovery Center (Visitor Center)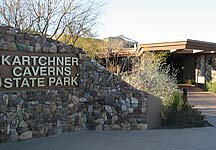 The Discovery Center is located on the northeast end of the main parking lot. Visitors should arrive one hour prior to tour time in order to obtain tickets and experience Discovery Center activities. The facility consists of the front desk, a theater presentation, museum, gift shop, an amphitheater, and food concession. At the front desk, customers may get park information, pick up reservation tickets, or purchase walk-up tickets. (Walk-up tickets may or may not be available on any given day; reservations are highly recommended).
In the Tenen–Tufts Theater, a video presentation (15 minutes long) plays twice an hour. The program highlights the discovery aspect of the cave. The museum contains exhibits on cave formations, cave life, hydrology, and history. The gift shop offers a wide array of cave related and southwestern themed souvenirs, gifts and practical items to meet the needs of travelers. The amphitheater may host a variety of interpretive programs, weddings or other special events. There is also a Discovery Center Scavenger Hunt for Kids.
Exhibits
Visitors to Kartchner Caverns find that the Discovery Center is well-named. Caves are mysterious and unfamiliar to humans. These dark caverns pique our curiosity and lead us to seek answers for our many questions. Numerous interactive displays in the museum give visitors the opportunity to discover the answers for themselves.
Introductory panels in the geology exhibits show how caves form, why the formations look as they do and locations of other caves. Other displays are specific to Kartchner Caverns, one of the most-studied public caves. It ranks in the top ten caves worldwide for its unique mineralogy. Here you can touch local rock types. A cut-away view of the cave hill highlights some major features and tour routes at the touch of a button. Take a virtual tour of some of the cave's most prominent formations at the Underground Journey exhibit. The hands-on hydrology display allows visitors to follow water underground, usually hidden from our view and shows why water is essential to the cavern remaining a "living" cave.
Original 86,000-year-old sloth bones and a 36,000-year-old Horse skull are now on display in the Discovery Center. There are also small bones from bear, extinct antelope, bobcat, ringtail cat, and rabbit.
Arizona State Parks' consultation with cave experts prior to development resulted in a display showing problems facing public caves and the importance of preserving them. Hopefully, the museum exhibits will also inspire you to appreciate and help preserve all caves.
Gift Shop
Open 10:00 a.m. to 3:00 p.m. (summer hours) and 9:00 a.m. to 5:00 p.m. (winter hours). Store phone number is (520) 586-4167.
In our gift shop, you will find tasteful unique gifts with a southwestern flavor. We offer a variety of Kartchner Caverns State Park souvenirs for adults and kids to include apparel and collectibles, as well as a selection of Native American jewelry, postcards, magnets and rocks! We pride ourselves in offering products made in America, especially locally made products.
If you love books, we have an eclectic collection of books for your review covering subjects from the Cavern, nature, desert animals and birds to Arizona and Native American history and southwest cookbooks. Our Children's section has educational toys, puzzles, plush animals and puppets to accent the children's storybooks. Dig your fingers through our variety of worldly and colorful rocks, crystals, minerals and fossils.
We love getting to know our customer so feel free to give us a call with your requests or better yet come by and visit our gift shop. We will gladly ship to any destination in the continental U.S.
Bat Cave Café
The Bat Cave Cafe is open daily from 11 a.m. to 2 p.m. (with extended hours based on guest participation). We offer group catering services as well. Call ahead for details: (520) 586-4167.
The Cafe offers freshly made salads, sandwiches, wraps, quesadillas and individual pizzas, as well as a variety of drinks and Blue Bunny Ice Cream treats.
The menu may be limited due to COVID-19 restrictions.
Enjoy your meal in a relaxing patio atmosphere surrounded by our Hummingbird Garden.
Catering must be arranged through park concessionaire, Aramark, or receive permission from Aramark to arrange your own catering. Aramark's phone number is 520-586-4166.
Campground and RV Sites
The campground loop at Kartchner offers great Whetstone Mountain views from all of the 60 campsites! Every campsite in the loop has a table, hose bib, and power post for your convenience within a clean, flat space. Campsites are located near trailheads, not far from the cave and discovery center, and within a short walk from clean restrooms and showers. There's so much to do at this park, you might as well stay for a while…Click below to book your spot and start making some beautiful southern Arizona memories!
Cabins
Enjoy breathtaking mountain views from one of four west-facing cabins! Each cabin sleeps up to six (one queen sized bed and two sets of bunk beds), has air-conditioning, a table with four chairs, and a mini-fridge. Cabin guests must supply their own linens. The "dry" cabins do not have plumbing, although clean restrooms and showers are located very close. A cabin experience at Kartchner will help visitors meet each day fully rested from a very comfortable night's sleep. With so many things to do here, quality sleep will help you enjoy this unique park to the fullest extent!
Emergency Services
Contact the Discovery Center, the gatehouse, or a camp host in person or call (520) 586-4141 during business hours to report an emergency. After hours call 911. Ambulance and hospital facilities are available in the town of Benson.
Parking
The main parking lot for the Discovery Center is located at the third turn to the right after leaving the contact station. General parking is available throughout the lot, 13 handicapped accessible parking spaces and two van accessible sites are available in the northeast section of the lot, and 16 oversized RV parking spaces are located in the southeastern section of the lot. A section designated for eight school or tour buses is located at the second turn off to the right after leaving the contact station. A lot with 23 spaces is located at the Guindani trailhead, on the far southwest end of the park at the end of the main road.
Restrooms/Showers
The park has modern restrooms located at the Discovery Center, Campground and Trail Head. Handicap accessible and Family facilities, with baby changing stations, are located at the Discovery Center and Campground facilities. Restrooms are within easy access of rental cabins and campgrounds. Basic, non-handicap accessible facilities are located at the Trail Head. Please do not dispose of stored wastewater in the restroom; please use the Dump Station for this purpose.
Showers are located in the campground restroom buildings at the upper west end of each campground loop. Use of showers is included in the camping permit fee, there are no separate charges for their use. All showers are handicapped accessible. Flush toilets and sinks with handicapped accessibility are also located in the restroom building. Two showers are located in each of the men's and women's restrooms, and a single shower is located in the family restroom.
Dump Station
The Dump Station is located along the main road on the south end of the park adjacent to the campground entrance. The station consists of two 110' lanes, two pumps, waste receptacle and a non-potable water source. Lanes may be accessed from either end, in either direction. A paid camping permit is required to use the dump station. Please leave the area clean for the next user.
Group Day Use Areas
The group day use area is located at the northwest corner of the main parking lot. The area features three covered ramadas, eighteen picnic tables with one handicapped accessible table, water faucets and drinking fountains, 110 electrical outlets and lighting, waste receptacles and an area for a band and dancing. Optional use of a large covered gas grill and built in counter is available for an additional fee. All fees must be paid in advance when making a reservation. Fees are on a per day basis. Please make payment with cash, Visa or Mastercard at the front desk of the Discovery Center. Personal checks are not accepted for payment. Reservation fees apply to the rental of the group day use area only, all other per vehicle day use, camping, and tour fees are additional.
Covered group ramada capacity is 200-250 persons (can accommodate 50-100 more if utilizing the uncovered gravel area on the north side – no additional charge will be assessed).
Please leave the group day use area in the same condition that it was found. Please clean the grill (if used) and place waste in receptacles. A refundable cleaning/damage deposit of $150.00 (which includes the amphitheater area if used) is required when reserving.
50 people or fewer = $150.00 + $25 w/grill
50 to 100 people = $200.00 + $25 w/grill
100 to 200 people = $450.00 + $25 w/grill
200+ people = $600.00 + $25 w/grill
Amphitheater Area
Has a raised platform with electrical outlets. Seating capacity is 200-250. $50.00 per hour (two-hour minimum).
Picnic Areas/Shelters
Covered picnic tables are located around the perimeter of the main parking lot and adjacent to the food concession area outside of the Discovery Center. Seven single table sites are located on pads under a shaded ramada with a water source on the west and south end of the main parking lot. Two handicapped accessible sites are located in the center of the sites on the west side of the lot, they have a wheelchair accessible table and adjacent parking. All perimeter tables are accessible by a developed sidewalk and pad.
Three uncovered tables on pads are located in the southeast section of the main parking lot; only one table is accessible with a paved sidewalk.
Seven single tables and one wheelchair accessible table are located under the covered dining area outside of the food concession area at the Discovery Center. The dining area looks out onto the Hummingbird Garden and the vista of the Whetstone mountains. A counter area with wheelchair accessibility is located inside the Bat Cave Café.
Park Rules
Discovery Center
The following are NOT permitted in the Discovery Center:
Food and drinks (including bottled water)
Smoking
Littering
Please arrive one hour prior to your tour time to see the video presentation and museum exhibits. Please leave all items in your vehicle except appropriate clothing and method of payment if purchasing tickets. Lockers are available at the Discovery Center, and they require four quarters for a one-time use. Change is available at the Discovery Center.
Campground
Camping is permitted in designated sites only.
Campfires are allowed within designated fire rings. Two commercial fire rings are provided (one in each loop) for the purpose of enjoying a campfire. Solid bottom, self-contained propane stoves or charcoal grills are allowed for cooking at your campsite.
Wood gathering is not permitted. Wood can be purchased from camp host.
Pets must be on a leash. Do not leave pets unattended outdoors. Pet waste must be picked up and disposed of.
Drive and park on designated, paved areas only.
Littering is unlawful.
Quiet hours are from 10 p.m. – 7 a.m.
Help us to conserve water usage when possible.
No feeding of birds or wildlife.
Please arrive at the park prior to 6 p.m. The entrance gates will close at 10 p.m. and access will not be available until 7 a.m.
Cave Tours
Kartchner Caverns is now following established nationwide protocols to prevent the spread of White Nose Syndrome, a fungal disease that is killing bats. We request that if you have been in another cave or mine since 2005 you do not wear or bring any of the same clothes or shoes as on your other cave trips. If you arrive to Kartchner Caverns wearing shoes that have been in another cave, you will be asked to visit a White Nose Syndrome Decontamination Station, where your shoes will be sprayed down with rubbing alcohol to kill the fungus. Thank you for working with us to protect our bats!
The following are NOT permitted on cave tours:
Pets (except certified service animals meeting ADA standards). Please do not leave pets in vehicles.
Purses, handbags, backpacks, fanny packs, baby backpacks or other bags/items.
Binoculars or flashlights.
Photography or video equipment (to include phones, other electronic recording devices, and tripods).
Food, gum, tobacco products and drinks (including bottled water).
Strollers, walkers, crutches.
Touching or damaging formations (punishable by law).
Littering or tossing coins.
Please plan to leave all items in your vehicle or in the lockers located on the rear patio of the Discover Center. Heavy clothing will not be necessary in the warm, humid cave. A coat or jacket appropriate to the outside weather is all that you will want to bring with you on tour.
Pets Policy
Pets are allowed in all outside areas but they must be leashed. Pets are not allowed inside any of the buildings or on cave tours except for service animals. Pets should not be left unattended in vehicles in the parking lot or left unattended outdoors. Ensure that pets have access to a water source. Pets should be restricted to trails and developed areas due to potentially harmful desert plants and cactus. Wildlife and other pets may pose a danger to unrestrained pets due to potential conflicts or predatory behavior that could be harmful.
Donate to Arizona State Parks
Arizona's state park system does not receive General Fund monies that the state generates through taxes. As a self-sustaining agency, it is vital to receive public support for ongoing costs and upgrades to the park system you enjoy.
How will your donation be used?
Improvement projects like playgrounds, restrooms, and other infrastructure to improve park experiences
Repairs to existing buildings and structures within the parks, including historic structures.
Trail maintenance and construction
Organized clean-ups throughout Arizona
Park operational costs, including supplies and equipment to maintain the park.