Please see our Cave Tours page for information on how to prepare for your visit. 
Become more familiar with Kartchner Caverns State Park by taking a look at these awesome maps before your trip! 
Park Location and Directions
What3Words: ///surroundings.give.improvement
Kartchner Caverns Park Map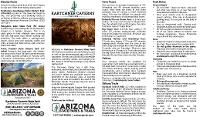 Download Printable Park Map
Park Map shows you an overview of the park.
Elevation
4700 ft
GPS Coordinates to park entrance
Decimal Degrees (WGS84)
Latitude: 31.835566
Longitude: -110.343676
Degrees, Minutes & Seconds
Latitude: N31 50 08
Longitude: W110 20 37
GPS
Latitude: N 31 50.134
Longitude: W 110 20.621
UTM 12N
X: 562104 
Y: 3522397