The park entrance gate opens at 5 a.m. and closes at 8:30 p.m. Campers who arrive after 8:30 p.m. need to call the park with a confirmation number to get the entrance gate code.
Park Location and Directions
What3Words: ///rusts.juggles.linger
Fool Hollow Park Map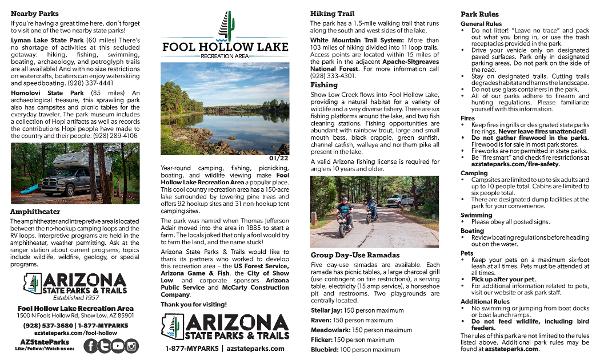 Download Printable Map
Map shows you an overview of the recreation area.
Elevation
6300 ft
GPS Coordinates to Recreation Area entrance
Decimal Degrees (WGS84)
Latitude: 34.263327º
Longitude: -110.076292º
Degrees, Minutes & Seconds
Latitude: 34º 15' 47.9772"
Longitude: -110º 04' 34.6512"
GPS
Latitude: N 34.268933'
Longitude: W -110.074128'
UTM 12N
X: 585039.67
Y: 3791739.73