The east boat ramp is closed to boats due to low water level. Canoes and kayaks can still launch. The west boat launch ramp is open.
Park Location and Directions
What3Words: ///rusts.juggles.linger
Fool Hollow Park Map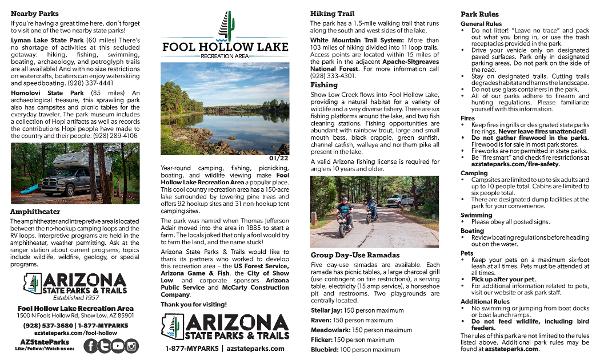 Download Printable Map
Map shows you an overview of the recreation area.
Elevation
6300 ft
GPS Coordinates to Recreation Area entrance
Decimal Degrees (WGS84)
Latitude: 34.263327º
Longitude: -110.076292º
Degrees, Minutes & Seconds
Latitude: 34º 15' 47.9772"
Longitude: -110º 04' 34.6512"
GPS
Latitude: N 34.268933'
Longitude: W -110.074128'
UTM 12N
X: 585039.67
Y: 3791739.73