Region One OHV Trailheads
Eastern Arizona
Eastern Arizona is full of adventure potential, and there are a number of great OHV trailheads throughout this scenic region from which to explore it! These Eastern AZ OHV trails will give you an in-depth look into this picturesque and wild slice of Arizona. You'll likely experience a variety of birds and wildlife while exploring many of these trails. How many elk can you count on your next ride? Are you into trout fishing? There are a number of awesome lakes and streams right here in what many consider the best trout fishing region Arizona has to offer! Hit the trail and start exploring!
You've found Arizona's most current OHV trail resource! Select an off-road trail from the map and learn more about your impending adventure below. Find out what to expect during your trip, get maps to each of the OHV trailheads, and have important contact info right at your fingertips.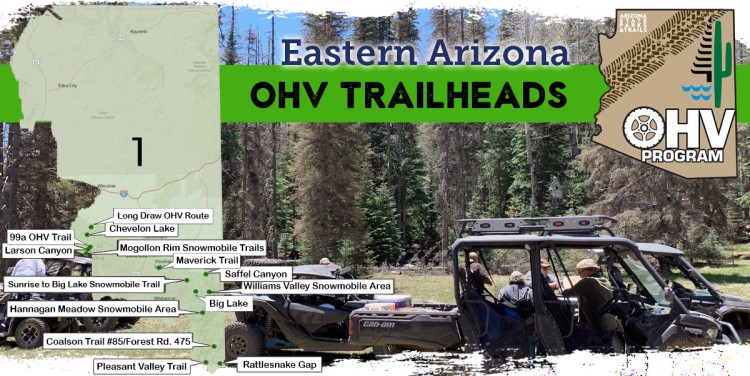 Click the Statewide OHV Trailheads button below to find even more awesome OHV experiences and trailheads throughout Arizona! 
99a OHV Trail 
This stunning trail in eastern Arizona is 3.9 miles long, beginning at Wildcat Road Access and ending at Forest Road 172. ATV riders can enjoy the scenery and terrain along this trail. Additionally, the 99a Access trail is available. At 0.9 miles long, it begins at West Loop and ends at 99a Trail.
---
Big Lake
If getting completely away from it all and experiencing the outdoors for all it has to offer is your camping ideal, then plan your camping vacation in the Big Lake Recreation Area. Big Lake itself is 575 acres, and makes a convenient base for other local lakes like Crescent Lake, Lee Valley Lake and the East and West Forks of the Black River. A visitor center and naturalist programs offer plenty of knowledge about the area.
---
Chevelon Lake
ATV trail riding is available along the Chevelon Lake Trail, an 0.8 mile trail that starts at Forest Road 189b and ends at Chevelon Lake. With stunning overlooks and views that showcase the mountains and wide Arizona skies, this trail will definitely provide adventure. No street vehicle access is permitted. The staging area is located at the Chevelon Canyon Lake Campground.
---
Coalson Trail #85 Forest Road 475
This is an extremely rough 4-wheel drive road. It crosses several high grassy meadows. Staging area at Stacey Ranch.
---
Hannagan Meadow Snowmobile Area
Hannagan Meadow Recreation Area is a high-country four-season sporting paradise for a wide range of outdoor pursuits. From Alpine, drive south on US 191 for 22 miles. In the White Mountains near the Arizona-New Mexico border, this trail offers pine-tree views and a great ride.
---
Larson Canyon
The Larson Canyon Trail is 3.5 miles long, beginning at Canyon Road Access and ending at Forest Road 172. Try ATV trail riding here for cooler weather and off-road adventure. Also check out the 237 B OHV trail, which is 0.5 miles long and begins at the 237 B Trailhead and ends at Larson Canyon Trail. Access the staging area at the Canyon Drive Trailhead.
---
Long Draw OHV Route
Located on the Mogollon Rim approximately 50 miles northeast of Payson, the route is a 30-mile loop starting at either Long Draw North Trailhead (Chevelon Crossing Campground) or Long Draw South Trailhead (Chevelon Lake Campground). The route is restricted to street-legal/licensed vehicles (vehicles must have a m/c plate and OHV tag). Trailheads include a staging area, toilets and campsite facilities. The trail takes you through a forest of pinyon pine and juniper intermixed with ponderosa, oak, and Douglas fir. The trail follows existing forest service level 2, 3, and 4 roads and offers some challenges to riders along the FR 213 section of the route.  The Long Draw Trail is generally open all seasons, however, routes may be closed due to winter snow, or high fire danger.
---
Maverick Trail
With nearly 50 miles of diverse trail, Maverick Trail offers wonderful views of the White Mountains. It primarily serves ATVs under 50 inches wide but has some sections that accommodate larger off-road vehicles up to 60 inches wide. Located in the Pinetop-Lakeside area, Maverick has five trailheads that serve as decent staging areas. Maverick is also a popular snowmobiling trail in the winter.
---
Mogollon Rim Snowmobile Trails
When snow covers the forest, enjoy the Mogollon Rim area north of Payson by snowmobile. Trails include Bear Snowmobile Loop Trail, Mogollon Rim Snowmobile B Trail, Mogollon Rim Snowmobile C Trail, Mogollon Rim Snowmobile D Trail, Mogollon Rim Snowmobile E Trail, and Promontory Snowmobile Loop Trail.
---
Pleasant Valley Trail #84
The Pleasant Valley Trail is actually an extremely hazardous road that is used by high-clearance, 4-wheel drive vehicles but it is not recommended for motorized vehicles. The trail begins in the canyon. On the right side in Limestone Gulch, in less than a mile, an old rock smelter ruin can be seen.
---
Rattlesnake Gap
With more than 25 miles designated for OHVs, the Rattlesnake Gap OHV Trail is one of Greenlee County's most popular routes. Located on the southernmost portion of the Apache-Sitgreaves National Forest, the area is well-known by hunters, anglers, photographers, campers and those just out for an adventurous drive. It may seem like a relaxing drive in the country at first but it can quickly turn treacherous when the weather gets rough. Some routes in the area are restricted to highway-legal/licensed vehicles. Two campgrounds with tables and fire rings have been installed in the Rattlesnake Gap area.
---
Saffel Canyon
Land Manager: Apache-Sitgreaves National Forest – Springerville Ranger District
Saffel Canyon Trail, near Eagar, includes some of the most spectacular views in the White Mountains. The trail begins at an elevation of 7600 feet and climbs to 9400 feet at Pat Knoll. The distance is 25 miles, round-trip and the difficulty level is moderate. The trail goes through three distinct vegetation zones: pinyon-juniper, ponderosa pine and mixed conifer. There is trailhead parking which accommodates trailers; the trailhead has two picnic ramadas, restrooms, and a "tot lot" where young riders can learn some basic ATV skills. Trail access is near Eagar.
---
Sunrise to Big Lake Snowmobile Trail
Land Manager: Apache-Sitgreaves National Forest – Springerville Ranger District
When snow closes roads in the National Forests, this route remains open for snowmobile use. Facilities include toilets, and trailhead parking accommodates trailers. The route traverses beautiful mountains and meadows through forests of pine, spruce, and fir.
---
Williams Valley Snowmobile Area
Land Manager: Apache-Sitgreaves National Forest - Alpine Ranger District
This is a snowmobile area found near Big Lake between Greer and Alpine, great for winter fun.
---