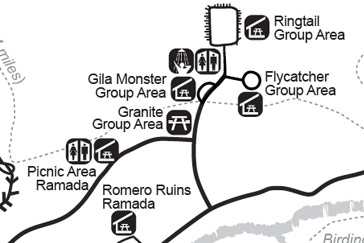 The park offers a total of 6 reservable group areas. Four (Ringtail, Flycatcher, Granite, and Gila Monster) can be reserved for either day use or overnight camping and two (Picnic Area and Romero Ruins) are only day use. Download Info Packet for minimum and maximum group sizes. Download Reservable Group Areas Information Packet and Download Park Map
Call the park at (520) 628-5798 with questions or to make reservations.
Reservations are required. Reservations will only be accepted no later than 1 day prior to the date being reserved and no earlier than 365 days in advance.
A reservation fee of $5.00 per site is required, and is non-refundable.
A facility use fee of $15.00/segment (5 am - Noon and/or 2 - 10 pm) is required at the time of the reservation.
If the reservation is canceled more than 60 days in advance the user fees are refundable. If the reservation is canceled less than 60 days in advance the user fees are forfeited. Camping ($15/night/vehicle) and Day Use ($7/vehicle) fees are paid on arrival.
Day Use hours are from 5 am to 10 pm.
Ringtail is not available as a group area from January 15 - March 31.
No amplified music/sound.
Clean up area after use.
Responsibility of the Fire Pit is taken when the area is reserved.
The Solar Lights are on timer and will not work until dark. Citizens for Solar and the Solar Guild of Tucson, Arizona donated the Solar Lights.
There is no electricity at any area.
Alcohol is allowed.
The second vehicle fee can be paid with your reservation or at the park.