Visitor Center/Ranger Station
The Visitor Center/Ranger Station is located at the park entrance and is open approximately 8 a.m. – 5 p.m. daily. Entrance and camping permits are issued here. Information is available about the park and local vicinity. The Visitor Center features a small gift shop.
Restrooms
Flush restrooms are available in the visitor center, picnic area, group areas and campgrounds. Waterless restrooms are available at the trailhead and equestrian center. All restroom facilities are handicap accessible.
Gift Shop
There are two gift shops. A small one located in the Visitor Center/ranger station at the park entrance. Some of the items offered are postcards, maps, books, field guides, drinking water, snacks, sunscreen, hats, and tee-shirts. This shop is open approximately 8 a.m. – 5 p.m. daily. There is also a trailhead gift shop open seasonally near the bathrooms at the trailhead.
Exhibits
A few exhibits are located in the Visitor Center.
Group: Day Use Areas & Camping Sites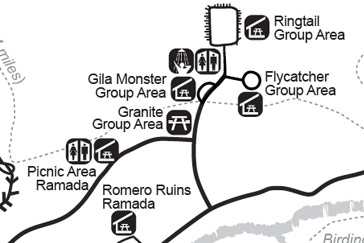 The park offers a total of six reservable group areas. Four (Ringtail, Flycatcher, Granite, and Gila Monster) can be reserved for either day use or overnight camping and two (Picnic Area and Romero Ruins) are only day use. Download the info packet for minimum and maximum group sizes. Download Reservable Group Areas Information Packet and Download Park Map
Call the park at (520) 628-5798 with questions or to make reservations.
Reservations are required. Reservations will be accepted no later than one day prior to the date being reserved and no earlier than 365 days in advance.
A reservation fee of $5.00 per site is required and is non-refundable.
A facility use fee of $15.00/segment (5 am - noon and/or 2 - 10 p.m.) is required at the time of the reservation.
If the reservation is canceled more than 60 days in advance, the user fees are refundable. If the reservation is canceled less than 60 days in advance, the user fees are forfeited. Camping ($15/night/vehicle) and day use ($7/vehicle) fees are paid on arrival.
Day use hours are from 5 a.m. to 10 p.m.
Ringtail is not available as a group area from January 1 - March 31.
No amplified music/sound.
Clean up the area after use.
Responsibility of the fire pit is taken when the area is reserved.
The solar lights are on a timer and will not work until dark. Citizens for Solar and the Solar Guild of Tucson, Arizona donated the solar lights.
There is no electricity at any area.
Alcohol is allowed.
The second vehicle fee can be paid with your reservation or at the park.
For cancellation policy see Reservation Policies: Terms & Conditions
Dump Station
Dump Station: Two RV dump stations are available in the park. Free for registered campers. $15 per vehicle dumping fee if not registered in the campground.
Showers
Hot showers in the restroom buildings at campgrounds and group areas. For use by registered campers only.
Picnic Areas/Shelters
The picnic area features tables, BBQ grills, and a modern flush restroom and one 20x40' shade ramada (see next paragraph). Day use hours are 5 a.m. – 10 p.m. There are at least 10 picnic tables at each Ramada.

A 20x40' ramada is now reservable! It has two grills and 10 picnic tables. It is only for day use (5 a.m. – 10 p.m.); no camping or wood fires are allowed (wood fires are allowed in the group area). The reservation fee is $35 plus the day use entrance fee $7/vehicle.
Equestrian Area
An equestrian staging and camping area is available for visitors who trailer their own livestock into the park. Stock can be off-loaded for day rides, or riders can camp with their animals. Sixteen pens are available first-come, first served (no charge for pens). Picnic tables, BBQ grills, a restroom, and drinking water are available. Horses or stock animals are not permitted on the nature trail, birding trail, and Romero Ruin Interpretive Trail, or in picnic/camping areas or on paved roads.
No reservations
First come, first served
Camping or day use (no designated sites)
16 corrals
Wood fires allowed in designated fire pits
Vault toilet
Hitching Posts
Mounting/dismounting steps
Water, no electricity
Camping fees are $20 per vehicle per night

$7 vehicle day use
Biking
Cycling is permitted on all park trails except Romero Ruin Interpretive Trail.
Wildlife Viewing
A variety of desert wildlife inhabits the park, including more than 170 species of birds. Mammals of interest include deer, coyote, javelina, bobcat, and jackrabbit. Most desert animals are nocturnal, so early morning and late evening viewing is best. Any of the park trails offer good opportunities for birdwatching and wildlife viewing.
Park Rules
Campground check-in: 2:00 p.m.; Check-out: 12 noon.
Vehicles must remain on paved roads.
Vehicle washing is not allowed.
Discharge gray water only into designated dump facilities.
Damaging, defacing, or removing natural features is prohibited.
Do not attempt to drive through flooded roads.
Pets must be kept on a leash.
Wood fires and ground fires are permitted only in designated areas.
Camping is limited to 14 nights in a 30-day period.
Generator hours: 8:00 a.m. to 8:00 p.m.
Quiet hours: 10:00 p.m. to 7:00 a.m.