Lost Dutchman State Park Calls for Citizen Scientists This March
February 22, 2022
PHOENIX – Lost Dutchman State Park invites visitors to become "citizen scientists" by participating in a Bioblitz event this March.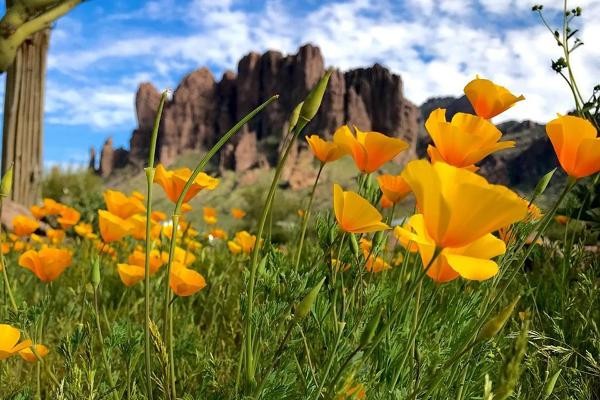 Bioblitz is a special event designed to gather information about the biodiversity of the park. This communal effort will result in a record of as many plant and animal species as possible and facilitate an enhanced understanding, appreciation and connection with nature.
All visitors need to contribute is their smartphone or tablet! Data will be collected using the free iNaturalist app, which makes it easy for anyone to participate by recording observations. It's as simple as visiting the park, opening your phone app, and snapping a picture!
After the Bioblitz, the observations will be tabulated, summarized and posted on the project page in iNaturalist and on the park's website and social media.
Gathering data about nature has never been more fun! The month of March brings spring and exciting change in the Sonoran Desert. Spring flower enthusiasts, birders, butterfly observers, and wildlife watchers will be delighted by the sights, smells, and sounds of the awakening of life in Lost Dutchman State Park.
Observers can learn more details about the project and find tutorials for the iNaturalist app at azstateparks.com/events. Park entrance fees of $7 per vehicle on weekdays and $10 per vehicle on weekends will apply. For more about Lost Dutchman State Park, go to azstateparks.com/lost-dutchman.

What: Bioblitz 2022
Where: Lost Dutchman State Park, 6109 N. Apache Trail, Apache Junction, Ariz. 85119
When: March 1-31, 2022
Managing and conserving Arizona's natural, cultural and recreational resources for the benefit of the people, both in our parks and through our partners.
For information about the more than 30 Arizona state parks and natural areas, trails, Off-Highway Vehicle Program and State Historic Preservation Office, call 1-877-MY-PARKS or visit AZStateParks.com.
PRESS CONTACT: Michelle Thompson at (480) 589-8877 - Email: pio@azstateparks.gov