The dump station and showers are closed to anyone not camping at the park.
Desert Scorpion Hunt at Lost Dutchman
Lost Dutchman State Park
Sept. 29, 2023 Varies by Date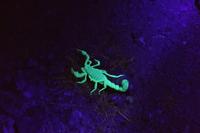 Fun for all ages! Come and join us for a brief informative talk about scorpions with a ranger, and then head out into the desert darkness in search of scorpions! Bring your camera, a blacklight or flashlight, and water! We will have blacklights for sale for $9.00 (cash only, limited to availability). Wear sturdy closed toed shoes. No pets, please. To reduce impact, ensure safety, and provide a more intimate, personalized experience, guest count will be limited to registered guests; no walk ups. Register online up to the day before the event for $5 per person, youth or adult. Meet in the Palo Verde ramada. Event is weather permitting.
Online registration HERE is required. $5 per person.
August 12, 8 p.m.
September 29, 7:15 p.m.