Cattail Cove State Park invites all watercraft users to enjoy the Colorado River, but we ask that you do so responsibly. That means ensuring that your watercraft meets all of the regulations for motorized and non-motorized watercrafts for your home state. Remember, both Arizona and California share jurisdiction of the Colorado River, so boaters should be familiar with watercraft regulations for both states.
Paddleboard and Kayak Rentals
Cattail Cove now offers paddleboards and sit-on-top kayaks for hourly rental! Contact the ranger station when you're in the park or make your reservation at (928) 855-1223. All rentals require a $300 deposit.
| | |
| --- | --- |
| 2-hour Rental | $35 |
| 4-hour Rental | $65 |
| 6-hour Rental (7 a.m. - 2 p.m.) | $85 |
| 24-hour Rental (7 a.m. - 7 a.m.) | $150 |
| Additional hour fee | $45 |
Boat Ramp
Cattail Cove has a spacious four-lane boat ramp with 10-minute courtesy dock that can accommodate any size boat, at various lake levels. If you are launching a boat 35' or longer, please call our rangers to get permission before launching.
Boat-in Camping Sites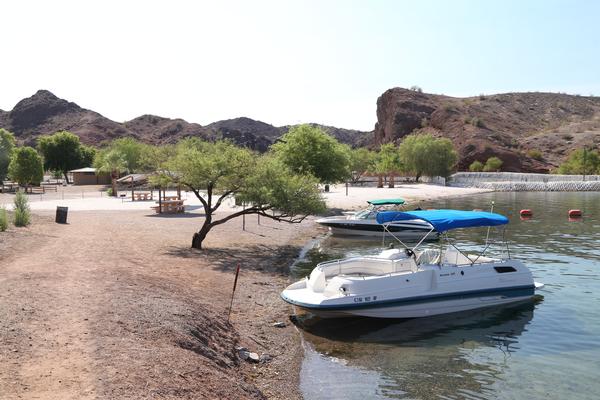 Cattail Cove State Park has primitive boat-in camping sites with picnic tables, stand-up barbeque and access to pit toilets. There is a garbage can, but please pack out your trash. No firepits or campfires year round. Propane stoves are acceptable. All boat-in camping sites are first come, first served. No saving sites.
Park your vehicle and boat trailer in the parking lot and pay for parking. Find an unoccupied boat-in camping site and pay for camping at the site using the "Iron Ranger." The maximum length of stay is 15 days.
Non-Motorized Watercraft
Non-motorized watercraft may launch at the boat ramp.
Sign up for our newsletter to receive informative emails about boating in Arizona, watercraft safety, and other water recreation opportunities.  
---
Check out these awesome boating safety tips before your trip and don't forget to register your watercraft with the Arizona Game and Fish department.