There's just something special about a wind in your face boating experience in Arizona's most beautiful places. With every nautical mile you collect lifelong memories of great times on the water with friends and family. Memories are so much better without adversity… Boaters should strive for a worry-free boating experience on the waterways of Arizona. By paying attention to detail and being prepared, anyone can have a safe and memorable trip to the lake. Check out these awesome boating safety tips and resources to learn more about how to stay safe before hitting the lake this year, then plan a trip and let the good times roll! 
Why is Boating Safety Important?
On the surface, boating seems like a really simple concept. Get in the boat, drive the boat around on the lake, get out of the boat. While boating may seem easy, there are a number of variables (both controlled and uncontrolled) that safe boaters must acknowledge before and during their boating adventure. It is the responsibility of all boaters to ensure the safety of those in their boat, and the other boaters around them. Many boating incidents could have been avoided if boaters were prepared before hitting the lake. Read on to learn what you can do to keep yourself and those around you safe at the lake. 
Use Personal Floatation Devices (PFDs)
Use them. Period! In Arizona, for children under 12, it's the law. A life jacket is the closest thing to a seat belt you have when boating and life jackets are proven to save lives. Sure…They might not look "cool," but who cares? The newer models are really comfortable and work very well. Plus, boating safety is super cool in our book!  Please check out the information below to ensure your PFD works as intended. 
Although often overlooked, throwable floatation devices should be on your watercraft in addition to life jackets. Keep your throwable floatation devices accessible in case of emergency. Purchase bright-colored models that are easily seen against the earth tones of the lake as well. 
Use the right size PFD. We're all built differently, so try on and purchase the most comfortable option. 
Use bright colored PFDs to help others see you in the water.
Pay attention to these PFD guidelines to help you choose. 
Check PFD frequently for leaks and hardware issues. 
Dry your PFD before storage in a well-ventilated area out of the sun - we all know how damaging the Arizona sun can be!

Be Prepared and Exercise Good Judgement
Preparation goes a long way toward a successful trip to the lake. Add to preparedness your good judgment, and you have a recipe for a fun and successful boating trip! Before launching your watercraft, take a close look to ensure everything is in working order. If you notice something isn't right, there's no harm in waiting until it is fixed before hitting the water! Additionally, avoid taking chances on the water and err on the side of caution if faced with a potentially dangerous situation on the lake! Hopefully, your watercraft is in lakeworthy condition and you're able to hit the water safely during your next trip.  
It is your responsiblity to stay sober while operating watercraft. 
Are you prepared for an emergency on the lake? Check out this safety equipment list of items that should be on your boat.
First-aid kit
Emergency bailing device (bucket)
Knife
Flashlight
Oars/paddles in case of engine failure
Functional running lights (it's the law)
Anchor to hold your boat until help arrives
Plenty of drinking water
Extra clothes
Signaling flags or flares 
Pre-Adventure Boating Checklist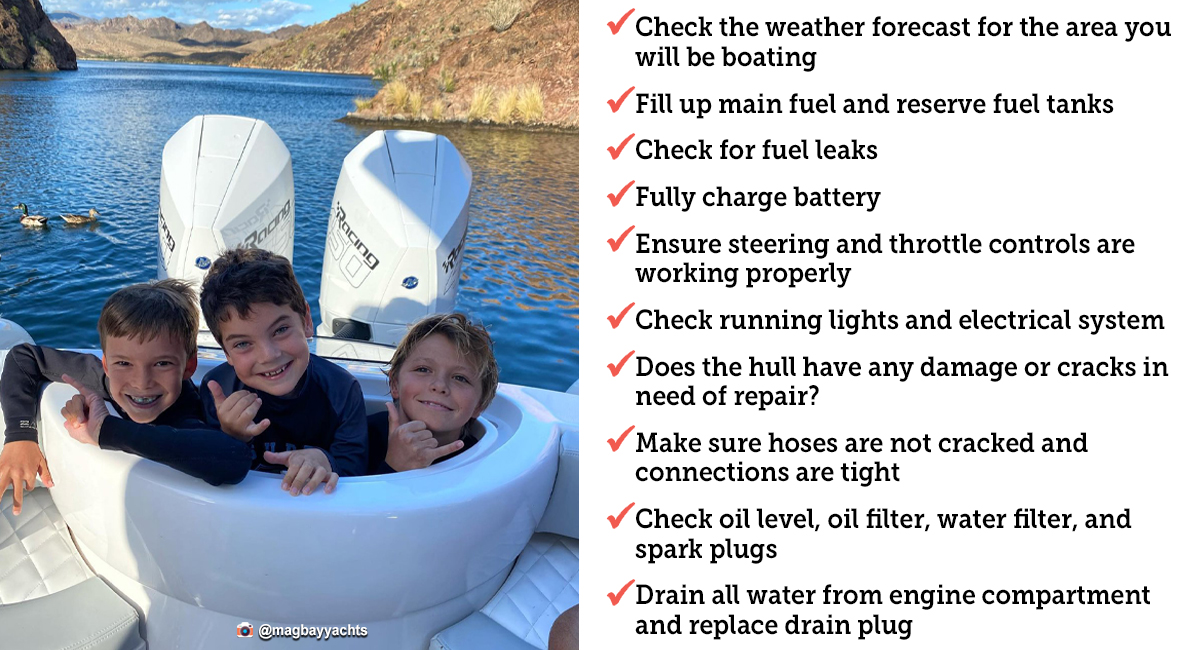 Be Aware of Others
There's something really relaxing about gliding across the water and taking in the sights and smells of the lake. After all, you're out there because you enjoy all aspects of a lake trip. Please don't get too caught up in Arizona's beauty that you are left unaware of other boaters and lake users! Boating safety is up to every one of us and if we all hold our end of the bargain, fewer boating-related accidents will be the result of negligence. 
Educate Yourself to Reduce Risk
New and experienced boaters alike should consider taking a boating safety education course. Learn basic skills about safely using your boat or personal watercraft, trailering, info about buoys and navigation, boating emergencies, water sports, and much more! Taking one of these courses will help you boat smart while reducing risk to you and others in the process.
Boating Safety Quiz

Test your knowledge of Arizona's boating laws and safety protocol. This quiz was supplied by the Arizona Game and Fish Department to aid in a joint effort to promote boating safety! It's heating up out there, and lots of you are going to be hitting the lake. We're excited for you…But want you to do so safely and responsibly.
Click on a question below and the answer will be revealed. Good luck!
Sign up for our Newsletter!