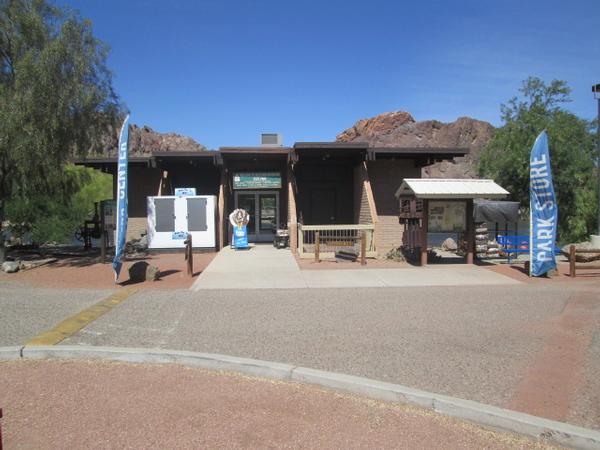 Thank you for choosing to learn more about this beautiful and fun western Arizona destination and the facilities that we have here! Year-round park enjoyment is very possible thanks to the numerous activities, sights, and amazing campgrounds. Learn more about the park below before your trip so you can get the most out of this diverse park! Park Maps
Facilities Available At Buckskin Mountain State Park
Visitor Center/Gift Shop
The Buckskin Mountain State Park Visitor Center includes informative exhibits, an exciting video library, a book exchange and plenty of information about the surrounding area. The rangers and park volunteers found here are a wealth of information that will help arm park visitors with enough park and area knowledge to have an absolutely great time! From January through March the park offers interpretive programs and Ranger-led hikes at the Visitor Center. Additional fees may apply, so please check with the park staff.
Hours: January through March: 9 a.m. – 4:30 p.m. April through December: upon request.
The park has a gift shop that offers park specific swag, souvenirs, drinks, snacks, and a selection of convenience and grocery items. There are a few other local stores that offer convenience items and hot food nearby as well. 
Campgrounds
80 campsites are available for both tent and RV campers, some with a riverfront view! Campsites at Buckskin Mountain are situated within close proximity to clean showers and restrooms. Sites come with electric hookups, 15 have sewer available. Every campsite comes with a BBQ grill and picnic table for your convenience. 
Picnic Areas/Shelters
The day use area is located northwest of the Contact Station. It is a grass area with shade trees and overlooks the Colorado River. The area has picnic tables and two large BBQ grills. There is parking available for 28 vehicles, and 12 of the sites will accommodate vehicles towing small boat trailers. Day Use Fees are $10.00 per vehicle with up to four adults. Day use hours are 8 a.m. – 10 p.m.
Dump Station
The park has a dump station for use by paid overnight campers. No dump or fill permitted for unregistered campers.
Showers/Restrooms
All three restrooms at the park have clean, hot showers available to registered campers and three regularly maintained restroom and shower buildings are located at the park. One is handicap accessible. 
Activities and Experiences
Hiking Trails
The extensive trail network at Buckskin Mountain leads users into exciting and diverse hiking experiences either into the western Arizona backcountry, or near the famed Colorado River. Theres no shortage of adventure in this park, and there's even a trail that connects to nearby River Island State Park!  
Water Activities
There is a two-lane boat ramp located in the park available to both campers, and day use visitors. A designated swimming area is located conveniently for the use of park visitors as well. Fishing for bass, sunfish, and catfish is typically good right from the park. Boat users will have access to a much larger section of the river which may increase their likelihood of catching fish.
Exhibits
Exhibits relating to local flora and fauna are located in the Contact Station and Visitor Center. To get the most out of their park experiences, we ask that visitors enjoy these exhibits and ask questions about them to park staff. We love sharing the rich, varied history of this area and truly enjoy talking about the local plants and animals. 
Wildlife Viewing
A variety of desert wildlife and bird species call Buckskin Mountain home either full time, just pass through once in a while, or migrate through the park on their annual journeys. Please remember while visiting that the birds and animals you may encounter while in the park are in fact wild. Please refrain from feeding the wildlife or approaching too closely. By giving them the space they require, there is a much larger chance they will stick around for future enjoyment. 
Bobcats, ringtail cats, coyotes, and gray fox are regularly seen in the park and add a level of excitement to most visitors. 
Snakes typically seen at Buckskin include the coachwhip (red racer), and king snake.
Desert lizards are prevalent here too! The desert iguana, and collared lizard are probably the most often encountered.
Birds include red-tailed hawk, Vermillion flycatcher, great horned owl, burrowing owls, turkey vultures, egrets, and a variety of both resident and migrating waterfowl.
Park Rules
Fees are due upon park entry. If the office is closed, you must use the self-pay station.
All vehicles must park on pavement at campsites. Do not park at market parking.
No driving or parking on grass or dirt.
Do not wash vehicles, boats or RVs.
Camp only in designated campsites.
Stay limit is 14 nights. May be extended with approval of Park Manager.
All pets must be leashed and attended to at all times. Leashes are not to exceed six feet in length.
Pets allowed on the north beach only.
Quiet hours are from 10 p.m. to 7 a.m. Please prevent loud nuisance noises at all times.
All fires must be contained in grills or portable fireplaces. Please, no ground fires.
Swimming is allowed along all shoreline. The designated swim area is located at the day use area. Swimming is at your on risk. No lifeguard on duty. No swimming at boat ramps or around docks.
Obey all boating regulations.
Obey all hunting and fishing laws.
Littering is unlawful.