Arizona State Parks and Trails manages two Parker, AZ RV parks that give visitors gorgeous views, ample outdoor recreation opportunities, and a solid foundation for lifetime memories. These stops along the powerful and lazy Colorado River offer RV'ers a chance to discover and enjoy river life the way it is meant to be experienced. Imagine rolling up to your reserved campsite, hooking up, and immediately beginning to explore the amazing beautiful desert oasis in which these Parker, AZ RV parks are located!
Buckskin Mountain State Park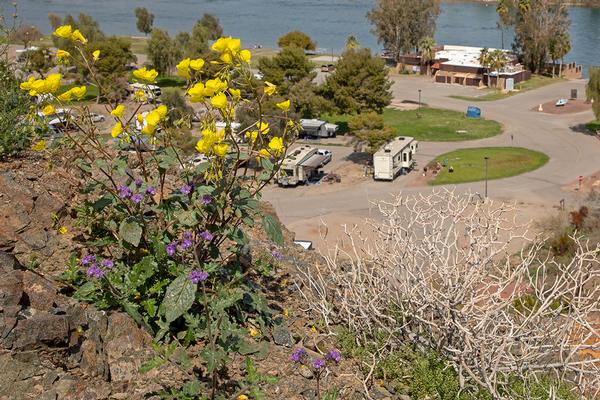 About 15 minutes north of Parker via State Route 95, Buckskin Mountain State Park sits perched amid the desert vegetation flanked by the ancient Colorado River. There are 80 camping and RV sites with water and either 30 or 50 AMP hookups and clean, conveniently-located restrooms and showers are only a short walk away from the main campground area. These RV sites are all within reach of the Colorado River, and some of them are close enough to the water's edge to nearly feel the mist set free by a flock of ducks taking flight en route to their next destination.
As far as RV parks are concerned, this Parker, AZ staple has the corner market on riverfront excitement and front row parking to one of the largest trail networks in the region. It's surprisingly relaxing to wade or swim in the designated swimming area, or to sit in a shady spot on shore, while watching fast boats, slow tubes, and taking in the exciting sounds of river recreation. Some visitors prefer the solitude of the mountains, and Buckskin Mountain offers that within our network of amazing trails! See the Parker Strip from above and take in the expansive desert views on one of the many area trails. With so many options within the trail network, all skill levels can enjoy a stroll through the western Arizona desert before cooling off in the mighty Colorado River.
Book A Spot At Buckskin Mountain
River Island State Park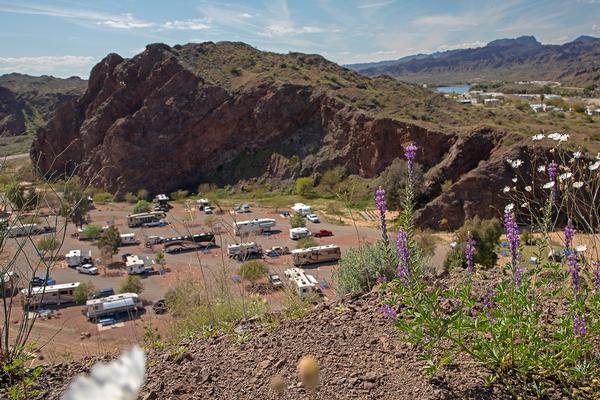 A couple miles up the road from Buckskin Mountain State Park, River Island sits on a beautiful piece of real estate north of State Highway 95, and right on the banks of the Colorado River. Visitors in this region are lucky to have not one, but two Parker, AZ RV parks within a couple miles of each other that offer adventure potential or a place to relax and take in the beauty of the area. With 37 RV sites available, this location is a little more intimate than its counterpart down the road but offers amazing views of the river and surrounding mountains. All RV sites come complete with water and 20, 30, or 50-amp service hookups. Clean restrooms and showers are located for your convenience in this park, which makes a stay here a comfortable riverfront vacation getaway!
If you would like to explore the Colorado River and Parker region by trail, access to a large network of trails is just south of SR 95 that meander into a slice of gorgeous desert landscape. The trails here will show hikers a glimpse of Arizona's past mining efforts and the once-functioning mines of the area. You'll also experience a variety of native desert plants and wildlife within this western Arizona trail system. Want expansive, picturesque views of the Colorado River and the Parker Strip? The Wedge Hill trail can be accessed right from the parking area and will lead hikers up a steep hill that culminates with spectacular views. Don't forget your camera for this one! If relaxation is more your speed, a riverfront beach gives you a great place to kick back, relax, and let the current take your cares downstream.
These two gorgeous Parker, AZ RV parks are great options for visitors to either plan a trip or stop by on their way to a destination further down the road. We encourage you to visit, say hi, and enjoy these absolutely beautiful RV parks in Arizona's Colorado river country. If you're looking for even more adventure in this region of Arizona, there's plenty of options to keep you busy! Other state parks in the area offer similar amenities and unique vibes...Check them out on your next road trip! 
 Sign up for our newsletter to receive current information about Arizona's abundant camping and rv opportunities in parks across the state!