Latest possible park entry is 4:00 p.m. Anna Mae, Gowan, Pine Creek, and Waterfall Trails close at 4:00 p.m. The paved path and all viewpoints remain open until 5:00 p.m. Pets are allowed on the paved path and viewpoints and restricted from all other trails.
Goodfellow Lodge is not currently available for overnight stays.
Note: The Lodge is not currently available for overnight stays, but we invite you to tour the lodge with a ranger or volunteer guide! Find tour information HERE.
Escape to a piece of history above the world's largest travertine bridge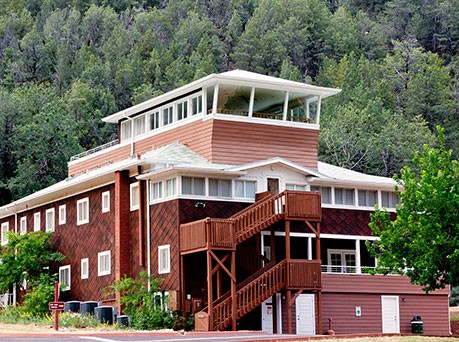 Goodfellow Lodge at Tonto Natural Bridge State Park is a one-of-a-kind rustic hideaway in the middle of some of the most picturesque scenery in Arizona's Rim Country. Nestled deep within Pine Canyon, this three-story cabin-style lodge was built in the 1920s and has kept much of its early 20th-century charm. The lodge has 10 furnished bedrooms with private and communal restrooms, as well as a furnished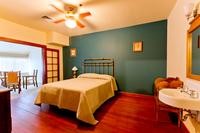 basement suite with a private kitchenette with sink and refrigerator. The first floor features our beautiful wood cabin group dining area with picnic table seating, fireplace, and a large kitchen big enough for your group or catering company. Entertain on the outdoor veranda or the grass event area outside, or sit and spot any of our regular wildlife visitors, like deer and javelina. We invite you to visit Goodfellow Lodge and consider it for your next group visit, wedding, or overnight event.
AMENITIES
The Dining Room and Outdoor Veranda are fully furnished with picnic bench-style seating as well as small two-person tables placed next to the dining room windows, giving a clear view of the park environment. The Dining Room also has a fireplace, old-time stove, and even a piano (please note, the piano is not regularly tuned).
The Kitchen is supplied with various cooking items, like pots and pans and utensils, as well as dishes, glassware, and silverware. We suggest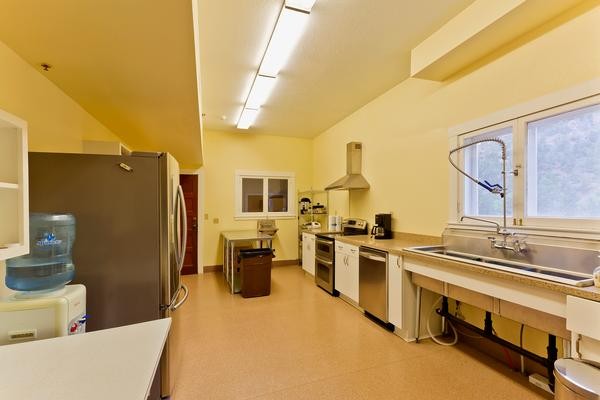 that if you intend to cook or bake beyond basic meal preparation that you bring those necessary items with you.
The Goodfellow Lawn accommodates 100 -150 people and is ADA accessible. The event area also has freestanding  restrooms with tiled floors and running water. Guests can also rent a wood BBQ or two propane grills.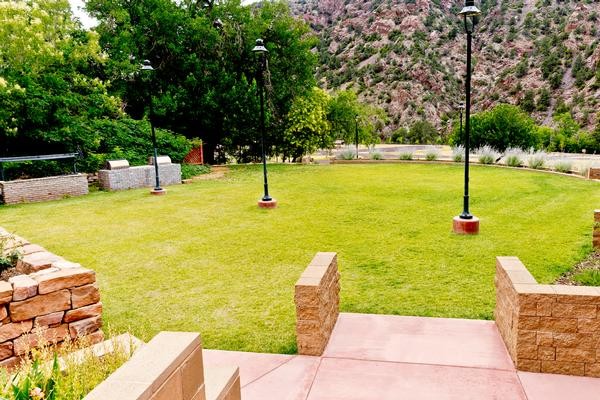 The Roosevelt Suite is a private room with restroom and shower, vanity, a small refrigerator, microwave, cabinets, and kitchen counter. It is available for rental and is ADA accessible.
ACCESSIBILITY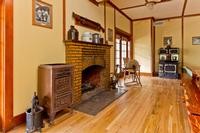 The lodge was recently renovated to provide modern conveniences to our guests including heating and air conditioning, indoor plumbing, and additional improvements to comply with the Americans with Disabilities Act.
NEARBY
Tonto Natural Bridge State Park is a short drive north of the small town of Payson, a popular tourist destination for those gearing up for outdoor adventure, looking for a taste of modern convenience and fresh mountain air, or just trying to escape the low desert heat.
RULES AND PRACTICES
Guests are expected to maintain the lodge in the condition in which it was when guests arrived. There is no housekeeping or turndown service, and guests are responsible for their group members and property.
GROUP RESERVATIONS
Reservations can be made by calling the park at (928) 476-4202. At this time, we are only taking group reservations.